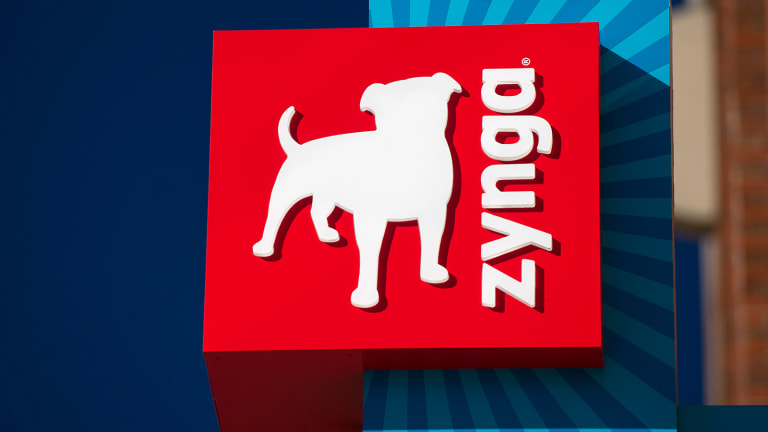 Zynga CEO Discusses What's Behind the Gaming Stock's Recent Comeback
Zynga shares surged after the mobile game maker posted a revenue beat and raised its guidance. Its stock is up more than 40% this year.
After years in the wilderness, Zynga (ZNGA) is having a moment.
Shares of the gaming stock have surged 42% so far this year, and extended those gains with a first quarter revenue beat and improved guidance. Zynga shares soared in after-hours trading on Wednesday and were up 10.3% to $6.07 in early trading on Thursday.
Investors could be forgiven for sleeping on Zynga in recent years: After going public in 2011 at $9.50 per share, it had sunk to $1.83 per share by February 2016 owing to a falling out with Facebook, which predominantly fueled Zynga's numbers in its early years. Founder Mark Pincus stepped down as CEO in March 2016 and was replaced by Frank Gibeau, a former EA (EA) executive who's been revamping Zynga's operations ever since.
In an interview with TheStreet, Gibeau said that after many consecutive quarters in "the doghouse," Zynga is in growth mode again.
For the quarter, Zynga posted $265 million in revenue, $25 million over prior guidance, and raised its full-year revenue forecast to $1.2 billion -- an outcome that Gibeau linked to the continued popularity of perennial hits like Words with Friends.
He said there's a good reason why Zynga's best-known franchises continue to thrive as the market for mobile games grows overall: They're accessible and easy to dive into in any spare moment, while also delivering fresh new features: "All of them are really mass-market games, but they're also very cool in terms of their design," he said. In addition to its longtime hits, Zynga is adding titles new titles this year based on Game of Thrones, Harry Potter and Star Wars, among others.
A far cry from the days of playing FarmVille on Facebook, Zynga's revenues are 93% mobile nowadays. And with mobile gaming newly in vogue -- as evidenced by high-profile projects like Apple (AAPL) Arcade, Snap (SNAP) Games and Facebook's (FB) Instant Games -- it's a very exciting time for Zynga, Gibeau said. (Zynga is one of Snap's partners in launching its gaming platform.) The marketing intelligence firm NewZoo projected that by 2021, global revenue for mobile games will reach $106.4 billion, representing a growth rate of 20% yearly. And Gibeau added that demographic and market expansion in gaming, paired with advancements like 5G, are all tailwinds for Zynga's mobile portfolio. 
"Within mobile, there's all of this continuous innovation that makes the player experience better. I think we're really well-positioned to benefit from that," he said. 
Apple and Facebook are part of the Action Alerts Plus portfolio. To find out more about why Jim Cramer and the AAP team like these stocks, click here now to get more information about the Action Alerts PLUS portfolio.