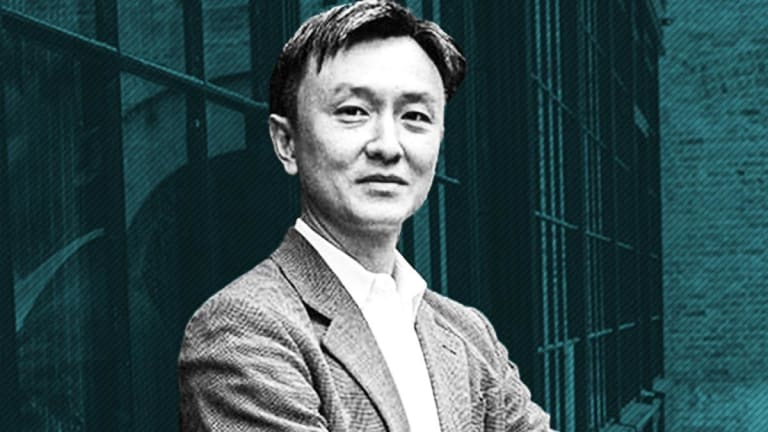 Zuora CEO on Disappointing Outlook: 'We Know What We Need to Do'
Once the company has resolved problems with its sales organizations and product integration, 'the rest will take care of itself,' says CEO Tien Tzuo.
As shares of cloud software vendor Zuora (ZUO) plunged by nearly 30% following the release of its quarterly earnings, chief executive Tien Tzuo told TheStreet that "nothing really has changed" in the company's business, and that "challenges" that depressed the company's outlook are the result of trying to create something brand new in software.
"Anything new can be an up-and-down process, right?" Tzuo asked, rhetorically. "It's never straight and up to the right."
Zuora, which makes software that handles the complexity of pricing and billing for products on a subscription basis, as opposed to the traditional outright sales of goods and services, reported fiscal first-quarter revenue Thursday evening that was slightly below analysts' expectations, while its net loss was slightly better than expected. The company cut its revenue outlook for the year, however, citing two problems that had surprised the company in the quarter. 
Shares plummeted after the release of the earnings, and closed down nearly 30% Friday to end the day at $13.99.
One problem was that newer sales reps were turning out to be less productive than prior hires. Another was that the company experienced delays with integrating a product it acquired two years ago called RevPro. Both issues are holding back the company's sales.
"We are on the right track now, we need time to finish the work, but we feel good, we know what we need to do," Tzuo told TheStreet.
On the conference call with analysts following the report, Tzuo said that the company will hire a new head of sales to replace president Marc Diouane. Zuora is searching outside the company to fill this role, Tzuo said. As for the software integration issue, Tzuo said the company realized it had gone down a "dead end" with its efforts, but now knew what had to be done.
Tzuo characterized the company's sales team as rushing to make sales goals in any given quarter. He said Zuora needed a more sophisticated approach now. Asked why Zuora had not had such an approach previously, Tzuo told TheStreet that "it's a size and scale thing," meaning that when the company was just starting out, a more loosely organized "strategic accounts" team had worked well to go after customers.
"We are at a size and scale now where we aspire to be a multi-billion-dollar company," said Tzuo. Zuora is projecting revenue this year of $268 million to $278 million. "The go-forward operations execution and discipline required to scale what we have to a billon dollars is not the same set of processes that got us where we are the last five years," Tzuo noted.
As for the software snafu, when asked why investors should trust Tzuo when he says that fixing the problem will only be "a short-term delay," Tzuo conceded that "hindsight is 20/20," but added that "when you're creating new innovations, it's not a straight line" to success.
"This is just a standard part of creating and innovating something the world has never seen before," Tzuo said.
Zuora, Tzuo contends, is unique in creating a billing system that draws upon the structure of the telecommunications world, where the mixture of product pricing can be complex. "Oracle has never been able to build one, SAP has never been able to build one," he said, referring to a comprehensive telecom billing system. "The problem is a fundamentally hard one."
Asked how he would restore investor confidence, Tzuo told TheStreet the conference call with analysts was an effort to be transparent and "up-front with what the challenges are." Once the company has completed its software integration and shown that customers like the result, and once sales take a more predictable course, Tzuo said "I think the rest will take care of itself."
Asked whether the stock is a good buy at its now much-lower price, Tzuo declined to say yes or no, but made an analogy between Zuora and Amazon.com (AMZN) .
"If you bet on Amazon back in 1998, that would have played out well over the next 20 years," he said. "If you look back in three, five, ten years from now, if the subscription economy really plays out, we are going to be in a really, really good position."
Amazon is a holding in Jim Cramer'sAction Alerts PLUS Charitable Trust Portfolio. Want to be alerted before Cramer buys or sells AMZN? Learn more now.
Tiernan Ray neither trades nor owns any shares of any companies discussed in this article.