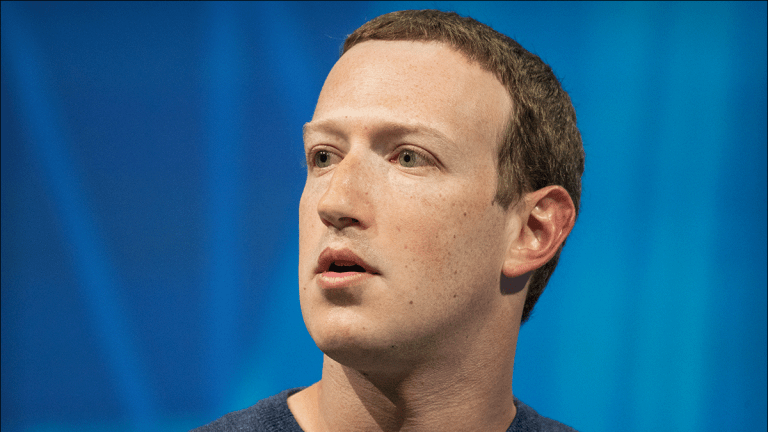 Facebook's Zuckerberg Set to Defend Libra on Capitol Hill: What to Expect
While the hearing is focused on Facebook's Libra project, the congressional grilling could also extend to Facebook's acquisitions, antitrust concerns and posture on free speech.
Facebook (FB) - Get Meta Platforms Inc. Class A Report CEO Mark Zuckerberg is headed back to the hot seat to defend the company's crippled Libra initiative.
On Oct. 23, the Facebook chief is set to testify before the House Financial Services committee, which is chaired by Rep. Maxine Waters (D-CA), one of the leading congressional critics of Facebook's Libra plans. Facebook shares were down 2.34% on Friday to $185.94.
Zuckerberg's testimony will be the second time a top official has defended Libra, a proposed digital currency backed by Facebook and a consortium of partners that was intended to go live next year. In July, David Marcus, the Facebook executive in charge of the project, testified at often-combative House and Senate hearings on the goals.
But circumstances have changed since then. Triggered by strongly-worded letters from lawmakers, several members of the Libra Association, the group of corporations tasked with overseeing the currency, pulled out of the project. And lawmakers will continue to press Facebook on the working of the project, how unsavory activity on the platform would be handled and who is liable. But the questioning will likely go beyond that, wrote Wedbush's Dan Ives in a note on Friday.
"While officially next week is about the cryptocurrency initiative Libra for Facebook, we fully expect politicians to use this forum as another major shot across the bow on broader antitrust concerns for FAANG names with Facebook now the focus of DOJ and antitrust inquiries," said Ives.
Despite the pullout of major partners, including PayPal (PYPL) - Get PayPal Holdings, Inc. Report , Mastercard (MA) - Get Mastercard Incorporated Class A Report , Visa (V) - Get Visa Inc. Class A Report , Stripe and Booking Holdings (BKNG) - Get Booking Holdings Inc. Report , Facebook is plodding ahead with the project, having convened a meeting in Geneva with remaining Association members on how to govern the currency.
Facebook faces an uphill battle in convincing partners that in participating with Libra, the rewards outweigh the risks. Last week, letters from Sens. Brian Schatz (D-HI) and Sherrod Brown (D-OH) warned partners that they share liability for criminal activity that may arise on Libra. And the weakened ecosystem for the prospective currency has thrown its launch prospects into doubt.
At a speech in Washington DC on Friday, JP Morgan JPM CEO Jamie Dimon called Libra "a neat idea that will never happen," according to Reuters.
Without partner support, it is "unlikely" Facebook will succeed, Ives added: "the company lacks the infrastructure to handle a project of this magnitude."
The hearings will nonetheless provide lawmakers an opportunity to grill Zuckerberg on one of the other developments that Facebook is grappling with right now: Whether it unlawfully freezes out competition.
Along with other FAANG names, the DOJ is in the process of investigating whether Facebook's practices in recent years amount to antitrust violations. Reportedly, the investigations are focused on Facebook's long streak of acquisitions -- it's bought more than 70 companies, most of whom were shut down after the deal -- and its aggressive conduct with competitors such as Snapchat.
"The focus of the regulatory and AG scrutiny will likely be the WhatsApp and Instagram acquisitions, with the convergence of Facebook's messaging platforms likely a hot button issue," Ives added. Recently, Attorney General William Barr asked Facebook to halt adding end-to-end encryption across all its messaging services, which is part of a broader project of merging the back-ends of Messenger, Instagram and WhatsApp into a single platform.
In the meantime, Zuckerberg has sought audiences with lawmakers and other political influencers in recent weeks.
Zuckerberg reportedly met with Rep. Waters behind closed doors this week. And, in a sprawling speech at Georgetown University, he defended Facebook as a champion of free speech. He also defended the company's position that it won't fact check political ads, even if they contain falsehoods.
His speech followed dozens of meetings with conservative commentators or lawmakers over the past few weeks, according to reports, which focused on free expression and Facebook's alleged stifling of conservative voices on the platform, a long-standing accusation by conservatives.
Zuckerberg also recently tussled with Presidential candidate Sen. Elizabeth Warren after a recording of Zuckerberg saying a Warren presidency would "suck" for Facebook was widely reported in the press.
Facebook and Mastercard are key holdings in Jim Cramer's Action Alerts PLUS charitable trust.