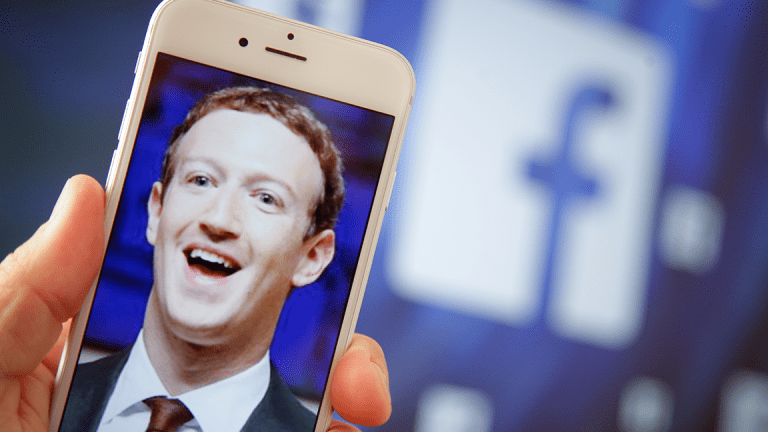 Facebook's Mark Zuckerberg May Be Losing The Public's All-Important Trust
The CEO's handling of the Cambridge Analytica data scandal has been severely lacking, according to experts, even if investors and analysts seem to be reassured for now.
While stock analysts and investors seem to have been assuaged by Mark Zuckerberg's response this week to the data misuse scandal and its lack of revenue impact so far, experts say Facebook's (FB) - Get Meta Platforms Inc. Report CEO may be in danger of losing the public's all-important trust.
Zuckerberg has always been a polarizing figure, said Q Scores Executive Vice President Henry Schafer. Back in 2011, Schafer said Zuckerberg's negative Q score -- the percentage of those familiar with him who ranked him as fair or poor -- was 29%, higher than the average of 22% for business executives. By February of this year, his negative score had improved to 25%. The next time Q scores will be tallied is in July, and Schafer said Zuckerberg's negative Q scores may well increase as the public judges his responses to the Cambridge Analytica data scandal.
"He hates to be in the media, doesn't like doing interviews and I think it hurts his image," Schafer said. "There's a feeling you're hiding something."
A Stifel survey published in January showed that 70% of users were concerned with how Facebook uses its personal data, and 57% said that their concern increased since reports surrounding the 2016 Presidential election.
During a Q&A with reporters Wednesday, Zuckerberg took full responsibility for the scandal, but added that mistakes like these were inevitable when you're building something as ambitious as Facebook "and if we had gotten this right, we would have messed something else up," he said.
But Clarity Chief Communications Officer Loring Barnes said comments like this do little to inspire confidence, as they set the expectation that Facebook users "should accept some screw-ups...an expectation that you don't expect from such a consequential global brand."
"I don't want excuses," Barnes said. "I want a confident leader who stands behind every aspect of the business."
Meanwhile, Zuckerberg has been responding to calls for action and transparency from disgruntled users, who have been promoting the hashtag #DeleteFacebook, as well as to lawmakers seeking to hold him and the company accountable, such as Minnesota Senator Amy Klobuchar.
Instead of holding conference calls with reporters and going on CNN, Barnes said Zuckerberg would foster more trust among users by communicating updates to users on the social network itself. Since the scandal began, Zuckerberg has used his public Facebook profile to share updates and the company has provided information on its official newsroom page. But nothing about Cambridge Analytica appears to have been posted on the site itself.
"Why they have allowed the message to be dragged out of them by the media is antithetical to what Facebook espouses to be -- a place where people are connected in very real time," Barnes said.
Crisis Management Consultants chairman Eric Schiffer said that Facebook mishandled the scandal early, starting with a lack of transparency around the data misuse. "Their response to crisis management is too slick and comes across as manufactured," Schiffer said.
The company has little room for errors like these, even if they're ones that Zuckerberg believes are inevitable, said Peter Tran, vice president and head of global cyber defense and security strategy at Worldpay. As an example, Tran pointed to the admission this week that users' public Facebook information could be scraped easily using the platform's search and recovery tool. "Given the scale and sophistication of the activity we've seen, we believe most people on Facebook could have had their public profile scraped in this way," Facebook wrote in its newsroom blog. 
What Facebook didn't note, however, was that this profile information could have helped cybercriminals gain access to banking and other sensitive accounts since this information is often used as answers to security questions for account and password recovery, according to Tran. 
Zuckerberg has a chance to turn things around, according to Barnes, depending on how he and the company handle the coming weeks. In particular, Barnes said Zuckerberg should utilize assets such as Chief Operating Officer Sheryl Sandberg to reach users in a meaningful way to restore faith in the company.
"If he handles himself well and embraces the assets he has ... he can create a new trajectory," Barnes said.
Unfortunately for Zuckerberg, the spotlight isn't leaving him anytime soon. He's scheduled to appear in front of Congress committees next Tuesday and Wednesday, where he will face tough questions from lawmakers about Facebook's mishandling of data.
Facebook is a holding in Jim Cramer'sAction Alerts PLUS Charitable Trust Portfolio. Want to be alerted before Cramer buys or sells FB? Learn more now.