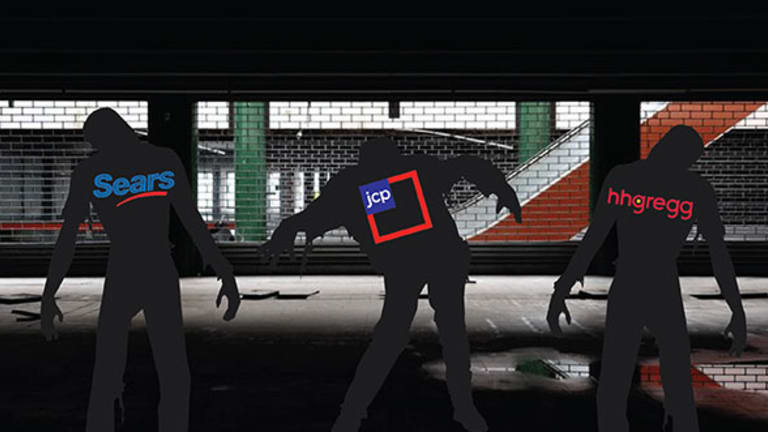 Zombieland No More -- These New Retailers Are Invading Dying Malls
Simon Property says new retailers are jonesing to sell at its malls.
Many probably think the dying shopping mall, once at the heart of suburbia, would work well as a set prop for AMC Networks Inc.'s (AMCX)  zombie apocalypse hit "The Walking Dead."
Not so fast.
In the latest wrinkle in mall-based retail, zombies aren't beating down the doors, but a healthy crop of retailers are jonesing to get in.
Flying Tiger, Indochino, b8ta, thredUP, Tommy John, Peloton, Calzedonia, Eloquii, UNTUCKit, Juice Generation and Muji are part of the healthy crop of new retailers filling in some space once housed by Macy's Inc. (M) , J.C. Penney Co. (JCP) and Sears Holdings Corp. (SHLD) , said Richard Sokolov, Simon Property Group Inc. (SPG) COO and president, on an Aug. 1 second-quarter earnings call. The real estate investment trust owns many premium malls, such as Roosevelt Field at East Garden City, N.Y.
"I could keep going for another 30 names," Sokolov said. "The important message is, these properties are vibrant. There is a lot of demand, and we're able to execute leases that are growing our rents."
Gap's CEO Just Had a Bizarre Rant on Why He Doesn't Run a Mall Retailer
Amazon Could Have Bought the Mall Instead of Whole Foods
While some malls do look like a zombieland, others are alive and thriving, executives of Simon Property argued on the call. Occupancy declined 40 basis points in the second quarter, due to the many Chapter 11 filings from such retailers as Payless ShoeSource Inc. and rue21 Inc., but base rent climbed 3.3%, "reflecting strong retailer demand," said chairman and CEO David Simon.
That's a bright spot in a sector that has served up bad news daily, duly noted by Wall Street. "[Mall-based retailers] are beaten up, hated names. They missed out on the entire market rally this year. Investors are just figuring out who's going to survive," RBC Capital Markets analyst Brian Tunick told TheStreet. Mall traffic declines 5% to 10% each week, he added.
Year to date, Simon Property stock is down about 13%, compared with peers GGP Inc. (GGP) , down 17%; Federal Realty Investment Trust (FRT) , down 11%; Kimco Realty Corp. (KIM) , down 24%; Macerich Co. (MAC) , down 25%; and National Retail Properties Inc. (NNN) , down 8%.
More mall-based retailers filed for bankruptcy in the first few months of 2017 than in all of 2016, and store closures are expected to hit 8,640 this year. That's more than all the store closures recorded between 2003 and 2006, Fit Small Business research analysts told TheStreet in an email on Monday, Aug. 14.
Earlier this year, Fitch Ratings analyst David Silverman told TheStreet that A-class, premium, malls will increasingly attract emerging retailers willing to pay a pretty penny on rent because they are turning into "hybrids," or more event-driven destinations.
It's the outdated C-class malls, really zombielands and home to many J.C. Penney and Sears stores, that the new retailers shun. 
But back to the living. Why are these emerging retailers choosing to move into malls?
Tech products retailer b8ta, operating four stores plus its online site, is betting on the mall, as long as it gets a makeover. "We're using tech to evolve the retail space," said Philip Raub, b8ta chief marketing officer and co-founder. "b8ta is about discovering new tech products and consumers want to come in and try them out. We absolutely will continue to open more stores where there's high traffic."
Raub told TheStreet that malls need to transform from two-hour shopping stops to all-day destinations. "Give people better food options. Bring in better restaurants and 'Top Chef' competitions. Gone are the days of the crappy food court. Give people a level of excitement, a reason to go to the mall for the entire day," he added.
Online fashion resale retailer thredUP, with one physical store and four more opening this year, aims to change the way consumers shop. "We're making shopping fun again," said Samantha Jacob, thredUP marketing and communications manager, "I think our customers get really excited by discovering items. We're changing the perception of second-hand apparel. The bulk of our business will always be online but we're excited about our new stores and the positive feedback we're receiving from our one existing store."
Men's tailored suits retailer Indochino,operator of 17 showrooms and standalone stores, attracts shoppers looking for more than off-the-rack attire. "We're focused on selling an experience not a product," said Drew Green, Indochino CEO, "the transitioning retail environment is forcing us all to think differently. We provide our customers choice. While a lot of businesses are struggling, 45% of our sales come from repeat customers."
Women's plus-size e-commerce apparel retailer ELOQUII, planning to open three stores by the end of the year, benefits from selling only sizes 14 to 28 at a time when not many fashion companies focus on plus-size women, Mariah Chase, ELOQUII CEO, told TheStreet. From 2011 to 2014, 42.1% of women in the U.S. between the ages of 40 and 59 were obese, according to the CDC National Center for Health Statistics' most-recent study.
"We're super passionate," Chase said. "We're still in very, very early days, but I don't think we're ever going to have hundreds of stores. Bricks and mortar was never part of our plan, but our customers kept asking for it. It's a tale of which mall [to choose]. But we'll stay primarily online."
Read More of What's Trending on TheStreet:
Amazon Could Have Bought the Mall Instead of Whole Foods
Fiat Chrysler Still Looks Cheap Despite M&A Buzz