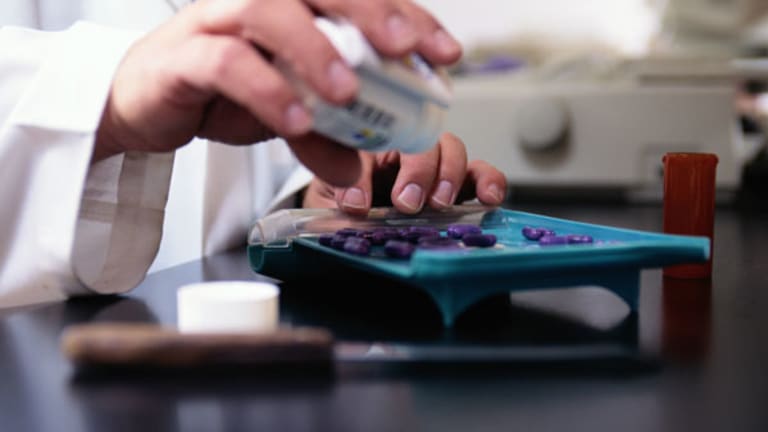 Zogenix: Three Shots At Run-Up Trade
Get in Zogenix early before other traders start speculating over its chronic pain drug Zohydro.
NEW YORK (
) --
Zogenix
(ZGNX) - Get Zogenix, Inc. Report
is positioned to be a great run-up trade with three major catalysts on deck over the next three months. Better yet for a run-up trade, Zogenix has been largely off investors' radar screens.
All three of the Zogenix catalysts revolve around Zohydro, a long-acting formulation of hydrocodone for the treatment of moderate-to-severe chronic pain. Zohydro has two major benefits over other hydrocodone-containing chronic pain meds: 1) Less frequent dosing (twice a day versus 4-6 hours); and 2) It's not co-formulated with acetaminophen, which can cause liver injury when used at high doses over long periods of time.
If approved, Zohydro would be the first long-acting hydrocodone that is not combined with another pain-relieving drug. Existing hydrocodone-containing pain relievers generated about $3.5 billion in U.S. sales. Even taking a small slice of this large market, Zohydro sales could reach $500 million annually, according to Zogenix.
With a market cap under $250 million Zogenix represents a great opportunity for a run-up trade into three Zohydro-related catalysts.
1. The FDA drug approval decision date for Zohydro is set for March 1, 2013.
2. Zogenix had stated that they expect FDA to convene an advisory panel during the Zohydro review period. No date for the Zohydro panel has been officially announced but FDA has set aside Dec. 7 as a tentative date for the next meeting of the Anesthetic and Analgesic Drug Products Advisory Committee.
This is the advisory panel charged with reviewing pain drugs like Zohydro. If FDA makes this Dec. 7 meeting official, it sets up a very tradable catalyst within about 10 weeks -- generally the sweet spot for BioRunUp trades. Taking a long position in Zogenix now will give you a jump on traders who won't see the stock on their radar screens until the advisory panel is formally announced.
3. On Oct. 29-30, FDA is convening a meeting of the Drug Safety and Risk Management Advisory Committee. The meeting agenda focuses on the public health benefits and risks of chronic pain relievers that combine hydrocodone with other analgesics. Remember, Zohydro contain hydrocodone only, so it should not be brought up at this FDA meeting. However, if the safety issues and risks of other chronic painkillers are discussed, it could make Zohydro look much more attractive to investors. Zogenix shares could see a lift as a result.
Zogenix completed an equity offering in July 2012, netting more than $65 million and giving the company enough cash to last beyond the potential Zohydro approval and into commercial launch. Therefore, I don't see a lot of risk that Zogenix dilutes shareholders again during the run-up into the three catalysts mentioned above.
Messier is long Zogenix.
Mark Messier is the founder of
, a subscription-based stock-trading web site. Messier enjoys spending time with his wife and two young boys and visiting his "home away from home" in Costa Rica.