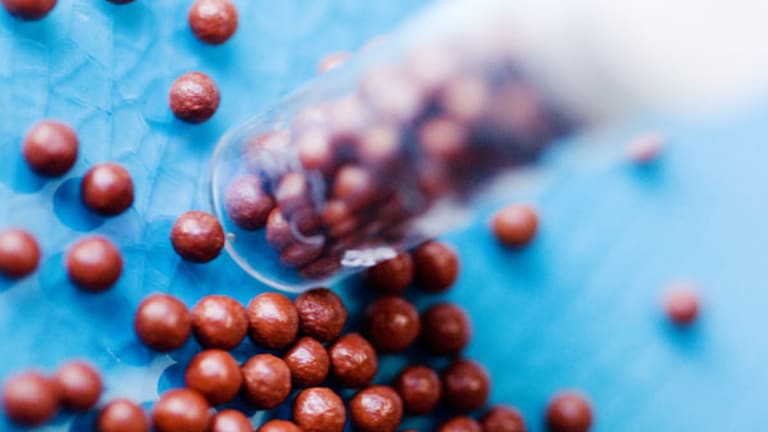 Ziopharm Considers Options After Drug Failure
Ziopharm's lead cancer drug flunked its Phase 3 trial leaving the company's future in the hands of billionaire investor R.J. Kirk.
NEW YORK (
) -- Ziopharm Oncology Inc. rebounded ever so slightly Wednesday after plunging 65% after the Charlestown, Mass.-based biotech company said its lead cancer drug, palifosfamide, flunked its Phase 3 trials.
The company's survival is now largely in the hands of billionaire biotechnology investor R.J. Kirk. Shares gained 0.8 percent to $1.84.
Ziopharm said it's scrapping development of the drug, restructuring its operations and shifting its focus to the synthetic biology drug programs it is developing in tandem with Kirk's Intrexon Corp.
"This is clearly a very difficult day for all of us," Ziopharm CEO Jonathan Lewis said on a conference call with analysts Tuesday. "But Ziopharm's future ... is one of great promise."
Ziopharm had made a big bet on palifosfamide, a drug that it brought into a pricey Phase 3 trial without the backing of a large pharmaceutical partner. Palifosfamide was intended to halt cancer growth by binding cancer cell DNA and tripping up its function.
Ziopharm was testing palifosfamide in two different studies. In the first, Ziopharm combined palifosfamide with doxorubicin to treat patients with metastatic soft tissue sarcoma, or STS. In the second, Ziopharm combined the drug with carboplatin and etoposide to treat a group of patients with extensive-stage small cell lung cancer.
The primary endpoint of the STS study was progression-free survival, which is the length of time a patient's cancer does not grow or spread, while the primary endpoint of the lung cancer study was overall survival.
Though Ziopharm didn't reveal the specifics of the data from the trial, its strategic decision spoke volumes. After the drug missed its primary endpoint in STS, Ziopharm decided not to follow up on its secondary endpoint and terminate the program altogether.
"We know there is no way this drug will get to approval in any country in the world," Lewis said.
With its lead drug scrapped, Ziopharm will now take an ax to its workforce, "align
ing staffing" with its new goal of an exclusive focus in synthetic biology, Lewis said. Ziopharm didn't outline the extent of its restructuring plan as of yet.
The new plan more deeply bonds Ziopharm with Intrexon, a company founded by Kirk, one of the world's most renowned biotech entrepreneurs. Kirk created, and ultimately sold, New River Pharmaceuticals Inc. (to Shire plc for $2.6 billion in 2007) and was either an executive or majority shareholder of other large biotech hauls such as Scios Inc. (acquired by Johnson & Johnson for $2.69 billion in 2003) and Clinical Data Inc. (bought by Forest Laboratories Inc. for $1.2 billion in 2011), among other investments.
And one of his most recent plays is Blacksburg, Va.-based Intrexon, a startup that operates as a contract manufacturer, using an in-house database of genomics information to build models of synthetic DNA for customers, who, in turn, can use them to manufacture anything from therapeutics to agricultural products.
Ziopharm and Intrexon struck a partnership in January 2011 that gave Ziopharm access to the Kirk company's so-called gene switch technology, named RheoSwitch, which it aims to use to build DNA-based therapeutics to fight cancer. The idea is that Ziopharm injects the DNA-based drug into a patient, who then takes a pill with the RheoSwitch technology that switches the treatment on for a time, and then shuts it off, giving him or her a tolerable level of toxicity.
"Intrexon has the most advanced, technologically sophisticated synthetic biology technology and program in the world," Lewis said.
Even so, it is unproven as of yet. To date, Ziopharm has used the Intrexon platform to develop two clinical-stage DNA-based therapeutics that are still early in development: Ad-RTS IL-12 and DC-IL-12. Those drugs produce Interleukin-12, a protein crucial for the immune response to cancer, which is then regulated by the RheoSwitch pill.
Ziopharm began two separate Phase 2 trials earlier this month testing Ad-RTS IL-12 in patients with unresectable recurrent or metastatic breast cancer, and advanced melanoma.
Ziopharm will need both the drugs to work and Kirk's support in order to renew investor optimism. Kirk, who is Intrexon's chairman and CEO, joined Ziopharm's board as a director as part of the 2011 partnership agreement and picked up a roughly 12% stake in the process. Kirk himself owned 14.2% of Ziopharm as of its last proxy filing in April and is the company's largest shareholder.
"We have the full support and commitment of Intrexon," Lewis vowed on the call.
Ziopharm has said its roughly $73 million in cash at the end of 2012 would get it through the second half of 2013. Given that Ziopharm no longer has to run its palifosfamide trials, executives said Tuesday the cash will last a lot longer, pushing off the idea of a potential financing. Ziopharm, though, declined to give any estimates as to just how long its financial legs extend.
Written by Ben Fidler in New York