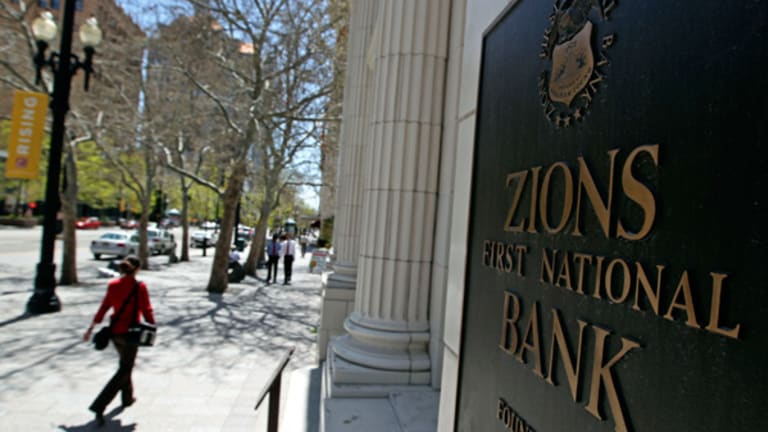 Zions: Revenge of the CDO Loser
Shares of the Salt Lake City lender were down 4% after CFO Doyle Arnold said during a presentation that the company could record a $20 million impairment charge on CDOs in the fourth quarter.
NEW YORK (
) --
Zions Bancorporation
(ZION) - Get Report
was the loser among the largest U.S. banks on Tuesday, with shares declining 4% to close at $19.96.
The
Dow Jones Industrial Average
was down 1% and the
S&P 500
( SPX.X) and
NASDAQ Composite
each saw smaller declines, as worry over the Fiscal Cliff overshadowed decent economic reports.
The Census Bureau reported that durable goods orders were unchanged in October after increasing by a revised 9.2% in September. Excluding the transportation component, orders rose 1.5%, compared with a downwardly revised increase of 1.7% the previous month.
Economists, on average, had expected orders to fall 0.6% in October and decline 0.5%, excluding transportation, according to
Briefing.com
.
There was continuing evidence of a sustained housing recovery, as the S&P Case-Shiller 20-city home price index showed a year-over-year increase of 3% in September after an increase of 2% in August. Economists were expecting a 2.9% year-on-year increase in September.
Shares of
Bank of America
(BAC) - Get Report
were down 2% to close at $9.66, one day after Guggenheim analyst Marty Mosby issued a "
" call on the company, despite his long-term "Buy" rating for the company's shares.
Mosby said on Monday called Bank of America "one of the leading candidates for a significant correction if the pressure on the U.S. economy from the Fiscal Cliffs begins to build."
Although the analyst's long-term price target for the shares is $12, he said that "BAC could trade below $8 over the next three months if it becomes apparent that the U.S. economy is about to be pushed over several of the upcoming Fiscal Cliffs."
The Fiscal Cliff Drama.
Considering that the media and investors are likely to cheer an agreement between Congress and President Obama to avert the Fiscal Cliff and raise the federal debt ceiling yet again, without taking firm action to trim the federal deficit by a significant amount, it would appear that the politicians in Washington have made a marvelous effort to encourage the public to celebrate their continued irresponsibility.
Senate Majority Leader Harry Reid (D-Nev.) on Tuesday said that there had been "little progress" in negotiations between Democratic and Republican leaders in Congress, and that "we have to get away from the happy talk and start talking about specific things," according to a
. Reid did throw a carrot the GOP, saying he was "extremely hopeful, and I do not believe that the Republicans are going to allow us to go over the cliff."
Under the
, federal income tax rate reductions that went into effect when George W. Bush was president and were extended by President Obama will expire, and there will also be "sequestration," leading to large federal budget cuts, beginning in January, unless Congress and the president negotiate a new compromise. While "falling off" the Fiscal Cliff would certainly lower the deficit, many economists have said that the combined tax increases and spending cuts, amidst a weak economic recovery, would likely push the U.S. economy back into recession.
Without a compromise in Washington, the top federal income tax rate will increase to 39.6% from its current 35%, and investors will see the end of the 15% federal income tax rate cap on qualified dividend income. Republican leaders in Congress have indicated some willingness to compromise with President Obama over tax increases, but lean toward eliminating tax deductions and loopholes, rather than raising graduated tax rates.
"We shouldn't just kick this down the road," says Philip Cohen, a professor in the Legal Studies and Taxation Department of Pace University's Lubin School of Business, "but my suggestion is not to put a $50,000 cap on deductions," which had been suggested by Republican nominee Mitt Romney during the presidential campaign. Cohen did say that he didn't object to a cap on deductions "at a much higher level."
Cohen previously wrote in an opinion piece in
that "such a cap would unfairly affect upper-middle-class taxpayers in states with high tax rates like New York and California, who are subject to the tax through no choice of their own other than where they live and work. Furthermore, the much-criticized Alternative Minimum Tax already serves to limit many deductions, including state income taxes on many middle-class taxpayers."
"My suggestion would be to have some increase in statutory rates, to around 37%," says Cohen, "and that it not be imposed at a $250,000 income level, but at a higher level of $750,000 to $1 million."
Cohen also suggests reducing the limit on mortgage interest deductions from taxable income, from the current indebtedness limit of $1 million "down to $500,000, phasing it in for those who have already bought homes in reliance of the old law."
A Dimmer Outlook for Zions.
While updating the company's twelve month outlook at the FBR Investors Conference in New York, Zions CFO Doyle Arnold said that the company could report other-than-temporary-impairment, or OTTI, charges of "around $20 million pretax" during the fourth quarter, on "that rather large CDO portfolio that we have," according to a transcript provided by Thomson Reuters.
Zions reported OTTI charges of $2.7 million, or a penny a share, during the third quarter, and reported holding $2.088 billion in collateralized debt obligations, measured by amortized cost, as of Sept. 30, with a carrying value of $1.231 billion, with unrealized losses of $857 million. The company has been recording smaller OTTI charges than what Arnold expects for the fourth quarter, as trust preferred securities held by the CDOs are prepaid, because the Collins Amendment to the Dodd-Frank Wall Street Reform and Consumer Protection Act of 2010 excludes most trust preferred equity from banks' regulatory Tier 1 capital.
The company's updated fourth-quarter guidance also included $10 million in gains on "CDOs previously written down," and a 2% to 3% decline in core net interest income from the third quarter, with declining loan balances and rate pressure as loans renew at lower rates.
After the presentation, JPMorgan Chase analyst Steven Alexopoulos lowered his fourth-quarter core earnings estimate for Zions to 42 cents from 45 cents, and his 2012 EPS estimate to $1.40 from $1.43, noting that "our OTTI assumptions are excluded from our core EPS estimate."
Alexopoulos rates Zions "Overweight," with a $25 price target, and estimates core EPS of $1.55 in 2013. The analyst estimates that the company's tangible book value per share will be $22.66 at the end of 2013.
Earlier on Tuesday, after the revised outlook was released but before Arnold's presentation, Alexopoulos wrote that "the stock will likely be weak given the guided reduction to NII in 4Q12 (2% to 3%)," and that although "the near-term is likely to remain choppy at ZION, we maintain our Overweight rating on the stock," which was trading at "a 25% discount to peers" to tangible book value.
Zions Bancorporation has seen its stock return 23% year-to-date, following a 33% decline in 2013. The shares trade just below times their reported Sept. 30 tangible book value of $20.24, and for 11 times the consensus 2013 EPS estimate of $1.75, among analysts polled by Thomson Reuters. The consensus 2014 EPS estimate is $1.94.
data by
Interested in more on Zions Bancorporation? See TheStreet Ratings' report card for this stock.
RELATED STORIES:
Hurricane Sandy Will Make the Fiscal Cliff Deeper: Street Whispers
Hope and Change on Wall Street Is for Suckers: Street Whispers
Fannie, Freddie Will Live Forever: Street Whispers
Bank of America to Fall Off Cliff, Then Bounce: Analyst
Schapiro to Exit SEC, Walter Named Chairman
--
Written by Philip van Doorn in Jupiter, Fla.
>Contact by
.
Philip W. van Doorn is a member of TheStreet's banking and finance team, commenting on industry and regulatory trends. He previously served as the senior analyst for TheStreet.com Ratings, responsible for assigning financial strength ratings to banks and savings and loan institutions. Mr. van Doorn previously served as a loan operations officer at Riverside National Bank in Fort Pierce, Fla., and as a credit analyst at the Federal Home Loan Bank of New York, where he monitored banks in New York, New Jersey and Puerto Rico. Mr. van Doorn has additional experience in the mutual fund and computer software industries. He holds a bachelor of science in business administration from Long Island University.