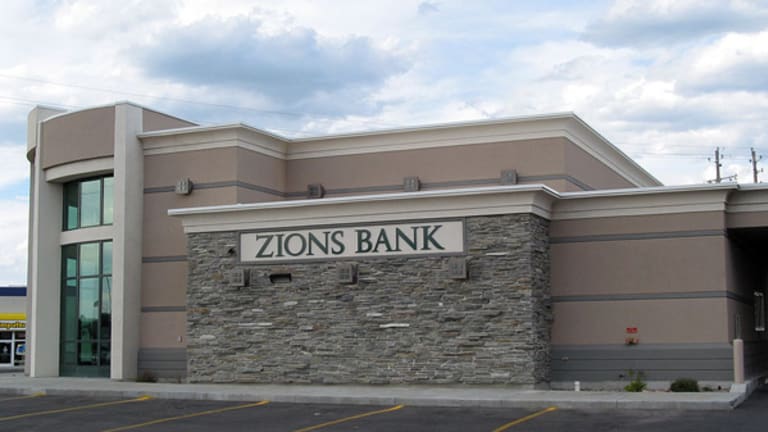 Publish date:
Zions Misses Estimates Despite Strong Interest Income
The Salt Lake City bank reported EPS of $.38.
The Salt Lake City bank reported EPS of $.38.
Zions Bancorporation (ZION) - Get Report the Salt Lake City-based bank holding company, reported earnings of 38 cents per share for the first quarter of 2016 on Monday afternoon, a penny short of estimates from a consensus of analysts who cover the company.
The miss represents a drop of around 11% from 43 cents in the fourth quarter of 2015 but an increase of around 3% from from the first quarter of 2015 or 37 cents per share. The bank is currently trading at $27.29, around .89 times tangible book, according to a note by Sandler O'Neill analyst Brad Milsaps. Milsaps said in the note that he expected Zions to report 38 cents per share.
The bank also reported net interest income of $453 million for the first quarter, up 1% for fourth quarter 2015, and up 21% from the first quarter last years. The bank said in its earnings release that the increase in net interest income was primarily driven by a change in the mix of interest-earning assets and that "average money market investments declined by $2.7 billion, much of which was deployed into loans and term investment securities."
Zions chairman and CEO Harris H. Simmons said in the announcement, "We continue to generate strong growth in pre-provision net revenue, reflecting operating leverage improvement resulting from solid loan growth, a more profitable earning assets mix and controlled core operating expenses." He added that "although energy-related credit losses and related provisions largely offset these gains, recent improvements in energy prices are encouraging, and credit performance in the rest of the portfolio has been stellar."
The bank performed fairly well in the last quart of 2015, having achieved positive operating leverage and met goals to keep adjusted non-interest expense below $1.6 billion for the year. The bank also reported an efficiency ratio of 68.5% during the first quarter this year. In its fourth quarter earnings, the bank stated a goal of achieving an efficiency ratio of less than 66% this year.
In the note, Milsaps said "loan growth improved in 4Q15 marked by 5.6% link-quarter annualized growth in period-end balances" and "absent run-off in energy and national commercial real estate, growth would have been closer to 8%."
Zions reported net charge-offs for oil and gas loans of $36 million in 1Q16 compared to $24 million in 4Q15.
Milsaps maintains a "Buy" rating on Zions.
Utah's fourth largest bank operates 500 branches in Arizona, California, Colorado, Idaho, Nevada, New Mexico, Oregon, Texas, Utah, Washington, and Wyoming and has a market cap of $5.6 billion, with nearly $60 billion in assets.