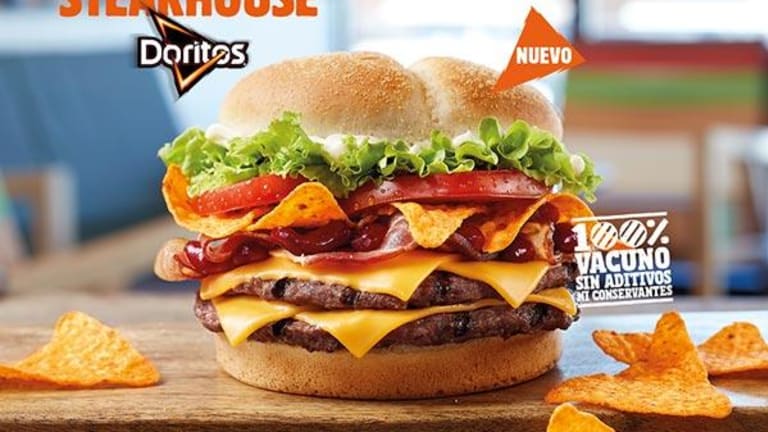 Zany Burger King Food Campaign Follows Whopperitos With Doritos Burger
Burger King just tossed Doritos on a new burger in Spain.
Updated from 4:46 p.m. to include additional details on the product launch
You've snarfed down a Whopperito, and gorged on Mac 'n' Cheetos. Now the zany folks running the test kitchens at Restaurant Brands International (QSR) - Get Restaurant Brands International Inc Report , owners of Burger King, have come up with a new sandwich they're laying on their customers in Spain: the steakhouse Doritos burger.
Really. Have a look. It's two meat patties smothered in American cheese and boasting not only the usual lettuce, tomato and mayonnaise but also a handful of regular-flavored Doritos that, at least in the photo, don't get soggy under the weight of watery tomatoes and lettuce (Spanish eaters, let us know if that's the case in real life).
A spokeswoman for Restaurant Brands International didn't return a request for comment. A source close to the matter said the new burger is a limited-time offering that is available at all Burger King's restaurants in Spain until Nov. 21. 
Spain is one of Burger King's largest European markets with more than 600 restaurants, so it makes sense to try its latest food mashup in the country before a potential U.S. launch. The burger certainly has all the makings of one that could do well in the U.S. -- it's relatively simple to construct and taps into people's love affair with Doritos.
Burger King is no stranger to launching weird fast food to grow sales in the highly competitive fast-food space. It's fresh off a nationwide launch last month of the Whopperito Aug. 15, which takes the ground beef, lettuce, tomatoes and pickles from the chain's signature Whopper burger and wraps it in a flour tortilla.
In July, the chain launched Mac n' Cheetos, which is a portable combination of mac n' cheese covered with crispy Cheetos flavor. Back in April, the company took its popular chicken fries rings nationwide. These more appetizer-like product launches came on the heels of a major hot dog platform roll-out in February across all of its 7,150 North America locations. And in March it unveiled the Angriest Whopper, a burger with a red bun, jalapenos and hot sauce.
The innovations have worked for Burger King. Same-restaurant sales at Burger King's U.S. business were unchanged in the second quarter due to the broader slowdown in the fast-food industry thanks to a shaky economy that sent people back to eating at home.
But the results outpaced many of the company's closest competitors. In the first quarter, same-store sales rose a solid 4.2%. Wall Street has rewarded Restaurant Brands for its outside the box thinking. Shares of Restaurant Brands have gained 28% this year over the past 12 months, out-performing the S&P 500's 11% increase.