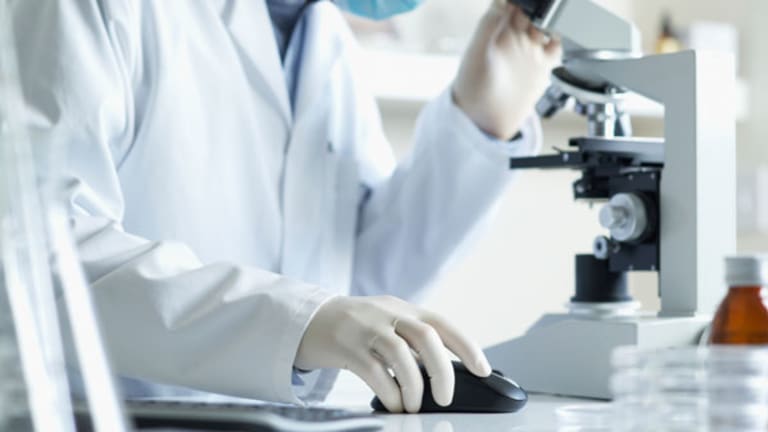 Your Vote Counts: Who Is the Worst Biotech CEO of 2012?
Readers get to decide which of the CEOs from BioSante, BioCryst, Peregrine or Cell Therapeutics deserve the dishonor.
Readers get to decide which of the CEOs from BioSante, BioCryst, Peregrine or Cell Therapeutics deserve the dishonor.
BOSTON (
) -- The nominees for Worst Biotech CEO of 2012 are...
Steven King of
Peregrine Pharmaceuticals
(PPHM)
, Jon Stonehouse of
BioCryst Pharmaceuticals
(BCRX) - Get Report
,
Cell Therapeutics'
(CTIC) - Get Report
Jim Bianco and Stephen Simes of
BioSante Pharmaceuticals
(BPAX)
.
Each of these executives has rightfully earned a share of this (dis)honor but only one can claim this year's Nance Trophy -- and the biotech investor scorn and ridicule that comes with it.
The Nance Trophy honors David Nance, the former CEO of now bankrupt and defunct Introgen Therapeutics. Few CEOs in biotech did more to hone the fine craft of investor bamboozlement and outright incompetence as Introgen's Nance.
Past winners (or should I say losers?) of the Worst Biotech CEO of the Year Award are
Elan's
(ELN)
Kelly Martin (2008), Genzyme's Henri Termeer (2009), Dan Bradbury of Amylin Pharmaceuticals (2010) and
Dendreon's
(DNDN)
Mitch Gold (2011.)
As in previous years, readers will cast the deciding votes. Read the following nominating summaries and make your selection in the interactive poll below. Feel free, also, to post comments at the bottom of the story if you feel I left off a CEO deserving of shame.
In a week or so, I'll tally the votes and award the trophy.
Steven King, Peregrine Pharmaceuticals:
Clinical trial failure happens all the time in biotech and is not enough to land a chief executive a "worst" nomination. Peregrine's King, however, isn't just an innocent victim of bad luck. Under his leadership and in public, Peregrine shamelessly hyped and promoted bavituximab in the months leading up to the September lung cancer data results, promising investors that "exceptional" data was sparking interest from potential partners. Privately, however, King directed the company to sell millions of dollars in company stock through opaque, backdoor and highly dilutive financing deals.
For a few days in September, King looked like a genius as investors considered the possibility Peregrine had a blockbuster lung cancer drug on its hands. Bavituximab appeared to double survival in second-line lung cancer patients. The unprecedented data from a mid-stage study seemed entirely implausible but there they were, presented during a plenary session at a well-respected oncology research conference.
Peregrine shares traded for pennies, literally, in July. On Sept. 21, with investors buzzing over bavituximab, the stock hit $5.50 per share.
And then, it all blew up. On Sept. 24, Peregrine threw out the bavituximab lung cancer results due to "major discrepancies" in the conduct of the study. The doubling of survival attributed to bavituximab turned out to be a hoax. Peregrine blamed an independent contractor for messing up the conduct of the study, but of course, investors rightly nailed Peregrine for the fiasco. The value of Peregrine's shares cratered to pennies. The company's credibility suffered even more.
Jon Stonehouse, BioCryst Pharmaceuticals:
During Stonehouse's tenure as CEO, BioCryst has chased wildly and incoherently after the hottest trends in drug development but never successfully because the company is always hopelessly behind competitors. In recent years, BioCryst has failed to develop drugs or vaccines in oncology, gout, bird flu/influenza, and most recently, hepatitis C.
If Stonehouse were a baker, he'd just now be getting around to opening a gourmet cupcake shop.
BioCryst's "me-too" strategy blew up badly in Stonehouse's face this year. In October, FDA refused to allow human testing to begin on a BioCryst hepatitis C drug due to safety concerns. In November, development of BioCryst's most advanced pipeline product, the flu vaccine peramivir, was shelved due to futility before a phase III study could be completed. An FDA clinical hold was also placed on early-stage hereditary angioedema drug BCX4161 due to manufacturing problems.
The never-ending bad news killed BioCryst's stock price, which in turn, contributed to the termination of a planned all-stock merger with
Presidio Pharmaceuticals
. As 2012 comes to an end, BioCryst is left with a mediocre gout drug in clinical purgatory, the U.S. government money spigot for peramivir turned off, and less than a year's cash in the bank.
Oh, and Stonehouse is still in charge of BioCryst, but then, why bother shareholders with yet more bad news?
Jim Bianco, Cell Therapeutics:
You may be shocked to learn Bianco has never before won Worst Biotech CEO dishonors, nor has he even been officially nominated. Bianco always seems like too easy a target. In past years, I've referred to Bianco as the "Worst Biotech CEO Emeritus" to recognize a lifetime of using Cell Therapeutics as his personal ATM while leaving shareholders with reams of broken promises and staggering financial losses.
In 2012, European regulators approved Cell Therapeutics' lymphoma drug Pixuvri. The company also licensed pacritinib, a phase III-ready myelofibrosis drug. Both the Pivuvri approval and the pacritinib deal could be viewed as legitimate accomplishments deserving of some investor love, particularly given the biotech bull market that has buoyed penny stocks with far less going on.
Yet year to date, Cell Therapeutics shares are down 76%. That's just pathetic and underscores how much investors loathe Bianco's toxic reign at Cell Therapeutics.
Stephen Simes, BioSante Pharmaceuticals:
Simes is weeks away from being kicked to the curb as CEO of BioSante. Once the merger with
ANI Pharmaceuticals
closes, BioSante will cease to exist, thankfully. But while Simes is still in charge, there's time to nominate him for Worst Biotech CEO. It's a fitting going-away gift.
Stephen, do biotech investors a favor. Stay retired. Please.
Please vote in the poll below:
Who is the worst biotech CEO of 2012
Steven King, Peregrine Pharmaceuticals
Jon Stonehouse, BioCryst Pharmaceuticals
Jim Bianco, Cell Therapeutics
Stephen Simes, BioSante Pharmaceuticals
or View Results
Create your own poll at Flisti.com
-- Reported by Adam Feuerstein in Boston.
Adam Feuerstein writes regularly for TheStreet. In keeping with company editorial policy, he doesn't own or short individual stocks, although he owns stock in TheStreet. He also doesn't invest in hedge funds or other private investment partnerships. Feuerstein appreciates your feedback;
to send him an email.