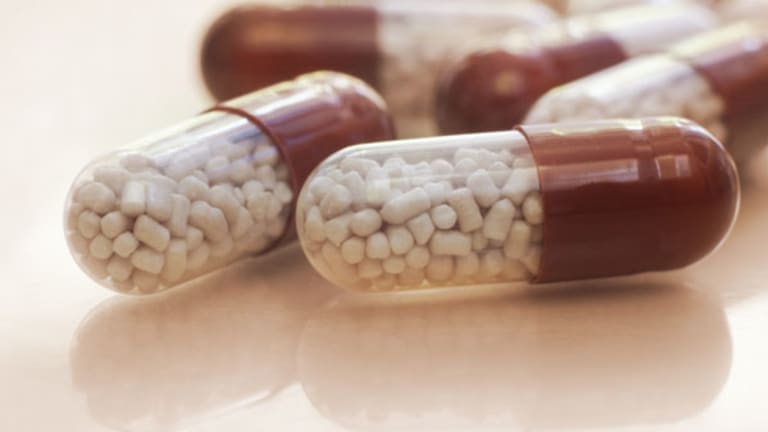 Your Vote Counts: Who Is the Worst Biotech CEO of 2011?
The five nominees for Worst Biotech CEO of 2011 face the wrath of readers; one of whom will get tagged with this dishonorable award.
BOSTON (
) --A desperate, $11 billion Hail Mary acquisition, two botched drug launches, a clueless, tin-eared investor relations strategy, and an expensive and quixotic quest to develop a product no one needs -- these are the transgressions that have earned five executives the dishonor of being nominated for
TheStreet's
Worst Biotech CEO of 2011 Award.
You, the readers, (the 99%!) will decide which of these five nominees is the worst of the worst and deserves to hold aloft the Nance Trophy.
The five Worst Biotech CEO nominees for 2011 are John Martin of
Gilead Sciences
(GILD)
, Mitch Gold,
Dendreon
(DNDN)
,
Amarin's
(AMRN)
Joseph Zakrzewski, Al Mann of
Mannkind
(MNKD)
and Gregory Divis Jr. of
K-V Pharmaceuticals
( KV.A).
The Nance Trophy is named in recognition of David Nance, the former CEO of now bankrupt and defunct
Introgen Therapeutics
. Few CEOs in biotech did more to hone the fine craft of investor bamboozlement and outright incompetence as Introgen's Nance.
Past winners (or should I say losers?) of the Worst Biotech CEO of the Year Award are
Elan's
(ELN)
Kelly Martin in 2008,
Genzyme's
Henri Termeer in 2009 and Dan Bradbury of
Amylin Pharmaceuticals
( AMLN) last year.
For the 2011 crowning, I'd like readers to cast the deciding votes. Read the following nominating summaries and make your selection in the interactive poll at the end of this story. Feel free also to post comments if you feel I left off a CEO deserving of shame. I'll tally the votes and award the trophy in a week.
John Martin, Gilead Sciences:
Honest to God truth, I wrote up Martin's nomination for worst biotech CEO on the Sunday afternoon before Gilead announced its audacious and unbelievably expensive
of
Pharmasset
(VRUS)
. A few days later, I sat down to reassess Martin's status. Did he still deserve the sting of this nomination? Or had he earned a reprieve, perhaps even a nod as a best biotech CEO candidate?
I decided that Martin still belongs here. The Pharmasset acquisition may transform Gilead into a hepatitis C drug powerhouse, or it might not. The Hep C treatment landscape is changing so quickly and competition is so intense, predicting which drugs may or not become future fixtures is nearly impossible.
Looming patent expirations on key Gilead HIV drugs have weighed heavily on the company's stock price. Martin deserves credit for building Gilead into the dominant HIV drug company but he's also at fault for letting that coveted franchise stagnate.
Multiple acquisitions and partnerships in other disease areas have proven to be expensive failures. Most glaringly, Gilead's efforts to develop its own Hep C drugs have gone nowhere, a corporate embarrassment given Gilead's supposed antiviral drug expertise.
Everyone can agree that Gilead needed to do something to reinvigorate growth. But is gambling $11 billion on a risky Pharmasset acquisition the best idea Martin could come up with? Right now, the deal smacks of desperation, which is enough to land Martin a spot as a worst biotech CEO nominee.
Mitch Gold, Dendreon
One year a champ, the next a chump. That's the predicament in which Dendreon CEO Mitch Gold finds himself exiting 2011. The huzzahs of 2010 -- FDA's
, unbound optimism for the launch of the first prostate cancer immunotherapy, not to mention winning TheStreet's
Best Biotech CEO of the Year Award
-- are now tattered memories.
Gold's 2011 has been a
largely of his own making. He mispriced Provenge, overestimated patient demand for the cancer immunotherapy and was wholly unprepared to deal effectively with the inevitable reimbursement concerns and questions that come with a new and novel therapy.
As a result, Dendreon's stock and reputation are in tatters. Shareholders (those who stuck with the company) are P.O.'d, some are calling for Gold's ouster. Provenge, once the most talked-about prostate cancer therapy, is at
risk of falling into irrelevancy
due to competing drugs that are easier to use and just as effective.
Remember when other companies wanted to be "the next Dendreon"? Today, not so much, which is why placing Gold on this list was one of the easiest decisions I've made in a long time.
Joseph Zakrzewski, Amarin
A stunning inability (or unwillingness) to communicate with investors lands Zakrzewski a worst CEO nomination.
Exhibit A: Zakrzewsi opens his mouth to titillate shareholders with the possibility of a lucrative takeout. Naturally, this sets expectations sky high. Said expectations crash and burn when no deal is delivered, taking Amarin's stock price down with it.
Exhibit B: Zakrzewski zips his lips in the face of
mounting concerns about the patents
(or lack thereof) covering Amarin's only asset, the lipid-lowering drug AMR101. Shareholders grow confused, panicky as U.S. patent reviewers reject Amarin's patent applications. Zakrzewski doesn't bother to explain, shareholders panic, Amarin's
.
AMR101 has two wildly
positive phase III clinical trials
under its belt and approval next year could bring with it billions of dollars in worldwide sales. Yet Amarin's stock trades like AMR101 is garbage.
Heckuva job, Joseph.
Al Mann, Mannkind
A billionaire entrepreneur with an oversized ego decides to name a company after himself to develop an insulin inhaler that never works quite right and isn't needed by diabetics, anyway. Stubborn and arrogant, Mann shamelessly pumps his disastrous diabetes device, known as Afrezza, to audiences of gullible investors who believe stupidly in the motto "In Al We Trust."
FDA rejects
. MannKind shares tank. The company's
makes Greece look like super-creditor nation. Mann becomes a punch line but his shareholders feel like crying.
Mannkind? More like hubris masquerading as medical innovation.
Gregory Divis Jr., K-V Pharmaceutical
Divis wrote the CEO manual this year on how to screw up a new drug launch in every conceivable way. His was a performance of idiocy on a grand scale that may never be matched. Even Dendreon's Gold looks like a drug-marketing superstar next to Divis.
The drug launch Divis
, an injectable form of the hormone progesterone used to reduce the risk of premature birth. For years, doctors have been able to prescribe the same drug made by compounding pharmacies, costing just $10 to $20 per injection. K-V priced Makena at $1,500 per injection.
K-V also claimed market exclusivity for Makena because the drug was granted orphan status by FDA, so the company's lawyers threatened to sue any compounding pharmacy that dared continue to manufacture the cheaper version.
Divis' aggressive tactics backfired big time. Doctors got mad, worried that their patients would no longer be able to afford the medicine they needed. The March of Dimes accused K-V of profiteering at the expense of at-risk pregnant women. The FDA questioned the company's tactics. Politicians blasted K-V and called for investigations into the company's marketing practices.
Needless to say, the Makena launched bombed. K-V was forced to backtrack and cut the drug's price, but even that conciliatory gesture was met with skepticism and scorn.
And now to the ballots.
-- Written by Adam Feuerstein in Boston
>To contact the writer of this article, click here:
Adam Feuerstein
.
>To follow the writer on Twitter, go to
http://twitter.com/adamfeuerstein
.
>To submit a news tip, send an email to:
.
Follow
TheStreet
on
and become a fan on
Adam Feuerstein writes regularly for TheStreet. In keeping with company editorial policy, he doesn't own or short individual stocks, although he owns stock in TheStreet. He also doesn't invest in hedge funds or other private investment partnerships. Feuerstein appreciates your feedback;
to send him an email.