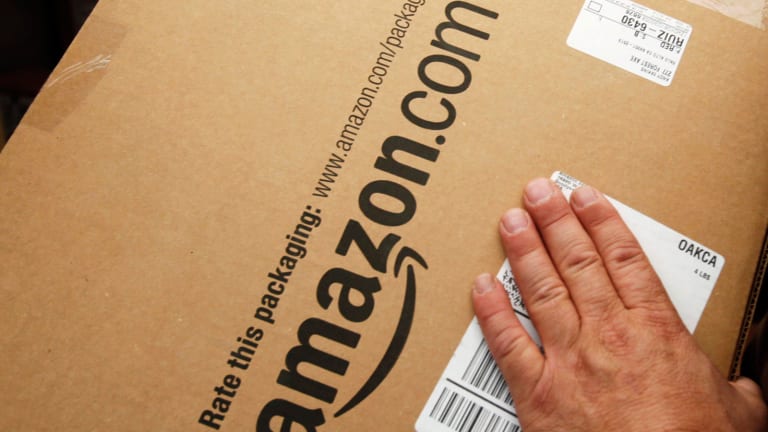 Your Guide to Black Friday Shopping on Amazon
Amazon customers can expect deals on popular products including electronics, toys, clothing, jewelry, and kitchen items.
It's Black Friday and today, Amazon customers can expect deals on popular products including electronics, toys, clothing, jewelry, and kitchen items. With tens of thousands of products on sale, how does one navigate the online retail giant on the biggest shopping day of the year?
Before you map out your Amazon Black Friday shopping strategy, there's one thing you need to know, and this is of "prime" importance: Amazon Prime members get access to some 30,000 deals ahead of everyone else. That's right. Amazon is rewarding its most loyal customers with the privilege of shopping for heavily discounted products half an hour before they become available to non-members.
If you're not a Prime member, now is a good time to sign up for an Amazon Prime membership or free trial. Note that if you have previously tried Amazon Prime, you will no longer be eligible for the free trial offer.
Amazon is making it easier for customers to get all their holiday shopping done all in one place by introducing Gift Guides. For example, shoppers looking for high tech gifts for gamers and music lovers can shop the Amazon Electronics Gift Guide.  Those looking to purchase a tablet or a new laptop for their kids can shop the Computers & Accessories Gift Guide.
Unsure about what to give friends and family members? Amazon's Gift Finder tool has some great gift ideas categorized by age (adult, kid, toddler or baby) and by interests (cooking, art, fashion, photography, etc.)
If you need inspiration from Oprah Winfrey herself, you'll be glad to know that she has partnered with Amazon to help shoppers find some of her favorite gifts this year. Oprah's Favorite Things can all be found on Amazon -- shop for the techie, the chef, the fashionista or the foodie on your list.
Want to give the gift of a Prime membership? Amazon makes it easy with one click. With Give the Gift of Prime, recipients can start their Prime membership right away. And if the recipient is already a Prime member, the gift can be exchanged for an Amazon.com gift card.
One more thing: There will be about 150 app-only deals that will be released between Thanksgiving and December 9th for customers to take advantage of. These deals will be available through the Amazon Mobile Shopping App (available on Android, iOS, and Fire OS), which will also allow users to set reminders for upcoming sales.
Ready to shop? Here are some great Black Friday deals we've found.


Fitbit Flex Wireless Activity + Sleep Wristband
One of the most popular products on the market this year is the Fitbit, and, yes, there are deals to be found on this stylish device that tracks all of your activity, such as steps, distance, calories burned, and active minutes.
The Fitbit can even be worn at night to measure your sleep quality and a silent, vibrating alarm will wake you up in the morning.  The water-resistant Flex is designed for wearing on the wrist. It touts a five-day battery life, and syncs with most smartphones, tablets and PCs.
The activity tracker makes it easy to set your own personalized sleep and exercise goals, too, so you can dial up the intensity of your fitness goals at your own pace.
If you're looking for a camera for yourself or as a gift, the Sony Alpha a6000 Mirrorless Digital Camera offers a lot of value.
This compact camera features an advanced mirrorless system that facilitates speed and clarity. Sony touts this as "the world's fastest autofocus" camera, and it will provide up to 24.3 MP in detail. What's more, with the Sony a6000 you can shoot up to 11 frames per second. The camera also comes standard with an OLED viewfinder and built-in Wi-Fi.
The Sony a6000 is about half the weight and size of conventional DSLRs, while offering auto focus at 0.06 seconds and 179 AF points. It also will record Full HD quality 1080/24/60P video.
The level of picture quality is hard to beat at this price, and it's a very well-equipped rig that should check all of the boxes for an amateur photographer.
Philips Norelco Electric Shaver 8900
The Philips Norelco Shaver 8900 features the company's "advanced shaving system." Philips Norelco says its device will cuts hairs up to 30 percent closer to the skin than other shavers on the market. The shaving heads use "contour detect technology" to move in eight directions in order to optimize cutting in a single pass. The blades also are designed to self-sharpen in order to maximize efficiency.
For beard trimmers, the shaver includes five built-in length settings for trimming everything from stubble to a short beard. The shaver's rounded tips and comb are also designed to reduce skin irritation. Plus, a "smart clean system" facilitates easy maintenance to ensure your shaver is ready to go as needed. And an LED display even warns when the battery is low. Moreover, this is a unisex device, perfect for men and women. From thick beards to leg hair, the 8900 is well suited for any shaving task.
Logitech Wireless Combo Mk520 with Keyboard and Mouse

The Logitech Wireless Combo for Windows PCs includes a full-size keyboard, a contoured optical mouse, and a single wireless receiver that easily connects them both to your computer. The powerful 2.4 GHz wireless connection is handled by one tiny unifying receiver plugged into a USB port.
The full-size wireless keyboard has softly rounded keys to help keep typing comfortable and quiet. The contoured, invisible optical mouse is designed to work on just about any surface. It includes rubber grips, and provides accurate cursor control when in use.  
The battery life of the mouse is outstanding and the ergonomics, while not perfect, are very well suited for everyday use. Click sensitivity and keyboard key response are both satisfying and effective, and for the price, the bundle is hard to beat.  
West Bend Stir Crazy 6-Quart Electric Popcorn Popper

There is nothing quite like the aroma of freshly popped popcorn. The West Bend 82306 Stir Crazy 6-Quart Electric Popcorn Popper takes the classic popcorn maker to the next level. A motorized stirring rod helps to ensure that every single kernel pops with consistent efficiency. The Stir Crazy Popper yields up to 6 quarts of perfectly popped corn in about five minutes. The plastic cover is also a serving bowl, so you just flip it over after the popcorn is done popping, and you're good to go.
The Stir Crazy is a 1000-watt popcorn maker with a nonstick-coated on the cooking surface. It also has heat-resistant handles and base for added safety.
Unlike air-popped and microwave popcorn, the electric popper tends to pop almost all of the kernels, and the speed with which the Stir Crazy makes popcorn makes it easy to make big batches for entertaining company.
Breville Juice Fountain Elite Juice Extractor

If you're thinking about a healthier diet in 2016, you may want to consider the Breville 800JEXL Juice Fountain Elite 1000-Watt Juice Extractor. Breville says that its Nutri Disc and patented juicing system extracts more nutrients than other juicers, and transfers less heat, which protects enzymes and maximizes nutrient absorption.
The Juice Fountain's dual-speed control helps you adjust the speed based on the ingredients being juiced. This well-built machine itself features die-cast steel housing, a stainless-steel micromesh filter, and a titanium-plated cutting disk.
A circular three-inch tube will let feed whole fruits and vegetables into the juicer. It also includes a pulp container, a juicing pitcher and recipe book to help get you started. The included cleaning brush helps make clean up easy, and most of the parts are dishwasher safe.
Samsung 28-Inch 720p 60Hz LED TV

If you're looking for a great deal on an LED TV, try the Samsung UN28H4000 28-Inch 720p 60Hz LED TV. The 28-inch Samsung LED is a great size for bedrooms, kitchens and dorm rooms. It offers a 720p high def picture, and a built-in system for delivering good motion clarity.
With Samsung's Eco Sensor, the TV adapts its picture based on the intensity of the light in a room. It measures the amount of existing light and automatically adjusts the brightness of the image on the TV for the optimal viewing picture.
Another feature, called ConnectShare Movie, enables you to watch videos, play music or view photos by just plugging a USB stick directly into you're the TV's USB Port.
Sound quality also won't disappoint. Two-channel stereo audio tracks to deliver a full range surround sound effect, with enhanced bass and dialog clarity. The set also includes S/PDIF and HDMI outputs.
Set up is easy, too, with a well-designed and accessible user interface that will have you up and running in no time.
Not surprisingly, Amazon is discounting many if its own products as part of Black Friday promotions. Starting Nov. 26th, Amazon is offering $15 discounts on its new Fire Tablet line.
The new Kindle Fire seven-inch tablet, for example, features a 1024 x 600 display and 8 GB of storage that can be expanded up to 128 GB with a microSD card. The Fire's quad-core processor is designed to facilitate quick app launches, smooth streaming games and videos, and steady performance. Fire users also get free unlimited cloud storage for all Amazon content and photos taken with the Fire device.
The Fire comes with a 2 MP rear-facing camera for shooting photos or recording 720p HD video. There is also a front-facing VGA camera for Skype, selfies, and other interactive communications. The Fire also includes a 3.5 mm stereo jack and integrated speaker.
The combination of screen and build quality is hard to find at such a low price point elsewhere, which makes the Fire a great option for gift giving without having to revise your finances.
$34.99 on Amazon


Amazon Kindle Paperwhite

Amazon's Kindle line will be discounted by about 40% beginning on Nov. 22nd.
The Amazon Kindle Paperwhite is one of the options in the Kindle family. It features a high-resolution display to facilitate sharp, clear text and images. A built-in light illuminates the screen from above, reducing eye fatigue. Brightness controls enable the user to customize the screen to personal preferences.
Amazon boasts that a single charge lasts eight weeks, based on 30 minutes of reading per day with wireless off and the light setting at 10.  The Kindle Paperwhite uses low-power LED technology to reduce power consumption and help evenly illuminate the entire screen.
The Kindle Paperwhite relies on Wi-Fi, but Amazon also offers a model with optional 3G connectivity that lets you download books anytime, anywhere.
Fire TV Stick

Starting on Nov. 26th, you can grab one of Amazon's Fire TV Stick for nearly 40% off the list price as part of the Black Friday deals.
The Fire TV Stick is designed to connect HDTV to online content. It provides an easy way to stream Netflix, Hulu, live and on-demand sports, and, really, whatever you want, from a tablet or smart phone to the big screen.
It features a dual-core processor and 8 GB of storage. And the Fire TV Remote App helps you search for content using simple voice commands. Voice search supports Amazon's entire video, app, and game catalog.  

Prime members will have access to 30,000 Lightning Deals ahead of anyone else. Sign up for a membership or free trial if you haven't already.
-- Written by Caroline Nolan and Greg Sandler
Disclosure: TheStreet has advertisers and partnerships; we may get a share of the revenue from your purchase.