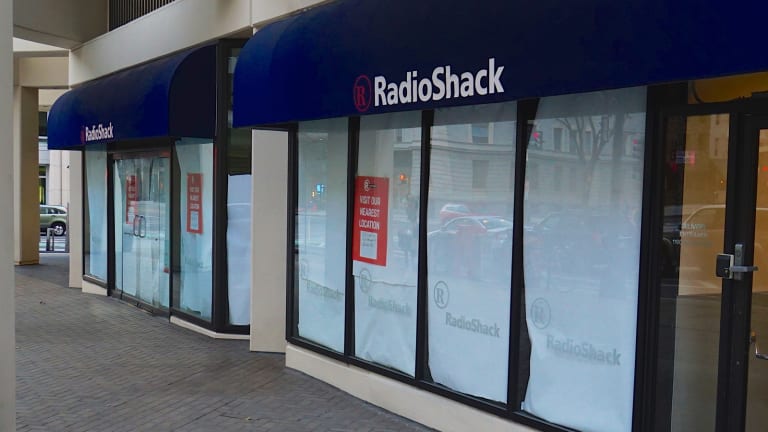 Amazon the Next RadioShack?
Like Amazon, RadioShack's stock once pulled back from its peak. And then it collapsed.
Amazon (AMZN) - Get Amazon.com, Inc. Report has pulled back nearly 10% after hitting an all-time high last week, but dip buyers should remember that RadioShack once seemed like a bargain, too -- until its stock fell to zero, TheStreet's David Yoe Williams says.
"At a certain point when RadioShack was starting to fade, it [looked like] a buy at $15, $10, $5, a dollar-and-a-half -- [except] it wasn't," Williams said during TheStreet's August Trading Strategies roundtable discussion.
"Everybody said Amazon was so great and [is] going to kill [traditional] retail, but come to find out maybe it hasn't," he said. "It's really only 20 percent of the market."
Williams said investors thinking of buying Amazon or other red-hot tech stocks need to remember "basics and fundamentals -- you buy low and you sell high."
"I don't care if you're in bonds. I don't care if you're in the equities. I don't care if you're in gold -- you look for assets that are undervalued and you buy them, and you sell assets that are fully valued or fairly valued," he said. "If [we] are eight years into a bull run and you're telling me: 'I want to buy techs at this spot,' I would say: 'I'd rather go into energies and basic fundamentals.'"
Amazon's shares fell 0.9% to $987.33 by Thursday's close.
You can check out our entire August Trading Strategies roundtable here. Or, read more of our columnists' August advice at:
Trading Strategies: Hospitality and Leisure Don't Get Enough Attention
More of What's Trending on TheStreet:
Tesla's Remarkable Rally Just Getting Started: Chart
Employees of TheStreet are restricted from trading individual securities.