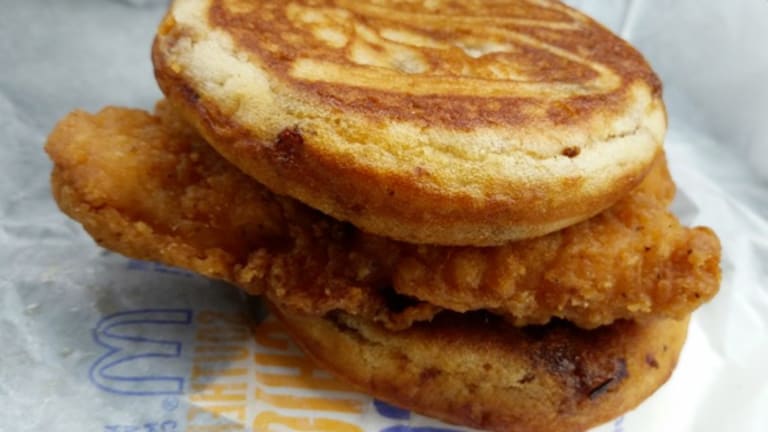 You'll Never Believe McDonald's Newest Sandwich
The Golden Arches kicks off 2017 with a helping of product innovation.
Editors' pick: Originally published Jan. 3.
McDonald's (MCD) - Get McDonald's Corporation Report is channeling kitchens across the South for its latest waistline-busting fast food.
Certain McDonald's restaurants in Florida started serving Monday chicken McGriddles as part of the chain's all-day breakfast menu. The sandwich will give people a taste of the always popular chicken and waffles -- the McGriddle's bread is made with syrup and the fried chicken is well, fried chicken. The deal runs through April 26, 
McDonald's previously tested chicken McGriddles in several restaurants in Ohio early last year. The McGriddles launch comes as the company is preparing a national debut this month of two new Big Macs.  
The Grand Mac, which rests on a larger sesame seed bun, is made with two beef patties that weigh in at one-third of a pound compared with a traditional Big Mac, which has two, 1.6-ounce beef patties. The Mac Jr. is a essentially a single-layer Big Mac. Each sandwich will have the traditional Big Mac sauce.
Wall Street is likely hoping Mickey D's has many more new innovative products in the pipeline for the year ahead. 
McDonald's stock was one of the worst-performing components of the Dow Jones Industrial Average last year, rising a meager 3% to $121.72. The culprit for the lagging performance was a stretch of slowing sales at the world's largest restaurant chain's important U.S. market. 
The company's U.S. sales rose 1.3% in the third quarter, a slower pace than the 1.8% increase seen in the second quarter. In the first quarter, McDonald's U.S. same-store sales rose 5.4%. The results were even more disappointing considering McDonald's aggressive TV marketing of its new Chicken Nuggets, made without artificial ingredients, during the Olympics and steady stream of ads for its all-day breakfast platform.
As a result of the slowdown and tough year-ago comparisons, McDonald's may be on track to show a decline in sales in the U.S. for the fourth quarter.