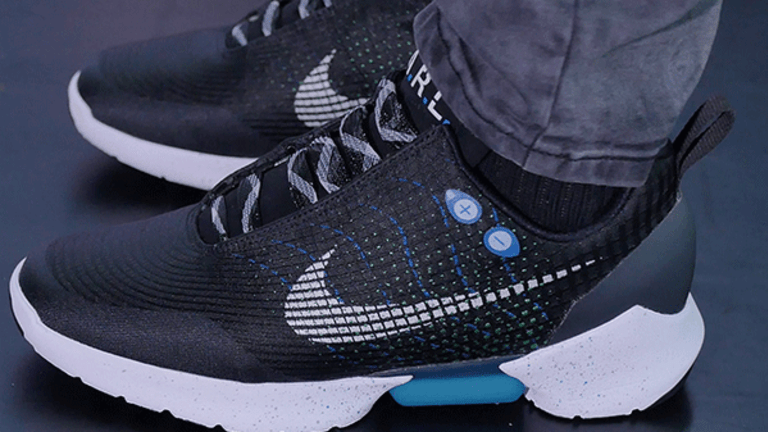 You Can Now Buy Nike's Mind-Blowing $720 Self-Tying Sneakers
Nike's most innovative sneaker goes on sale Thursday.
Nike's most innovative sneaker goes on sale Thursday.
It's go time for one of Nike's (NKE) - Get Report most innovative sneakers ever and time to say goodbye to tripping over your shoelaces.
The Hyperadapt 1 sneakers will officially be available for a cool $720 at several Nike stores in New York on Thursday, including the super-crowded new location in Soho. Earlier in the week, Nike quietly debuted the shoes at two Soho stores and the Nike Plus app. The sportswear giant will rollout the Hyperadapt 1 to more stores in January, along with a new silver color sneaker.
Nike first showed off its Hyperadapt sneakers in March. The sneakers feature what Nike calls "adaptive lacing" technology, which can automatically tweak the snugness of the shoe. There are two buttons on the side to tighten and loosen the laces. They obviously have to be charged, which is done via a wireless charging puck. A blue light on the sole of the shoe indicates a full charge, a yellow light warns a user the battery is dying and red is basically panic mode for sneakerheads. 
The sneaker giant could use a major new product win.
Sales of Nike footwear in North America rose 7% year over year to $2.5 billion for the first fiscal quarter ended Aug. 31, slower than year-earlier growth rate of 9%. In large part, the slowing sales growth for Nike has been fueled by sluggish demand for its basketball sneakers in the face of greater competition from the Under Armour (UA) - Get Report Stephen Curry basketball brand and new fashion offerings from Adidas (ADDYY) .
Nike shares have fallen about 20% to $51.01 so far this year, lagging the Dow Jones Industrial Average's 9.8% gain.
"Nike needs something for the blog culture to hype over, and since the ball was dropped with the Back to the Future Mag [sneakers], they wanna make sure they stay in the fight socially with both Adidas and Under Armour being all the buzz lately. It's a smart plan, but a game changer [the Hyperadapt], no," said sneaker expert Clyde Edwards.