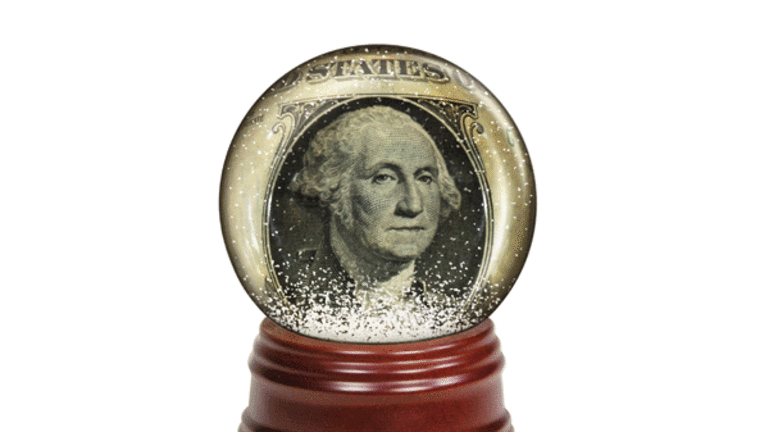 Would You Defy Buffett for a Dividend Check?
These dividend stocks compete with Berkshire Hathaway's subsidiaries.
NEW YORK (TheStreet) -- There are many good reasons not to pick a fight with an 80-year old man -- but investors have a particularly good reason: They stand to get walloped.
As you may have guessed, the octogenarian whom we are alluding to is
, and while market participants shouldn't follow the Oracle of Omaha blindly, they probably shouldn't tussle with him either.
Do you really want to pick a fight, junior?
Therein lies an interesting conundrum: How should investors react when Warren Buffett's
Berkshire Hathaway
(BRK.B) - Get Report
buys a company outright?
One school of thought suggests that "when the Nebraska native makes a big purchase, he sees a bigger trend." In this case, it may make financial sense to buy into a competitive company within the same industry (a rising tide lifts all boats, so they say).
But if Buffett is committed to buying an entire company, there's a good chance that the company is "best of breed." To that end, does it make sense to buy stock of an inferior company that will battle Buffett's Berkshire for market share?
The devil, likely, is in the details.
Berkshire Hathaway owns several regional businesses that pose little threat to regional businesses of the same ilk but located elsewhere (furniture stores come to mind). The same cannot be said of larger, nationally advertised Berkshire subsidiaries (such as Geico).
Berkshire Hathaway publishes a complete list of its subsidiaries
: We thought it would be fun to cherry-pick 10 of these companies that are easily contrasted with publicly traded counterparts (sharing core businesses, and sometimes, similarities in name and geography).
Let it be said that
we are not
recommending that you purchase these stocks, rather, this list is merely presented to expand the scope of what an investor might consider "stocks within Warren Buffett's universe."
However, this list is careful to include only stocks that pay a dividend, one of the few luxuries that Berkshire Hathaway investors cannot enjoy.
---------------------------
You Can't Buy Benjamin Moore -- but You Can Buy:
Sherwin-Williams
(SHW) - Get Report
or
Valspar
(VAL) - Get Report
. Both of these companies sell interior and exterior paints and both stocks pay a dividend, yielding 1.48% and 1.68%, respectively.
TheStreet Ratings* rates Sherwin Williams buy (B-) and Valspar buy (B+).
---------------------------
You Can't Buy See's Candies -- but You Can Buy:
Rocky Mountain Chocolate Factory
(RMCF) - Get Report
or, if you prefer to avoid small-caps,
Hershey
(HSY) - Get Report
or
Tootsie Roll
(TR) - Get Report
. These dividend paying confectioners yield 4.31%, 2.55% and 1.39%, respectively.
TheStreet Ratings gives Hershey a buy (A-) rating while scoring Rocky Mountain Chocolate Factory a buy (B) and Tootsie Roll a buy (B-).
---------------------------
You Can't Buy Lubrizol -- but You Can Buy:
NewMarket
(NEU) - Get Report
-- a maker of specialty chemicals (specializing in additives for engines) -- yields 1.68%. The company is one of last decade's best-performers, gaining upwards of 3,000% (dividends notwithstanding).
TheStreet Ratings give NewMarket a rating of buy (A-).
---------------------------
You Can't Buy H.H. Brown -- but You Can Buy:
Brown Shoe Co.
(BWS)
-- this dividend stock, currently yielding 3.12%, is remarkably similar to H.H. Brown in both name and in business.
TheStreet Ratings is neutral on the stock, awarding it a rating of hold (C), however, there are numerous buy-rated footwear stocks that pay a dividend (including
Nike
(NKE) - Get Report
, a publicly traded Berkshire Hathaway holding).
---------------------------
You Can't Buy Mid-American Energy -- but You Can Buy:
Ameren
(AEE) - Get Report
-- this public utility holding company came into existence when Missouri's Union Electric Co. merged with the Central Illinois Public Service Company. The stock currently yields 5.01%, which is appreciably higher than the utility sector as a whole.
TheStreet Ratings give Ameren a rating of buy (B).
---------------------------
You Can't Buy The Pampered Chef -- but You Can Buy:
National Presto
(NPK) - Get Report
is an appliance manufacturer perhaps best-known for its line of pressure cookers. However, to value investors, the company may be known for a different reason: it was favorably analyzed by Benjamin Graham in
The Intelligent Investor
.
Presto is somewhat of a strange stock by today's standards as it pays out a large percentage of profits, once per year, in the form of a special dividend (which can lead to erratic stock price movements). Graham, if he were alive, would likely be satisfied by this policy.
TheStreet Ratings give National Presto a rating of buy (B).
---------------------------
You Can't Buy Fechheimer Brothers -- but You Can Buy:
Cintas
(CTAS) - Get Report
is an Ohio-based company that specializes in uniforms and apparel but also offers an array of business services that include document management and floor cleaning.
The stock pays a dividend (usually on an annual basis) and currently yields 1.38% -- it is rated buy (A) by TheStreet Ratings.
---------------------------
You Can't Buy Fruit of the Loom -- but You Can Buy:
Gildan Activewear
(GIL) - Get Report
is a maker of clothing basics, and recently the acquirer of Gold Toe
socks. The company is headquartered in Canada and is listed on both the Toronto Stock Exchange and the
New York Stock Exchange
.
The stock currently yields 1.15% and holds a buy (B-) rating from TheStreet Ratings.
---------------------------
You Can't Buy BNSF -- but You Can Buy:
Canadian National Railway
(CNI) - Get Report
has a unique system map: Its arteries extend from the extremes of Canada and connect to the American south (down the middle). In this sense, the company can be viewed as a rail operator with "diversified" interests.
In the past decade, Canadian National Railway has been the best-performing railroad stock (by far) of those with a market capitalization greater than $10 billion.
The stock currently yields 1.94% and is rated buy (A) by TheStreet Ratings.
---------------------------
You Can't Buy Helzberg Diamonds -- but You Can Buy:
Tiffany & Co.
(TIF) - Get Report
is one of America's most recognized brands. The company holds a color trademark -- Pantone 1837 -- and with good reason: The hue is almost immediately identifiable (even similar shades are erroneously called "Tiffany Blue").
But
Tiffany is also one of America's more interesting companies
; having designed the interlocking "NY" logo made famous by the New York Yankees and designing iterations of the Great Seal of the United States and the U.S. Medal of Honor. The company even supplied the Union Army with surgical tools during the American Civil War. This year, the company celebrates its 175th year in business.
The stock currently yields 1.68% and is rated "Buy (B)" by TheStreet Ratings.
>>To see these stocks in action, visit the
13 Dividend Stocks to Compete With Buffett
portfolio on Stockpickr.
---------------------------
-- Written by John DeFeo in New York City
*TheStreet Ratings' stock model compiles and examines all available financial data on a daily basis to gauge a stock's probability of moving up or down. The model scores stocks on various factors -- including growth, financial solvency, stock price performance and volatility -- which, when taken together, have shown strong correlation with future stock performance. The aim is to deliver investors with stock ideas that we feel have the best chance at delivering top risk-adjusted returns. You can learn more about the stock model
.
READERS ALSO LIKE:
10 Best 'Dividend Aristocrats' for 2012 >>
Data suggest that these 10 dividend stocks may outperform.
10 Best Dow Dividend Stocks for 2012 >>
Here's a by-the-numbers look at the Dow Jones Industrial Average.
Disclosure: TheStreet's editorial policy prohibits staff editors, reporters and analysts from holding positions in any individual stocks.