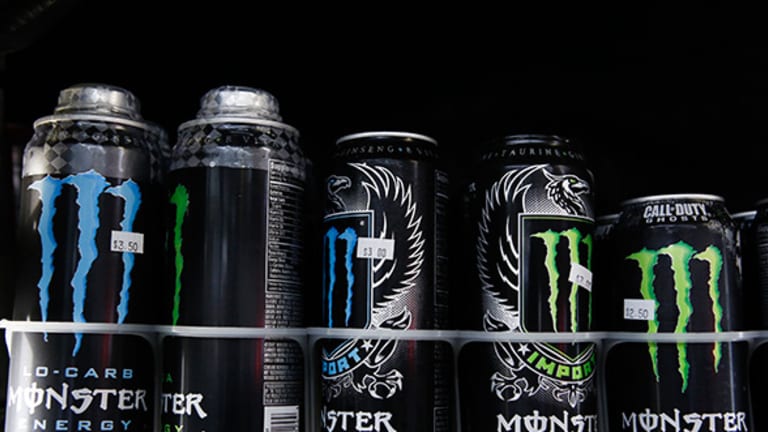 You Are About to Watch Monster Beverage's Stock Explode Higher
Monster Beverage is setting up for a monster breakout.
The overall stock market was rocked on Thursday, with all the major averages finishing sharply in the red. The S&P 500 dropped 0.94%, the Dow Jones Industrial Average fell 0.74%, and the Nasdaq finished lower by 1%. Investors were dumping stocks for a number of reasons, from geopolitical concerns in Asia, to fears that central banks are getting close to unwinding bullish equity polices.
With the stock market clearly in defensive mode, it's time to look at names that might be suited perfectly to rally even if the market continues to trend lower. One thing to look for during a weak tape is for stocks that are in sectors that can thrive during almost any type of market environment, or that have a growth profile that might be set to be unleash right now.
Another key feature to scan for are stocks that are displaying relative strength in a bad tape. If investors aren't selling a name off during a weak tape, then that could mean there aren't many sellers left in the stock and true buyers are constantly present.
One name that's hitting the mark here for both of those categories is Monster Beverage Corp. (MNST) . Shares of Monster Beverage did not go down on Thursday during the market dump, with shares closing up on the session by 1.66%, to $50.33, per share. This move higher was also accompanied by heavy volume of 3.37 million shares, which is well above its three-month average action of 2.22 million shares.
This high-volume move higher fits the profile of relative strength in a down tape, and the strong volume shows that buyers were stepping up to the plate, while sellers were easily smashing many other stocks lower.
Now let's take a look at the growth profile for Monster Beverage. We also have a match here, since this company is aggressively expanding into China and releasing new products here in the U.S. A lot of this expansion is fueled by a partnership with the Coca-Cola Co. (KO) , which gives this company a wider distribution channel and more international marketing experience.
It's not just China, where Monster Beverage is looking to capture 75% of the potential energy drink market, it's also into other international growth markets like other parts of Asia, Africa and South America. Monster Beverage is entering these International markets right now, so the growth profile for this company could definitely be ready to unleash.
Now let's take a look at the chart and trade setup for Monster Beverage.
From a technical standpoint, this stock has been uptrending over the past two months, with shares moving higher off its low of $44.35 to its recent high of $52.41 a share. During that uptrend, this stock has been making mostly higher lows and higher highs, which is bullish technical price action.
Shares of Monster Beverage reversed to the upside on Thursday right off its 50-day moving average of $49.12 a share, and right above some more near-term support at $49.03 with strong upside volume flows. This high-volume push to the upside is quickly moving this stock within range of triggering a major breakout trade.
Traders should look for long-biased trades in this stock if it manages to break out and close above its 20-day moving average of $50.59 a share and then once it clears and closes above more key resistance levels at $52.41 to its 52-week high at $55.50 a share with strong volume. Look for volume that hits near or above its three-month average action of 2.22 million shares. If that breakout triggers soon, then this stock can tag $60 to $65 a share, or even $70 to $75 a share as it trends into new 52-week-high territory.
Visit here for the latest business headlines.
This article is commentary by an independent contributor. At the time of publication, the author held no positions in the stocks mentioned.