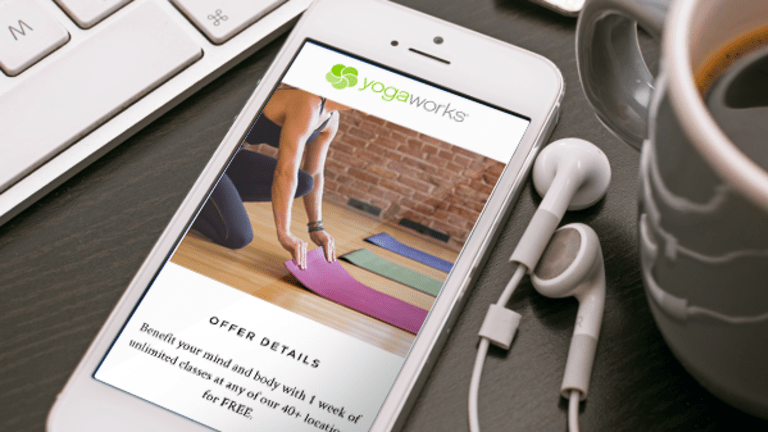 YogaWorks Is Betting on Millennial Interest in the Ancient Practice, Ahead of Its IPO on Thursday
Here's where you can practice your sun salutation. Namaste.
This year has had its full complement of good, bad and ugly initial public offerings, but one yoga studio operator is brushing that all aside and hoping for, well, nirvana, when it goes public on Thursday, July 20.
Private equity-backed YogaWorks is set to begin publicly trading on the Nasdaq under the ticker symbol YOGA, expecting to sell 5 million shares priced between $12 and $14 to raise about $65 million. After the public offering, YogaWorks should have 13.9 million shares of common stock outstanding.
YogaWorks, headquartered in Culver City, Calif., said in a July 10 Form S-1 filed with the Securities and Exchange Commission that Boston private equity firm Great Hill Equity Partners V LP, which has a 99.9% controlling stake in the company, has an interest in purchasing up to $10 million in shares. After the IPO, Great Hill's stake will be cut to 64%, unless it does buy the $10 million-worth of shares, at which point, it will be increased to 70.3%.
Great Hill acquired YogaWorks for $45.6 million in cash on July 18, 2014, according to the S-1 form. The terms of the deal were not disclosed at the time.
YogaWorks, founded in 1987, operated 49 yoga studios at the end of calendar year 2016 in in New York, Los Angeles, Orange County, Calif., Boston, Baltimore, San Francisco and Washington, D.C., representing a 19.5% growth rate compared to 2012 when it owned 24 locations.
Although prices vary by location, a monthly membership to a YogaWorks studio costs about $100 and a single class, roughly $20.
In its SEC filing, YogaWorks said it's banking on its business as yoga becomes more popular, largely among millennials. Citing a November report by IBISWorld, the company said 37 million Americans practiced yoga in 2016 compared to 20 million in 2012.
Still, the company's sales appear to be pressured so far this year.
For the second quarter ending June 30, YogaWorks expects net revenues between $12.3 million and $12.6 million, a decline from the $13.3 million it generated in the year-ago period. The company said it estimates second-quarter visits of 700,000 to 720,000, compared to the 754,567 visits it gained in the same period a year ago.
For the three months ended March 31, YogaWorks reported revenue of $13.9 million, lower than the $15.1 million it generated in the year-ago period.
YogaWorks' IPO comes after meal delivery service Blue Apron Holdings (APRN) - Get Blue Apron Holdings, Inc. Class A Report made a disastrous public debut on June 29. The company's IPO was upended by Amazon's (AMZN) - Get Amazon.com, Inc. Report announcement that it was buying Whole Foods Market (WFM) , leading shares of Blue Apron to drop to $6.71, as of Wednesday, July 19, from its original $10 pricing.
Then there was Snap (SNAP) - Get Snap, Inc. Class A Report , which was met with enthusiasm on Wall Street when it went public in March. The photo sharing company saw its shares spike 44% to $24.48 in its first day of trading but the stock has since been pressured after receiving a downgrade by Morgan Stanley earlier this month. Today, shares of Snap rose 2.44% to $15.09.
More of What's Trending on TheStreet:
From Catalogs to Catastrophe: A Sears Timeline