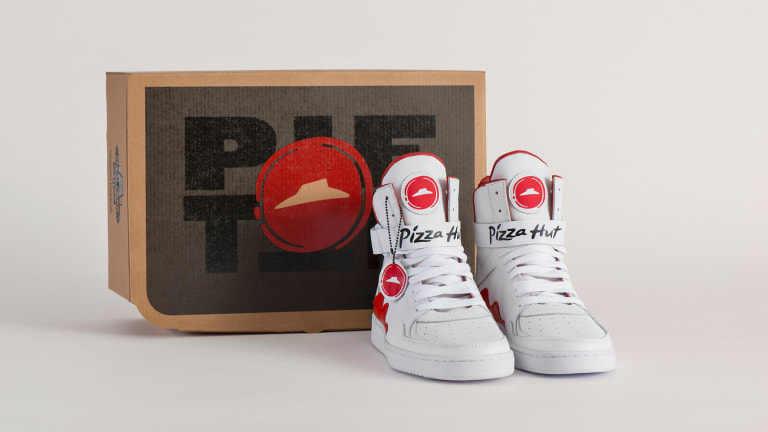 Yes, Pizza Hut Just Created High-Top Sneakers That Will Let You Order a Cheese Pizza
No, we aren't kidding around here.
Yum! Brands (YUM) Pizza Hut chain has found an ingenious way to get America to stop thinking it's still a sit-down restaurant with an amazing pizza buffet. 
The company has created 64 pairs of limited-edition sneakers that facilitate ordering pizzas. In concert with a new app it dubs "Pizza Hut Pie Tops" and bluetooth technology, by touching the shoes' right tongue, you can place an order. The app's default mode is set to order a large supreme pizza, but users can also choose from a list of specialty ones.
Someone concerned about an accidental bump can set their shoes to respond to a double press or a press-and-hold order capability instead, explained David Daniels, vice president of marketing at Pizza Hut to TheStreet.
"Our heritage is as a dine-in restaurant, and although we have a thriving delivery business, there is an opportunity to remind people that they can get a great-tasting Pizza Hut pizza delivered to their door," says Daniels. Roughly half of all Pizza Hut's orders are done digitally, says Daniels, of which 70% comes from mobile devices.
These types of innovative promotions, coupled with improvements in tech infrastructure, could go a long way to reversing Pizza Hut's sluggish sales trend later this year.
Pizza Hut saw a 2% decline in same-store sales during the fourth quarter, lagging rivals such as Domino's Pizza (DPZ) and Papa John's (PZZA) . On the other hand, comparable store sales grew 3% at Yum's KFC and Taco Bell fast-food chains.