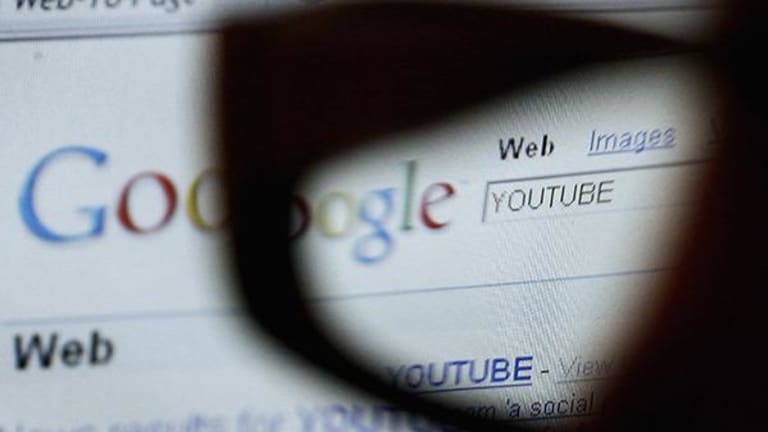 Yes, 'Google' Is a Verb, but Don't Get Too Cute About It — Tech Roundup
Imagine using the term 'Google' in 750 domain names, arguing that it's a generic term referring broadly to search engines. Yeah, someone tried. Then failed miserably.
"Verb use does not automatically constitute generic use." That's what Judge Richard Tallman said in regard to the use of Google, a company of Alphabet (GOOGL) - Get Alphabet Inc. Class A Report .
In essence, Google is not a generic term, although it can be used as a verb, such as, "google how the stock market did today." (Only, don't do that unless you want to see the carnage).
This whole charade exists because David Elliott "is one of two plaintiffs trying to get Google's trademark on its named canceled, arguing that people use it as a generic term for searching the web," according to SiliconBeat.
That may be true, that users do indeed refer to "googling" for searching something on the web. But it does not mean, "hey google the score to the game" and then go to Bing to do it. It means, go to Google and search. In other words, it is a verb, but not a generic word.
Elliott is making this argument because Google sued Chris Gillespie, the other plaintiff, for registering hundreds of domain names that include Google in the name. Elliott then sued Google.
It really makes no sense when you think about it. Why anyone would want to or think they could successfully start using the name Google in their domain names claiming its generic is borderline idiotic.
For instance, no one would create a company called Kleenex T-Shirts, Sharpie Notebooks or Jeep Wallets. Or they could, but they would have to expect a lawsuit.
Whatever the product may be, most would not decide that the aforementioned brand name is suddenly usable, simply because consumers make generic statements with them, ("pass me a Kleenex, please," or "hand me that Sharpie, will ya?").
The fact that these two registered some 750 domain names in such a manner shows just what their intentions were. Obviously Google is not a generic name and if it were, as they argue, why would registering so many domain names in that manner make any sense?
Obviously, it wouldn't. For the record, the judge called the plaintiffs' evidence "flimsy," which to me is almost a compliment to what it really was.
Maybe next they can argue the generic use of Android. All kidding aside, the Google operating system reported having 2 billion users and also announced Android Go. Go will be used on ultra-cheap smartphones and allow them to run some of Androids more popular features.
Shares of Alphabet closed at $942.12 Wednesday, down 2.3%.
--------------------------------------------------------------------------------------------------------------------------------
After years and years of doubt, Tesla Motors (TSLA) - Get Tesla Inc Report is still here. Not only is it still here, but it's thriving. Despite a pullback, shares are still sporting a market cap north of $50 billion — larger than both Ford (F) - Get Ford Motor Company Report and General Motors (GM) - Get General Motors Company Report .
That's why it should be no surprise to see all sorts of competition popping up. Be it from establish automakers - like Audi and Mercedes - or independent shops like Elektra.
The latter is a Switzerland-based company that is now claiming it will top Tesla in speed. For all the accolades Tesla has - range, all-electric, top safety rating - speed tends to be underrated. But a maxed out Model S has the fastest 0-60 mph acceleration of any production car, currently standing at 2.4 seconds.
That's fast, I know. But Elektra says it can beat it. The company claims it will be able to accelerate from 0-62 mph in 2.3 seconds. The top speed, apparently, is 155 mph.
Elektra says its batteries will kick out 370 miles on a single charge, feature four doors and four seats. Each axle will have its own motor and a dual-motor powertrain will kick out 680 horsepower.
Having a body constructed of carbon fiber also helps. Although while lightweight, the stuff isn't cheap.
So will this be what downs Tesla? The likely answer is no. First, Tesla has a lightyears-ahead head start on Elektra. It's already working on its third production car and reportedly has a fourth on the way with the Model Y.
Further, Tesla is familiar with all the kinks and mishaps that surround the mass assembly of cars. Finally, if all the specs that Elektra is boasting come to fruition, they won't be able to compete on volume with Tesla based purely on cost, as the price tag will be much higher.
Unless Elektra is going to take the Ferrari (RACE) - Get Ferrari NV Report route and only produce so many vehicles each year, it's unlikely it will ever catch Tesla. That doesn't mean it's a failure. In fact, it can be quite successful. It just means it's not a Tesla-killer like may think.
Shares of Tesla closed at $306.11 Wednesday, down 3.4%.
S&P⬇ Dow⬇ Nasdaq⬇
Stay up to the minute on Trump & the markets right now at TheStreet.com. Click here for the latest business headlines
This article is commentary by an independent contributor. At the time of publication, the author held no positions in the stocks mentioned.