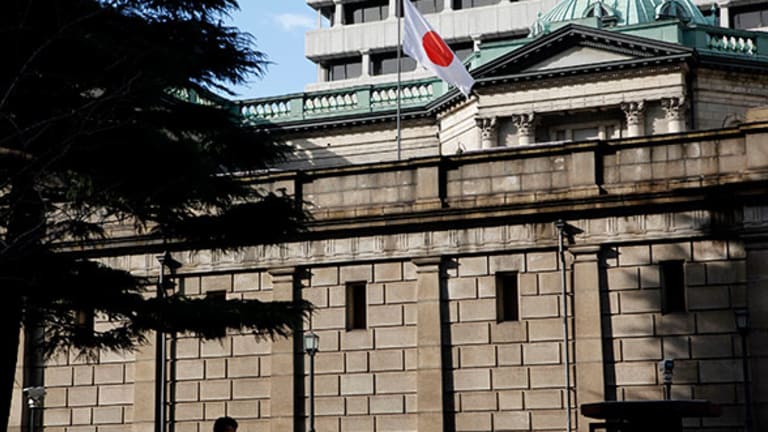 Yen, Japanese Banks Rise After Bank of Japan Refrains From Rate Cut
Government bond yields rise after the central bank keeps the deposit rate at minus 0.1%.
Japanese equities rose on Friday, led by banks including Mitsubishi UFJ Financial and Sumitomo Mitsui Banking after the Bank of Japan opted not to push rates further into negative territory, while expanding a program of dollar lending.
The central bank said the dollar lending program would double to $24 billion to support Japan companies' overseas operations. It also said it would expand the rate of its purchases of exchange traded funds to ¥6 trillion ($57.9 billion) from ¥3 trillion.
But it kept the deposit rate at minus 0.1%, and didn't tinker with its ¥80 trillion asset purchase program.
Capital Economics noted that Bank of Japan had warned of considerable uncertainty about whether it can meet its 2% inflation target, and that Bank of Japan Governor Haruhiko Kuroda had ordered policymakers to review the issue for the next meeting, signalling more radical measures ahead.
"The Bank of Japan's decision to refrain from meaningful easing once again disappointed investors and resulted in a renewed strengthening of the yen. However, with underlying inflation set to moderate further towards the end of the year, we think that the Bank will still have to provide more easing before long."
The Nikkei 225 was recently up 1.38% at 16,478.22, while the Topix was up 0.70% at 1,316.18.
Mitsubishi UFJ was up 7.5%, Sumitomo Mitsui was up 7.4% and Nomura was up 10.3%.
The dollar was down 1.55% at ¥103.64 and the yield on the Japanese benchmark 10-year government bond was up 11 basis points at minus 0.18%.
In Hong Kong the Hang Seng was down 0.72% at 22,015.05 and on mainland China the CSI 300 was down 0.22% at 3,213.98 .