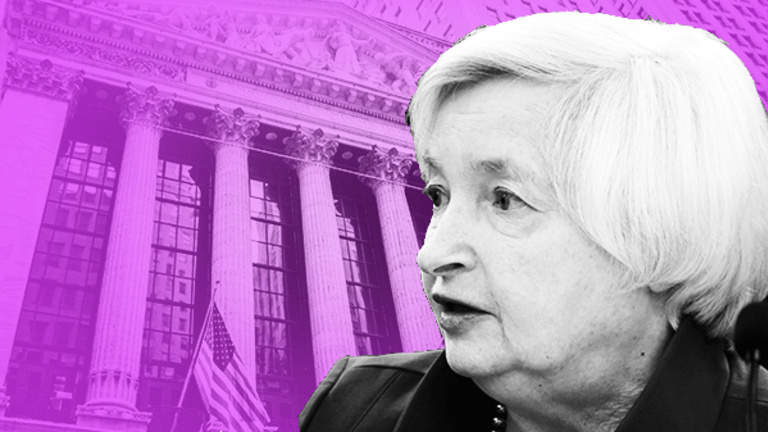 Publish date:
Don't Ever Forget the Pain: Federal Reserve Chair Janet Yellen
The 2008 financial crisis prompted a slew of reforms as the government sought to prevent a recurrence, but businesses have chafed under some of them.
The 2008 financial crisis prompted a slew of reforms as the government sought to prevent a recurrence, but businesses have chafed under some of them.
No matter how successful the U.S. government's efforts to regulate Wall Street after the 2008 financial crisis, the rules coupled with time and technological advances will eventually foster so much optimism that they create more risk, Federal Reserve Chair Janet Yellen said.
"We can never be sure that new crises will not occur, but if we keep this lesson fresh in our memories -- along with the painful cost that was exacted by the recent crisis -- and act accordingly, we have reason to hope that that the financial system and economy will experience fewer crises and recover from any future crisis more quickly," she said during a Friday, Aug. 25 speech at the annual economic symposium in Jackson Hole, Wyo.
The central bank chair's speech was a mixed message for Wall Street, which has argued that some of the rules put in place after the 2008 crisis -- which led to billions in government bailouts of financial institutions -- have curbed economic growth by capping lending.
While she didn't commit to a regulatory rollback, Yellen acknowledged the concerns, which President Donald Trump emphasized on the campaign trail. Since taking office in January, he has ordered the Treasury Secretary to review those regulations and their impact on the country's businesses.
The central bank, which monitors capital buffers at the largest U.S. lenders, from JPMorgan   (JPM) - Get Report to Goldman Sachs Group Inc. (GS) - Get Report and Bank of America Corp. (BAC) - Get Report , is also committed to "evaluating the effects of financial market regulations and considering appropriate adjustments," Yellen said. 
It's an area where the Federal Reserve's regulatory responsibilities have a direct effect on the economic stability and labor-market growth the central bank is charged with fostering. While unemployment has fallen from a peak of 10% in 2009 to just 4.3% in July and may sink even further, inflation has not only lagged the Fed's 2% target, it has tightened to 1.5% since January.
If bank loans weren't limited by the higher reserves they've been forced to maintain against economic shocks, growth might have been quicker, JPMorgan Chase & Co. CEO Jamie Dimon told analysts in July.
"Had banks been free to use their capital and their liquidity five years ago, there would have been a lot more lending in the system," Dimon said. Two markets in particular -- mortgages and small businesses -- would have benefited, he argued.
"It's not that, well, the banks wouldn't have lent the money," Dimon said. "There's a false notion that all this stuff didn't hold back the economy. Yes, it did."
For regulators, measuring the effect of capital standards on lending is difficult because such changes are made only rarely and often prompted "by financial crises that also have large effects on lending," Yellen explained.
Because of that, the rules imposed after 2008 "were informed by analyses that balanced the possible stability gains from greater loss-absorbing capacity against the possible adverse effects on lending and economic growth."
In the years since, with interest rates hovering near zero in the U.S. and turning negative in Europe, such regulations in advanced economies have prevented dangerous instability, European Central Bank President Mario Draghi said in a later speech at Jackson Hole. 
"When monetary policy is accommodative, lax regulation runs the risk of stoking financial imbalances," Draghi said. "By contrast, the stronger regulatory regime that we have now has enabled economies to endure a long period of low interest rates without any significant side-effects on financial stability."
For Yellen, the defense of post-crisis reforms may carry a cost: the possibility of a second term when hers expires in February, Mark Hamrick, an economic analyst with Bankrate.com, said in an e-mailed statement.
This speech was a letdown?
Her position "in some ways conflicts with the Trump administration's enthusiastic approach toward dismantling regulation," Hamrick explained. "This is one reason why speculation has been building that White House adviser Gary Cohn may well be the front-runner to replace Yellen as chair."
If the 56-year-old Cohn, a former Goldman Sachs executive who holds a bachelor's degree in business from American University, succeeds Yellen as Fed chair, he would be the first since the 1970s who's not an economist.
"We know the president places a priority on loyalty when making nominations," Hamrick said. "He also has an aversion to decisions made by President Barack Obama. Of course, Obama nominated Yellen for Fed chair."
Updated from 10:18 a.m. on Friday, Aug. 25.
Don't miss these top stories on TheStreet:
Hurricane Harvey Could Send Oil Prices to $50 but Don't Hold Your Breath
Apple's Newest Products That Will Pummel Your Wallet Are About to Be Revealed
Hurricane Harvey Isn't the Bruising Storm That Wall Street Hates: Market Recon