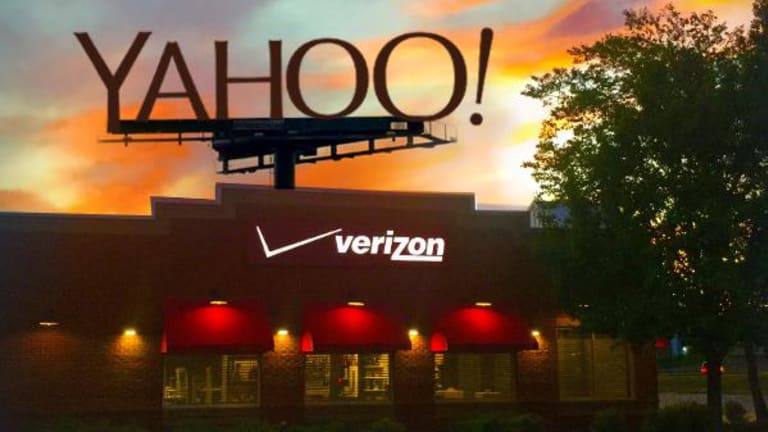 Yahoo! Shareholders Get Millions of Reasons to Vote for Revised Deal With Verizon
Regulatory documents reveal Verizon Chairman and CEO McAdam initially pushed for a $925 million discount before agreeing to a $350 million price cut. Plus, who's replacing Marissa Mayer.
As Yahoo! (YHOO) shareholders consider their votes on the $4.48 million sale of the company's operating business to Verizon (VZ) - Get Verizon Communications Inc. Report , they got official confirmation of just how drastic a price cut the telecom wanted in the wake of two massive security breaches.
Though the telecom settled on a $350 million discount, a merger proxy filed Monday states that Verizon CEO Lowell McAdam initially pressed for a $925 million rebate. Reports had suggested that Verizon had wanted to slash $1 billion from the price.
Shares of Yahoo! gained about 1.3% on Monday at $46.57, while Verizon was up slightly to $49.47.
The company said Monday that after the troubled Internet icon closes the sale of its core Internet businesses to Verizon, Yahoo! Director Thomas McInerery will replace Marissa Mayer as CEO. McInerney chaired the Strategic Review Committee that engineered the sale to Verizon, and is a former CFO of Barry Diller's media and Internet group IAC/InterActiveCorp. Separately, Yahoo! financial executive Alexi Wellman will take Ken Goldman's place as CFO.
The post-sale holding company will take the name "Altaba Inc." and trade under the ticker AABA. The operation will own the company's stakes in Alibaba (BABA) - Get Alibaba Group Holding Ltd. Report and Yahoo! Japan, which account for the bulk of Yahoo!'s $44.5 billion market cap.
Yahoo! and its shareholders have been on a wild ride. As Mayer's turnaround of Yahoo!'s operations lagged, activist Jeffrey Smith's Starboard Value LP pressed for a breakup and attacked management in 2015 and 2016. 
The company agreed to explore a sale, leading to the roughly $4.8 billion deal with Verizon in July 2016. However, disclosures of massive security breeches in September and December rocked the company and appeared to place the sale in range.
During an early February conference call with McInerery and strategic committee counsel Cravath, McAdam suggested that Verizon could conduct its own investigation into the breach, that Yahoo! could accept a price cut or that the parties could simply end the deal. "Mr. McAdam noted that Verizon was still formulating a view but that a purchase price reduction as high as $925 million could be appropriate," the SEC filing states.
Verizon and Yahoo! announced their revised deal on Feb. 21.
The proxy filed with the SEC on Monday does not set a date for a vote. "Our Board of Directors recommends that stockholders vote 'FOR' the sale transaction," the filing states. After Yahoo!'s prolonged struggles, the angst about how much the struggling business was worth and the threat that the Verizon deal would collapse or at least suffer greater diminution, shareholders will likely follow that advice. 
Editors' pick: Originally published March 13.