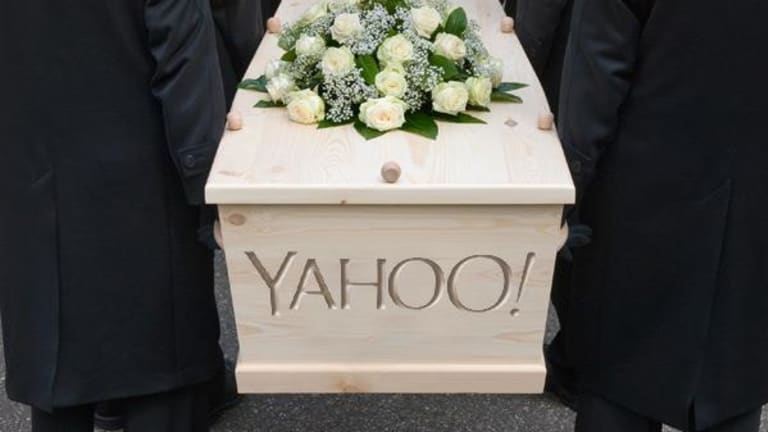 Yahoo! Set to Thrive Under New Altaba Name Thanks to Alibaba Stake
Yahoo! will rename itself 'Altaba' when the $4.8 billion Verizon deal is complete. The stock has benefited from Alibaba's stunning performance under CEO Jack Ma.
Shares of Yahoo! (YHOO) were higher in mid-morning trading on Tuesday, the day after the company announced CEO Marissa Mayer and five other directors will leave the board after the sale of its main internet business to Verizon (VZ) - Get Report for $4.8 billion is complete. The company remaining after the deal will be called Altaba and will include Yahoo!'s stake in Alibaba (BABA) - Get Report and Yahoo! Japan. 
The good news for the leftover company is that Alibaba has been thriving and will continue to "thrive," Techonomy Media CEO David Kirkpatrick said on CNBC's "Bloomberg Daybreak: Americas" on Tuesday morning.
Alibaba's "smart" performance is partly due to its "extraordinarily savvy" CEO Jack Ma, who met with President-elect Donald Trump on Monday, he pointed out. "I think that's indicative of what the general public, in particularly the in-coming president of the United States, thinks about Alibaba that he thinks it's a company important enough that he wants to get together with its leader." 
Yahoo! stock is up over 37% in the past year, and that overperformance is "really completely due to the surge in Alibaba," Bloomberg Intelligence senior Internet analyst Paul Sweeney said in agreement on the show. 
Expectations on Wall Street for Alibaba remain high on the growth of e-commerce on China, he noted. "I thought the slowing economy in China might hit the Alibaba story, but the consumer remains strong in China. So that continues to fuel the surge in that business, which will be reflected in this remaining Altaba, if you will."
The Verizon deal has been "endangered" by two hacks at Yahoo!, including a breach of one billion accounts that was revealed in December, the Wall Street Journal reported on Tuesday. 
While the deal will most likely still pass, it will probably be at a lower price, Kirkpatrick said. "If I were Verizon I would certainly be arguing for that."