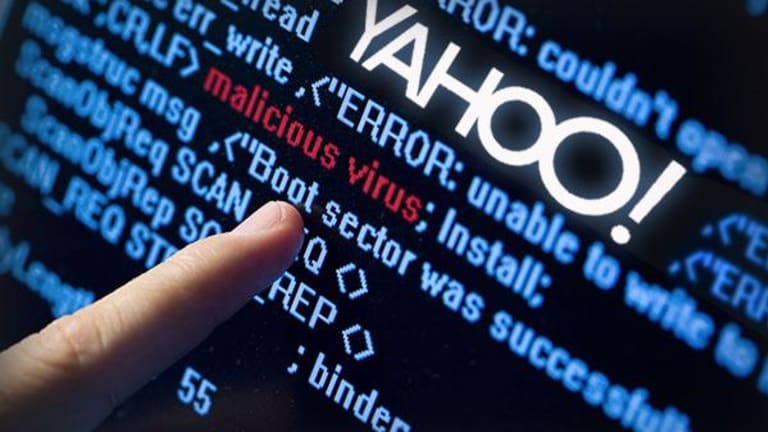 Why Yahoo's Latest Hacking Revelations Won't Affect Its Deal With Verizon
Verizon now says all three billion of Yahoo's user accounts were hacked as part of an Aug. 2013 breach. But Verizon negotiated some protections before it bought the struggling internet company.
While the news about Verizon's (VZ) - Get Report $4.48 billion purchase of Yahoo!'s operating business keeps getting worse, the telecom giant has protection from any additional fallout from the hacking.
Shares of Verizon Communications Inc. were essentially flat at $49.79 on Wednesday morning, after the company disclosed on Tuesday that all three billion Yahoo! user accounts were compromised as part of a 2013 breach. Yahoo! had initially said that only one billion accounts were hacked, in addition to a 2014 breach that involved 500 million accounts. A spokesman for Verizon said the telecom does not regret the purchase.
Former Yahoo! parent Altaba Inc. (AABA) , which holds stakes in Alibaba Group Holding Ltd. (BABA) - Get Report and Yahoo! Japan, dropped 0.4% to $67.56 on Wednesday.
News of the attacks broke last year as Verizon was finalizing its purchase of Yahoo!'s operating businesses. As a result, the telecom chopped $350 million off of the price for Yahoo!'s operating business, after initially seeking a roughly $1 billion discount.
In addition to the price cut, Verizon negotiated protections in case things got worse after the June close of the deal. Altaba agreed to pay for 50% of any cash liabilities stemming from government investigations not related to those undertaken by the Securities and Exchange Commission, and also said it would split costs for litigation from third parties related to the breach. Altaba is solely responsible for shareholder lawsuits and SEC investigations.
Verizon said that the breaches did not include stolen passwords, credit card data or bank account information.
The timing of the additional disclosures could hardly have been worse. Concerns about protection of consumer data are running high after disclosures that sensitive information for 145 million Americans was made vulnerable in a hack of credit reporting firm Equifax Inc. (EFX) - Get Report . Former Equifax CEO Richard Smith testified before the House Energy and Commerce Committee on Tuesday and appears before the Senate Banking, Housing and Urban Affairs Committee and the Senate Judiciary Committee Wednesday.
The Department of Justice said in March that Russian security officials and cyber criminals were behind a 2014 hack of Yahoo! that involved 500 million user accounts. The government and Yahoo! did not name suspects in the 2013 hack. However, Yahoo! Assistant General Counsel and Head of Global Law Enforcement, Security & Safety Chris Madsen said at the time that, "we linked some of that activity to the same state-sponsored actor," in a statement on Wednesday.
The hacks and the discount to the sale price marked an unhappy end to the Yahoo! tenure of CEO Marissa Mayer, who left the company after the deal with Verizon was finalized. As a result of the hacks, she agreed to forego her annual bonus in 2016.
More of What's Trending on TheStreet: