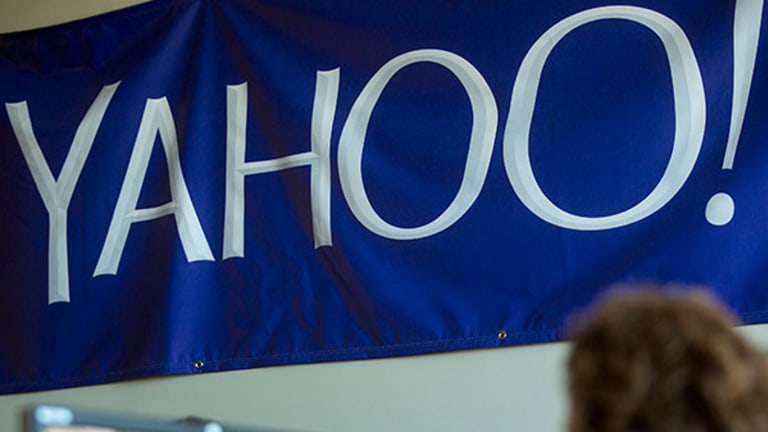 Who Cares About Yahoo! Earnings -- These Two Issues Will Dominate
What Wall Street will really be talking about.
Yahoo (YHOO) is scheduled to report earnings for the fourth quarter of 2016 after Monday's closing bell, but much of Wall Street's eyes are focused on the status of the internet giant's pending $4.8 billion Verizon (VZ) - Get Verizon Communications Inc. Report deal, as well as the string of account breaches that were recently disclosed.
Analysts surveyed by  FactSet are looking for Yahoo to post adjusted earnings of 21 cents per share on revenue of $1.38 billion. During the same quarter last year, Yahoo saw adjusted earnings of 13 cents per share and $1.27 billion in revenue. 
Display revenue is expected to come in at $559 million, while search revenue is projected to be $701 million. Paid clicks, a key advertising metric, are expected to fall 10% year-over-year. 
The financial results come amid mounting speculation over whether Yahoo's latest hacks will push Verizon to seek a lower price tag for the Sunnyvale, CA-based company, or even ditch the deal altogether. Yahoo said in a statement that it won't be holding a fourth-quarter earnings call on Monday as a result of the planned Verizon acquisition, as was the case in the previous quarter.
On top of that, the Securities and Exchange Commission is now looking into whether Yahoo's two data breaches -- which reportedly affected more than 1 billion user accounts total -- should have been disclosed to investors sooner, according to the Wall Street Journal. 
The SEC investigation is in its early stages and officials in December requested that Yahoo provide documents, the Journal reports, citing undisclosed sources close to the matter. The SEC requires companies to disclose any security breaches as soon as possible if they're determined to impact investors. Yahoo has said the first round of hacks occurred in 2014. 
Representatives from Yahoo pointed to their most recent 10Q filing when asked whether they would comment on reports of an SEC investigation. Representatives from the SEC declined to comment.
"The company is cooperating with federal, state and foreign government officials and agencies seeking information and/or documents about the Security Incident and related matters, including the U.S. Federal Trade Commission, the U.S. Securities and Exchange Commission, a number of State Attorneys General, and the U.S. Attorney's office for the Southern District of New York," Yahoo's quarterly report noted.
The SEC investigation will likely center around whether Yahoo should have considered the 2014 hack, which affected at least 500 million users, as material information and whether it should have disclosed the hack earlier than when it did in Sept. 2016, said SunTrust analyst Kunal Madhukar.
Madhukar, who maintains a "hold" rating and $42 price target on Yahoo stock, said he has "modest" expectations for Yahoo's fourth quarter. Recent moves by Verizon and Yahoo seem to suggest that the deal is still alive, but timing remains uncertain, he added. 
On Monday, Verizon disclosed it received commitments for a $5.5 billion loan, while Yahoo announced earlier this month that CEO Marissa Mayer will leave Yahoo's board of directors, along with other members, once the Verizon sale is completed. As part of the planned acquisition, Verizon is only purchasing Yahoo's core business, while its other assets, including its stakes in Alibaba (BABA) - Get Alibaba Group Holding Ltd. Report  and Yahoo! Japan will remain a part of a separate entity renamed Altaba. 
"The outcome and timing likely will be based on what the investigations conclude and when they are completed," Madhukar contended. "Neither Yahoo, nor Verizon, has disclosed where they are in the process and how long the process may take."
A New York Postreport on Monday speculated that the companies' earnings calendars could point to the acquisition being completed soon. Verizon is scheduled to report financial results before Tuesday's market open. 
Gabelli analyst Brett Harriss remained bullish on Yahoo ahead of earnings, adding that he believes the Verizon deal could be a catalyst for Yahoo shares, which he has a "buy" rating on.
"Despite the high-profile hacking, we expect the deal to close," Harriss said. "Combining Yahoo & AOL properties will generate substantial synergies regardless. The 2013 and 2014 hacks have not substantially reduced Yahoo's web traffic, which is the primary asset AOL values."
Shares of Yahoo were up 0.4% to $41.22 in afternoon trading on Monday. For the past year, shares are up almost 42%.