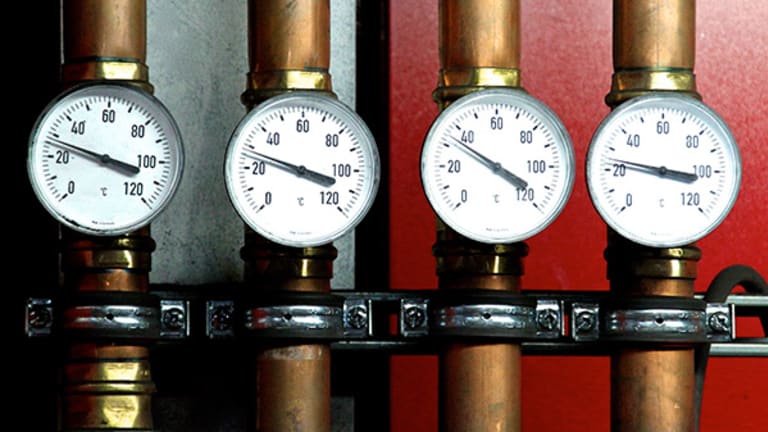 Xylem Buys Jordan, Goldman-Backed Sensus For $1.7B
The deal is expected to help the buyer bring smart meters to customers in the water and energy industries, boost growth and create shareholder value
Rye Brook, N.Y., water technology provider Xylem (XYL) - Get Xylem Inc. Report said Monday it agreed to buy private equity-backed Sensus Metering Systems Inc. for $1.7 billion in cash.
Sensus, which is owned by funds affiliated with the Jordan Co. and Goldman, Sachs (GS) - Get Goldman Sachs Group, Inc. Report unit GS Capital Partners 2000 LP, provides smart meters, network technologies and data analytics services to water as well as electric and gas companies.
The Deal reported in October of 2014 that Sensus could be ripe for a sale given its improving performance, citing Itron (ITRI) - Get Itron, Inc. Report , Toshiba  Landis+Gyr, Roper Technologies (ROP) - Get Roper Technologies, Inc. Report and Badger Meter BMI as potential buyers.
Jordan and GS Capital acquired Sensus from Invensys in 2003 for $650 million, putting in $200 million in equity along with management. The company was thought to be for sale in 2011 with a price tag of $800 million to $1 billion, or 8 to 10 times Ebitda.
Sensus has 80 million metering devices installed globally and earned $159 million in Ebitda on $837 million in sales in its fiscal year that ended March 31. The purchase price works out to 10.7 times Sensus' Ebitda for this fiscal year, Xylem said.
The target has 3,300 employees and locations globally, including the U.S., United Kingdom, Germany, Slovakia and China, but nearly 70% of its 2016 revenues were generated in the U.S. Sensus generates about 24% of its sales from electric and gas utilities, where the growth rate for smart metering is higher than for water utilities, Xylem said.
The buyer expects to realize at least $50 million in annual cost synergies from the deal within three years of closing as it extends its procurement and improvement initiatives into the business. It also expects additional revenue synergy potential from the transaction, which should be accretive to Xylem's earnings next year.
The transaction has to clear regulators, including the Federal Communications Commission for the transfer of spectrum licenses, but is expected to close in the fourth quarter. Xylem will finance the deal with $400 million of Xylem's non-U.S. cash, new and existing credit facilities and short- and long-term debt.
Xylem CEO and president Patrick Decker said in a statement that the acquisition will accelerate the company's ability to bring systems intelligence solutions to customers across the water and energy industries, establish a foundation for growth and create shareholder value.
"This will be an important milestone in our strategy to move Xylem's portfolio of solutions up the technology curve," he said. "The combination of Xylem's world-class brands and products with Sensus' leading-edge smart technologies will create a differentiated offering that will better meet our customers' evolving needs, including greater energy efficiency, water conservation and improved life-cycle costs."
Decker added that Sensus is well positioned in the advanced metering infrastructure, or AMI, segment, which is growing at nearly twice the rate of the overall metering industry because of regulations and customers' growing need for real-time data and reduced operational costs.
"Our expansive customer relationships will be able to extend the reach of Sensus' products and technologies to new markets globally, particularly in emerging markets," he said. "As a combined company, we expect Xylem to grow faster and be more profitable."
Decker noted that the move will boost the innovation strategy Xylem outlined at an investor conference last year, particularly in advanced analytics across the water, wastewater and outdoor water sectors, and sees opportunities to extend Sensus' advanced data analytics platform to Xylem products.
Xylem didn't change its earnings outlook for this year because of the acquisition and expects to maintain its quarterly dividend payments to shareholders.
Sensus president Randy Bays said the combination will have the resources and scale to continue advancing differentiated technology and delivering innovative solutions to customers around the world. He hopes to complete the combination as soon as possible.
Xylem chairman Markos Tambakeras said he's confident that the management team can execute a smooth integration and significantly enhance shareholder value.
Xylem has been looking for ways to expand its business. In February it bought Rock Hill Capital Group LLC-backed Tideland Signal Corp., which makes makes nautical navigation devices and analytics products, for $69 million.
Lazard's Mark McMaster, Jean Greene and Justin Katz and Gibson, Dunn & Crutcher's Barbara Becker, Saee Muzumdar, Phillip Sanders, Maxwell Ball, Aaron Adams and Yair Galil are advising Xylem. Credit Suisse's Orlando Knauss and Bo Brown, Goldman, Sachs & Co.'s Matt McClure and Katrien Carbonez and Mayer Brown LLP's Philip Brandes, Ugo Ude and Colin Carley are assisting Sensus.
In-house counsel for Xylem is general counsel Claudia Toussaint and senior counsel for mergers and acquisitions Gary Ross.
-- Armie Margaret Lee and David Marcus contributed to this article