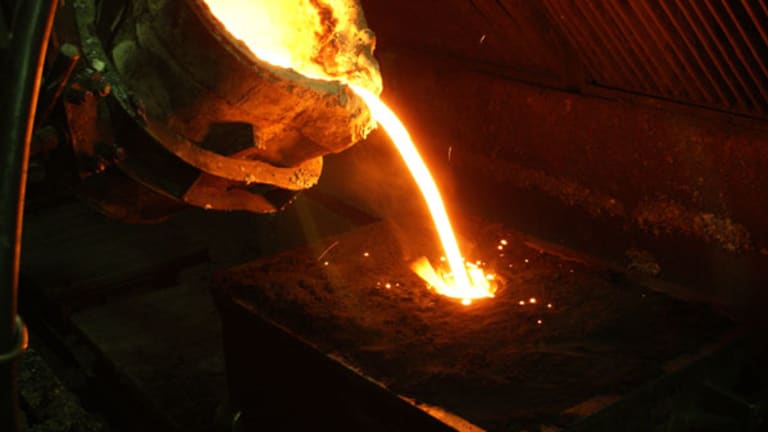 Xstrata, Anglo-American in Merger Talks
Global mining giants Xstrata and Anglo-American convene merger talks, which could presage more dealmaking in the mining sector.
Global mining giants Xstrata and Anglo-American convene merger talks, which could presage more dealmaking in the mining sector.
(Update: Adds detail from analyst commentary on a potential Xstrata-Anglo-American pairing.)
Mega-dealmaking in the mining industry has intensified again.
First, the Aussie duo of
BHP Billiton
(BHP) - Get Report
and
Rio Tinto
(RTP) - Get Report
formed their
iron-ore joint venture in Western Australia (which comes a couple years after the pair's failed attempt to combine, a deal shredded by the credit-market collapse).
Now comes
Xstrata
, a Swiss concern that mostly mines copper, zinc, nickel and coal, making a play for cross-Europe rival,
Anglo-American
(AAUK)
-- a move that had been rumored for days and that comes a year after Xstrata failed in its hostile bid for
Lonmin
(LNMIY)
, a South African platinum miner.
This time, however, Xstrata's interest is evidently requited. Anglo-American released a statement confirming that talks between the two companies had begun, but cautioning, "The situation is at a very preliminary stage."
On Sunday, Xstrata announced that it had sent a "written proposal" to Anglo-American's board of directors, an attempt to sell the idea of a "merger of equals," (which is short-hand for an all-stock transaction). In its press release, the Zug, Switzerland, company said, "Xstrata has already quantified substantial operational synergies from the combination that are not available to either company operating alone."
That's not entirely clear, as others have noted. The Japanese financial firm Nomura totted up the cost-savings that a combined Xstrata-Anglo-American might achieve, and the number was an underwhelming $700 million, according to the
Wall Street Journal
in an item published last week. BHP and Rio Tinto, by comparison, have estimated their synergies at $10 billion.
Whatever the implications to the financial statements of Xstrata and Anglo-American, the implications across the Atlantic appear to be that the time has come for another round of consolidation. "We believe that the space is ripe with potential matches," wrote Tony Rizzuto, an analyst with banking boutique Dahlman Rose, in a research note.
Credit markets have begun to thaw, mining stocks have (until the last few trading session, at least) rebounded some from their late-winter lows, and cash-raising through equities offerings has become a trend for CFOs around the world. Meanwhile, however, the recession has continued, for the most part, to keep global demand for raw materials weak, and miners, in turn, have sharply cut back on production, forcing companies to bring costs down wherever they can. All this -- combined with the still-cheap market values of many mining concerns -- has sparked all the M&A chatter of late.
Rizzuto, for instance, pointed to recent comments from Dan DiMicco, the chief executive of steel-forger
Nucor
(NUE) - Get Report
, that indicated an appetite for acquisitions. "We believe," the analyst wrote, "that Mr. DiMicco is exposing a view that is universally shared among the various players within the metals and mining industry."
A merger between Xstrata and Anglo-American would create a global behemoth -- its annual revenue has been estimated at close to $70 billion -- with important interests in nearly all the world's mineral resources, including platinum, copper, zinc, nickel, iron ore, coal and diamonds. Anglo-American is the largest platinum producer in the world; it draws the metal largely from South Africa, where it has had considerable mine-safety problems. It also has a significant diamond-mining business. Both those divisions have been hurt by collapsing demand in the first half of the year. Xstrata is the world's largest producer of coal for power plants.
Monday midday, Anglo-American's Nasdaq-listed American Depositary Receipts had jumped 4%, or 54 cents, to $13.87.
That stood in stark distinction to other mining stocks, which were sharply lower in Monday's session.
Freeport McMoRan
(FCX) - Get Report
lost almost 9% to $46.45; BHP Billiton's ADRs were down 5% to $53.35; Rio Tinto slid 7% to $155.64; and
Southern Copper
(PCU)
fell 7.6% to $19.72.
Copyright 2009 TheStreet.com Inc. All rights reserved. This material may not be published, broadcast, rewritten, or redistributed. AP contributed to this report.