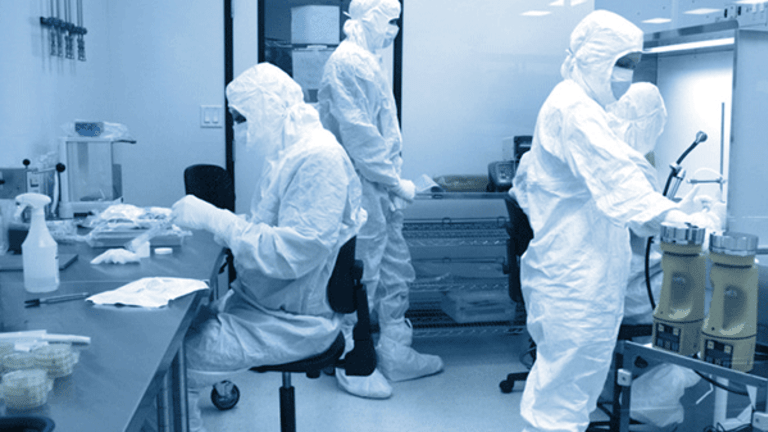 Publish date:
XBiotech Silent as Deadline for European Resubmission of Colon Cancer Drug Passes
The XBiotech drug, Xilonix, had no effect on the size of colon cancer tumors with zero complete or partial responses reported in the phase III study.
The XBiotech drug, Xilonix, had no effect on the size of colon cancer tumors with zero complete or partial responses reported in the phase III study.
Update: Minutes after this story was published, XBiotech issued a statement announcing the European Xilonix resubmission was completed. The company did not address any of the weaknesses in the Xilonix data which still make approval unlikely.
XBiotech (XBIT) - Get Report was supposed to submit a response to European regulators on March 22 to address concerns that are blocking the approval of its colon cancer drug Xilonix. But five days later, XBiotech remains silent on whether it met the re-submission deadline.
The last time investors heard from XBiotech CEO John Simard on the matter was March 16, during the company's quarterly conference call. On the call, Simard said XBiotech had completed a small study in healthy volunteers designed to measure the half life of Xilonix, and that these data would be included in the resubmission package to the European Medicines Agency (EMA) on track for March 22.
"We will keep you apprised of any material developments as they occur with the EMA during this time," said Simard, on the March 16 call.
XBiotech has not done that. The company did not respond to several requests for comment.
Last December, European regulators raised "major objections" related to the benefit-risk justification and pharmacokinetics of Xilonix in voting not to approve the drug for the treatment of colon cancer. XBiotech was supposed to respond to the objections in February but was granted an extension until March 22.
XBiotech shares fell to $9 last December but have doubled in price as of last week in anticipation of the Xilonix resubmission. The company's market value is approaching $700 million.
The completed phase I study of Xilonix's half life may be enough to respond to Europe's question about the drug's pharmacokinetics, but XBiotech has not explained to investors how the more pressing concerns raised about the drug's benefit-risk can be rebutted successfully.
XBiotech touts Xilonix as a treatment for colon cancer, but at best, data from the only completed phase III study shows the drug has a positive but clinically ambiguous effect on a patient's lean body mass and quality of life compared to a placebo.
Xilonix has no effect on the size of tumors with zero complete or partial responses reported in the phase III study published in Lancet Oncology.
XBiotech collected survival data on only 50% of the patients for reasons not explained, even though 75% of patients enrolled completed the study. Do colon cancer patients treated with Xilonix live longer? XBiotech claims they do, based on a statistically dubious analysis that compares patients who "responded" to the drug against patients who did not respond. Responders, in this case, include patients treated with Xilonix from the start of the study and placebo patients who crossed over to take the drug.
The survival data from the Xilonix study published in Lancet Oncology are limited and confusing (perhaps on purpose) but it is still possible to calculate a true survival comparison between Xilonix and placebo.
After six months of follow up, 20% of the patients randomized to receive Xilonix were alive compared to 29% of the placebo patients.
Assuming European regulators are performing the same survival math on the phase III study, the company's argument supporting Xilonix's approval falls apart rather easily.
In yet one more strange twist to the XBiotech story, the company announced on March 23 that Dr. Dirk Arnold, a German oncologist, was joining its scientific advisory board.
Speaking at a European cancer conference last summer, Arnold questioned the design of the Xilonix phase III study and raised doubts about the reliability of the reported results.
"The jury is still out on whether the study made sense but as the results do not bear close inspection, they also cannot be relied upon. It's not yet clear whether there is any benefit in translating this trial into practice," Dirk said of the Xilonix colon cancer study data.
Arnold, who practices medicine in Portugal, did not respond to emails sent last week inquiring why he decided to join XBiotech's scientific advisory board after being a vocal critic of the Xilonix data last year.
The press release issued by XBiotech did not contain any statement from Arnold. There's also no public record of XBiotech even having a scientific advisory board.
Adam Feuerstein writes regularly for TheStreet. In keeping with company editorial policy, he doesn't own or short individual stocks, although he owns stock in TheStreet. He also doesn't invest in hedge funds or other private investment partnerships. Feuerstein appreciates your feedback; click here to send him an email.