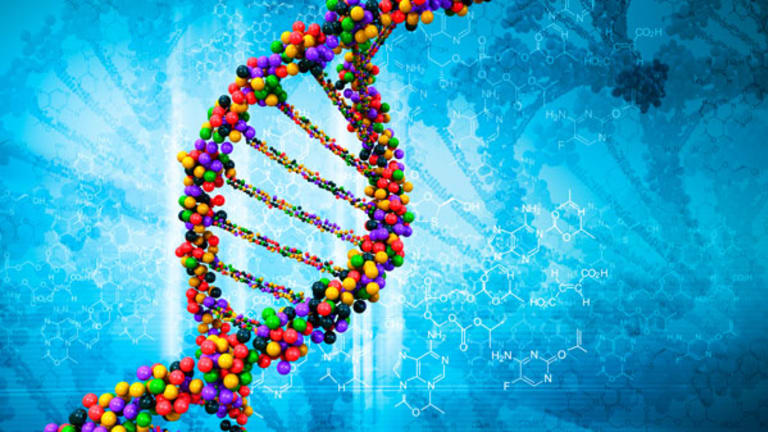 XBiotech Cancer Drug Survival Claim Falls Apart Under Scrutiny
If the messy, confused clinical data disclosed Saturday by XBiotech are any indication, an approval in Europe for its colon cancer drug is far from a sure thing.
Plenty of nonsensical, borderline crazy, excuses have been made for bad clinical trial results in my 15 years covering biotech, but XBiotech (XBIT) - Get Report may have won the grand prize Saturday.
Here's how the company attributed an increase in overall survival to its experimental colon cancer drug Xilonix in a phase III study.
"Among responders (in both treatment and placebo arms), clinical response was associated with a 2.7-fold increase in overall survival (11.5 months vs. 4.2 months in responders vs. non-responders, respectively)."
What?
Claiming patients who respond to a drug are living longer than patients who don't respond is an old data-analysis trick usually attempted by companies when the real survival analysis -- drug vs. placebo or control -- shows nothing.
Inexperienced investors might be fooled by this clinically meaningless sleight of hand, but regulators in charge of reviewing and approving drugs aren't. 
XBiotech, however, goes next level with its survival claim by completely not caring if colon cancer patients in its phase III study were treated with Xilonix or a placebo.
Responding colon cancer patients -- Xilonix or placebo, doesn't matter -- lived an average of 11.5 months! That's way better than the non-responding patients, who lived only an average of 4.2 months, XBiotech said. 
Absurd.
XBiotech went on to say Saturday: "Overall survival was not compared between treatment arms because after 8 weeks, all patients were eligible to receive study drug."
In other words, XBiotech claims a credible survival analysis -- Xilonix vs. placebo -- was impossible to assess because patients randomized to placebo at the start of the trial crossed over to Xilonix after eight weeks.
This is just more not-so-clever misdirection by XBiotech. Patients crossing over from placebo to drug can muck with a survival analysis but the comparison can certainly still be performed. If the company knows "responders" to either Xilonix or a placebo, pooled together, are living an average of 11.5 months, then it's an easy task to separate them out and report proper survival data.
The company is also staying silent about the ability of Xilonix to shrink tumors or delay tumor growth. Saturday's press release omitted any discussion of anti-tumor activity related to Xilonix compared to placebo, even though these endpoints were measured in the phase III study. 
The Xilonix phase III study results were presented Saturday at a scientific meeting in Europe. XBiotech didn't post a copy of the Xilonix presentation to its website, choosing instead to only issue a press release containing limited details about the study results. XBiotech didn't respond to questions about the missing efficacy analyses.
XBiotech expects European regulators to approve Xilonix for colon cancer patients in the fourth quarter, based on the phase III study results submitted earlier this year. But if the messy, confused clinical data disclosed Saturday are any indication, a Xilonix approval in Europe is far from a sure thing. 
With a market cap now exceeding $800 million, XBiotech cannot afford a Xilonix misstep. At Friday's close of $24.90, XBiotech shares have more than doubled in value this year.
The press release issued by XBiotech Saturday was mainly a rehash of Xilonix phase III study data first touted last fall.
Xilonix is a monoclonal antibody designed to target and shut down interleukin-1 alpha, a pro-inflammatory molecule. By eliminating IL-1 alpha in colon cancer patients, XBiotech believes Xilonix can stop tumor growth and improve cancer-related symptoms such as the loss of muscle mass, as well as fatigue and pain.
In the phase III study, treatment with Xilonix resulted in a 33% "clinical response rate" in patients with advanced colon cancer. This compared to a 19% "clinical response rate" in colon cancer patients treated with placebo, XBiotech said. The difference of 14 percentage points between the two arms of the study (a 76% relative increase in response, XBiotech emphasizes) was statistically significant and achieved the primary endpoint of the study, according to XBiotech.
I put "clinical response rate" in quotes because the definition of the primary endpoint used by XBiotech in the Xilonix phase III study had nothing to do with measuring tumor response, or shrinkage, as is commonly used in cancer clinical trials.
In the XBiotech study, a colon cancer patient was deemed a responder if two conditions were met after eight weeks of treatment: 1) The patient had to maintain or gain lean body mass, measured by X-ray; and 2) the patient had to show an improvement in quality of life, captured by a questionnaire covering fatigue, pain and anorexia.
XBiotech said the primary endpoint of the Xilonix phase III study was designed in collaboration with European drug regulators as a novel way to measure the benefit of an anti-cancer drug in very sick colon cancer patients.
Yet a similar strategy was tried unsuccessfully three years ago by GTx (GTXI) , another small biotech company. Across two phase III studies, the GTx drug enobosarm improved lean body mass in lung cancer patients but was unable to improve muscle function. The enobosarm studies failed because both co-primary endpoints were not achieved. European regulators would not allow GTx to seek approval of enobosarm on improvement in lean body mass alone, nor would the U.S. Food and Drug Administration. The drug's development was discontinued.
The GTx failure is important because XBiotech has offered conflicting descriptions of the Xilonix phase III study. On Saturday, the company said the phase III study utilized a single primary endpoint -- "clinical response rate" -- assessing lean body mass and quality of life.
However, as late as last fall, XBiotech was telling investors the phase III study was designed with co-primary endpoints: lean body mass and quality of life.
If European regulators follow the precedent set with GTx, XBiotech will need to show that Xilonix can produce separate, statistically significant improvements in lean body mass and quality of life in order to secure approval. 
XBiotech didn't respond to questions seeking clarifications on the Xilonix study design or whether or not the drug was able to beat the control arm when lean body mass and quality of life were measured separately.
A second, phase III study of Xilonix is underway. This study, conducted mostly in the U.S. and still enrolling colon cancer patients, uses overall survival (Xilonix vs. placebo) as the primary endpoint. 
Adam Feuerstein writes regularly for TheStreet. In keeping with company editorial policy, he doesn't own or short individual stocks, although he owns stock in TheStreet. He also doesn't invest in hedge funds or other private investment partnerships. Feuerstein appreciates your feedback; click here to send him an email.