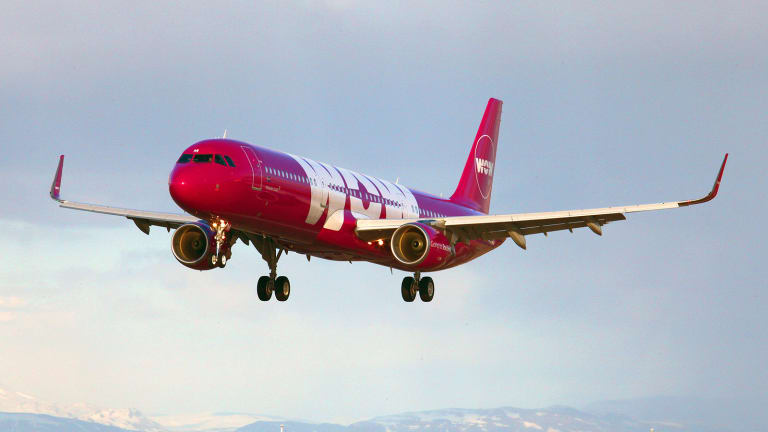 Wow Air Targets Boston Logan as Low-Fare Europe Service Ramps Up
Iceland's Wow Air picked Boston as its first U.S. destination and will start in Baltimore in May, as low-fare trans-Atlantic service begins to take hold.
NEW YORK ( TheStreet) -- Icelandic low-fare carrier Wow Air has begun Iceland-Boston Logan flights, an early entry in what seems likely to be an increase in ultra-low-fare trans-Atlantic service.
Reykjavik-Boston service aboard an Airbus A321 began Friday. Wow follows the ultra-low-cost model, with low fares, tight seating and fees for everything. Yet Wow Air founder and CEO Skúli Mogensen envisions something slightly different: ultra-low-cost service combined with a service orientation and more seats with additional legroom (for a fee). "I don't want to be hard core Ryanair (RYAAY) ," Mogensen said in an interview.
"We offer more comfort than is customary" for an ultra-low-cost carrier, he said. "We have fewer seats than we could have in our planes, and we emphasize the fun factor. I have said 'it doesn't cost anything to smile.'"
Asked what airline he sees as a model, Mogensen responded, "I would love to say Southwest (LUV) in the early days, primarily because they managed to make a team spirit effort that was positively translated toward the passenger."
Southwest, which began flying in 1971, was known in its early days for its informality, its flight attendants' hot pants and for co-founder Herb Kelleher's ability to make his sense of humor part of the airline's culture. 
Trans-Atlantic ultra-low cost service appears to be a growth field. Norwegian Air Shuttle flies to Fort Lauderdale, Los Angeles, New York, Orlando and San Francisco from three European cities. Canada's WestJet (WJAFF) flies St. John's, Newfoundland to Dublin, and will begin Halifax, Nova Scotia-Glasgow in May. Like Wow, WestJet flies trans-Atlantic with a narrowbody aircraft, in its case a Boeing 737.
In a confusing development last week, Irish low-cost carrier Ryanair said it would fly trans-Atlantic in 2019, then said it wouldn't. Meanwhile, this summer, British low-fare carrier EasyJet (ESYJY) "will operate the six routes from the U.K. to Iceland's capital, Reykjavik (where) Icelandair and local rival WOW Air compete for onward traffic, with up to four flights a day between them to Boston alone," according to London-based newspaper The Independent.
"In the summer season, crafty travellers can 'self-connect' to cut the cost of long-haul journeys," the newspaper said.
As Mogensen noted, "Low-cost carriers have 30% to 40% of the market in the U.S. and also in Europe. "But if you look at the Trans-Atlantic, it is dominated entirely by the alliances. The low-cost carriers have less than 1% market share."
American (AAL) , Delta (DAL) and United (UAL) all have trans-Atlantic joint ventures with major European carriers. The joint ventures offer antitrust immunity, enabling the carriers to co-ordinate pricing and capacity. American partners with British Airways and Iberia, United with Lufthansa and Delta with Air France-KLM. Also, Delta owns 49% of Virgin Atlantic, once a low-fare upstart.
It's an exclusive club, and the low-fare carriers are just starting to pound on the door.
Wow will add Baltimore in May and plans to announce three more U.S. destinations, all east of the Mississippi, this fall as the fleet expands.
For now, Wow, which was founded in 2012, is small, with just six aircraft, including four A320s and two A321s. It has 175 employees. It competes with long-established Icelandic, which operates a Reykjavik hub and serves a half dozen U.S. cities including Boston.
Within Europe, Wow flies tightly packed A320s with 180 seats, even more than Spirit's (SAVE) 178 seats and far more than US Airways' 150 seats. But on the trans-Atlantic, Wow will fly an A321 with 200 seats, compared with 218 at Spirit and 187 at US Airways.
The Wow model includes very high utilization of its aircraft, which it flies 16 to 18 hours a day.
Mogensen, 46 years old, seeks to apply a technology background to the airline industry. "Travel is the biggest single online category, bigger than books or music, which most people think are huge," he said. "This is something I know quite well from my past, how to leverage the Internet and market to people. So 90% plus of our sales are made directly to customers."
Still, while being early to offer ultra-low fare service on the trans-Atlantic seems an inviting business concept, aviation consultant Bob Mann said Wow faces some hurdles.
Mann found use of the Web site to be challenging and fares available Monday morning to be not exactly rock-bottom. For instance, he found a $900 Boston-Copenhagen round-trip with one checked bag, somewhat more costly than the $532 London-Boston round-trip advertised on the Wow Web site.
Additionally, Mann said 16-to-18 hour daily aircraft utilization is a good idea until an airplane suffers a weather delay or a mechanical problem. With a fleet of just six aircraft, where do you find one to fill in? "You will never recover from the first delay," he said.
"I would like to think there will be some price discipline on the Atlantic, because nobody is (providing) that," Mann said. "But I don't know that we've found that person yet. Six airplanes aren't going to provide very much discipline."
Must Read:
Why United Is the Only U.S. Airline That Flies to India
This article is commentary by an independent contributor. At the time of publication, the author held no positions in the stocks mentioned.