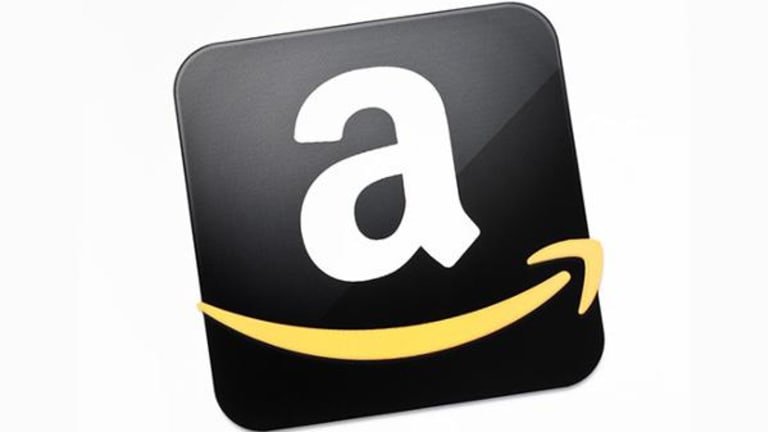 Publish date:
Worry About Amazon's Latest Earnings? Here's Why You Shouldn't
Shares of the e-commerce superstar are tanking following a third-quarter earnings announcement that included lowered expectations for the holiday season. Here's why this is a great opportunity to grab shares.
Shares of the e-commerce superstar are tanking following a third-quarter earnings announcement that included lowered expectations for the holiday season. Here's why this is a great opportunity to grab shares.
On Friday, shares of e-commerce giant Amazon (AMZN) - Get Report took a big hit, plummeting by about 5%. The primary cause was weaker-than-expected third-quarter earnings and a disappointing fourth-quarter outlook.
The drop in the stock's price, however, simply marks an opportunity for the savvy investor. This downward price momentum is actually giving those of us who are bullish on Amazon a great opportunity to grab shares at discount prices. And as we'll explain in a moment, Amazon's outlook is not quite as bad as it might seem.
In its third-quarter report, Amazon posted earnings of 52 cents per share on net sales of $32.71 billion. The EPS number was a huge disappointment, as Wall Street analysts on average were looking for 78 cents. Net sales were slightly larger than the $32.69 billion analyst consensus. 
Sales in the North America region missed Wall Street's expectations, coming in at $18.87 billion, vs. hopes for $19.09 billion. However, international sales came in strong, at $10.61 billion, beating Wall Street's projections for $10.44 billion.
What really frightened investors is the company's expectations for the fourth quarter, which includes the all-important holiday shopping period. Amazon stated that it's expecting sales in the quarter to clock in between $42 billion and $45.5 billion, vs. the Wall Street consensus for $44.58 billion.
Also worrisome, the e-commerce giant stated that it is expecting its operating income for the next quarter to range between zero and $1.25 billion. Wall Street had forecast $1.62 billion for the fourth quarter.
This is no reason to panic. The big reason for this decrease in operating income is the company's current initiative of heavy investment across its businesses. According to CFO Brian Olavsky, during the second half of the year, the company has increased its investments in both video content (to better compete with market leader Netflix) and fulfillment centers (to continue giving the company a leg up on the competition, most notably Walmart). Olavsky said in a Thursday earnings call that this spending is "a step-up" from what the company spent in the first half of this year, as well as in the second half of last year.
These big investments should serve to only give the company's business a boost in future quarters, as operations become more streamlined and efficient. And they also set Amazon on a path to become not just an online shopping service but a powerhouse in the entertainment market, as well.
Amazon is already taking another sector, the world of cloud computing, by storm. And that's where some of the biggest profits for Amazing and its investors are going to come from.
In the third quarter, the Amazon Web Services (AWS) business hauled in $3.23 billion in revenue, vs. Wall Street's projections of $3.17 billion. Revenue for the segment grew by nearly 55%. At 31.6%, AWS's operating margin also climbed, up from 29.9% in the second quarter.
Analysts forecast that, within a few short years, AWS will represent half of the company's earnings (currently, it accounts for 10%) and will continue to drive growth for the company. That should equal big profits in the long term for Amazon's investors.
And analysts tend to agree. According to Thomson Reuters, 41 of the 46 analysts covering Amazon have assigned its stock either a buy rating or better. Of the company's recent campaign of hefty investments, analysts at Goldman Sachs have written, "We believe the payoff of these investments will create considerable growth and value for AMZN shareholders."
Get in now and grab more shares in times like these, when short-term bad news sends Amazon's stock down to bargain-basement levels. This is a stock for long-term growth and profits.
---
85% Accurate Trader gives his Personal Guarantee: "Give Me 9 Minutes a Week and I Guarantee You $67,548 a Year." As you can see, Apple remains a great play for investors. But what if I told you I know a way you can see a $67,548 per year - or more - in profitable trades just by following this simple step-by-step process? The trader who is sharing this secret has been right more than 8 out of 10 times, turning $5,000 into more than $5 million for himself. Click here to see how easy it is to follow his lead and collect thousands of dollars in "Free Money" every month.
This article is commentary by an independent contributor. At the time of publication, the author held no positions in the stocks mentioned.