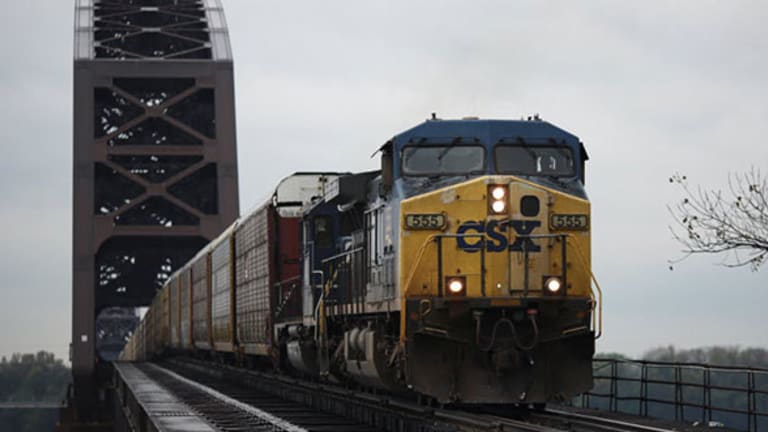 Publish date:
Worried About the Election? Buy Transports, Oppenheimer Says
A new research note from Oppenheimer & Co. argues that investors should view transportation stocks as a leader in a post-election stock market.
A new research note from Oppenheimer & Co. argues that investors should view transportation stocks as a leader in a post-election stock market.
If you're jittery about tomorrow's election, you're far from alone, and a new Oppenheimer & Co. research note suggests that the uncertainty could create a buying opportunity.
Before Monday morning's jump, the S&P 500 had slid by roughly 4.5 % since August. Uncertainty ahead of an election tends to delay year-end rallies, Oppenheimer head of technical analysis Ari Wald argued in the note, which was published on Saturday.
According to an analysis in the note of the seven occurrences since 1928 where the S&P 500 trended negatively in the month before an election, the index fell by as much as 4% relative to its position on election day roughly two weeks after voting.
"When the incumbent is not up for reelection and you have an open seat, that strength tends to be pushed back into December," Wald said in a phone interview, citing investors' worries as to the agenda and composition of a new presidential administration.
The U.S. stock market has proven to be particularly sensitive in recent weeks to day-by-day developments on the presidential campaign trail. The FBI's renewed investigation into Democrat Hillary Clinton - and its effect on her polling numbers against Republican Donald Trump -- sent stocks tumbling and volatility indices soaring.
Investors should consider the recent spike in the VIX as an early buy signal, Wald argued in the note, citing an average gain in the S&P 500 of 8.4% in the six months following a VIX reading 50% higher than its three-month low since 1990.
"We use sentiment as a contrarian indication. You want to buy when conditions are fearful," Wald said. "We've had a big run-up in fear."
As for where exactly investors should be, Wald thinks that transportation stocks are an attractive option. He assigned 'buy' recommendations to freight railroad CSX Corp (CSX) - Get CSX Corporation Report , air shipper FedEx ( (FDX) - Get FedEx Corporation Report ), and trucking companies Old Dominion Freight Line ( (ODFL) - Get Old Dominion Freight Line, Inc. Report ) and Swift Transportation ( (SWFT) ), citing them as market leaders in an outperforming sector. Shares of CSX, Fedex, Old Dominion and Swift were all higher in early Monday afternoon trading.
In the note, Wald drew parallels between today and the 2012 election -- in which the Dow Jones Transportation Average index outperformed the S&P 500, albeit in a far different political climate.
"The fact is that the market has been selling off in recent weeks, yet investors haven't been willing to separate with transports," Wald said. "This group is holding up very well... we see this as very bullish activity."