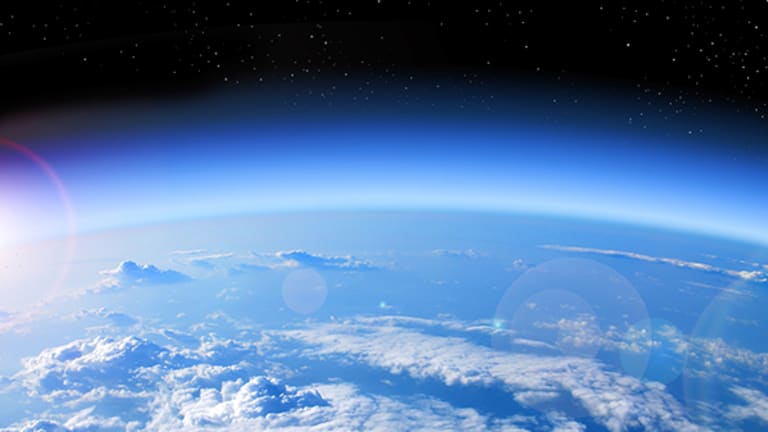 World Leader in Earth Imagery DigitalGlobe a Promising Pick for Smart Investors
Net income increased year over year in the second quarter, and the company's share price is on the upswing.
One crucial element of your long-term investment strategy is to find those companies that will dominate the technological revolutions to come.
Who would have guessed decades ago that the once-mighty American auto industry would fall on hard times while then-obscure computer firms like Apple and Microsoft would be among the world's most important companies? Spotting these winners before the crowd is essential to guaranteeing your profits.
DigitalGlobe (DGI) has emerged as the global leader in earth imagery and information about our changing planet. The stock can be volatile, but it also holds the promise of explosive growth. 
Apple is a holding in Jim Cramer's Action Alerts PLUS Charitable Trust Portfolio. See how Cramer rates the stock here. Want to be alerted before Cramer buys or sells AAPL? Learn more now.
The images provided by DigitalGlobe's satellites are used by a wide array of clients, including national defense and intelligence services, public safety agencies, cartographers, environmental monitors, oil and gas exploration operations and providers of navigation technology. They rely on DigitalGlobe data, information, technology and expertise to gather the information they need.
The stock fell about 20% last year following the release of 2015 third quarter revenue that fell short of analysts' expectations. At the time, CEO Jeffrey Tarr defended the company's long-term prospects: "While we have lowered our guidance, we are confident in our ability to continue to drive margin expansion and strong free cash flows."
There were some doubters at the time, but DigitalGlobe's more recent financial results have vindicated Tarr's approach. In the second quarter of this year, net income increased year over year by 52.5% to $12.2 million -- an even bigger improvement than management had predicted. The stock has now recovered from last year's doldrums and entered a major upswing.
But there is still room on the upside. Demand remains strong for WorldView-4, the company's global monitoring system.
Even during that rough patch in 2015, the company's strengths could be seen in multiple areas, such as its revenue growth, a largely solid financial position with reasonable debt levels by most measures and growth in earnings per share
DigitalGlobe just took a big step toward consolidating its dominance in the industry by launching SpaceNet, an online repository of satellite imagery that will advance the development of computer algorithms to make sense of existing data. SpaceNet is a collaboration between DigitalGlobe and CosmiQ Works, and the imagery is now freely available as a public data set on Amazon Web Services.
Until now, high-resolution satellite imagery has not been readily accessible for data scientists and developers to build useful computer algorithms. "SpaceNet is the key to unlocking a huge explosion of new AI-driven applications that ultimately will help us better respond to natural disasters, counter global security threats and improve public health," said Tony Frazier, Senior Vice President at DigitalGlobe. That's why the company is poised to be among the most important technology plays of the next 10 years.
---
You'd be surprised how many seemingly savvy investors are blowing it by making all-too-common money mistakes. There are very specific steps that you must take now, to build wealth over the long haul. Avoiding these mistakes, and finding tomorrow's winning stocks, will enable you to make money onalmost nine out of 10 trades! To find out more, just click here!
This article is commentary by an independent contributor. At the time of publication, the author held no positions in the stocks mentioned.