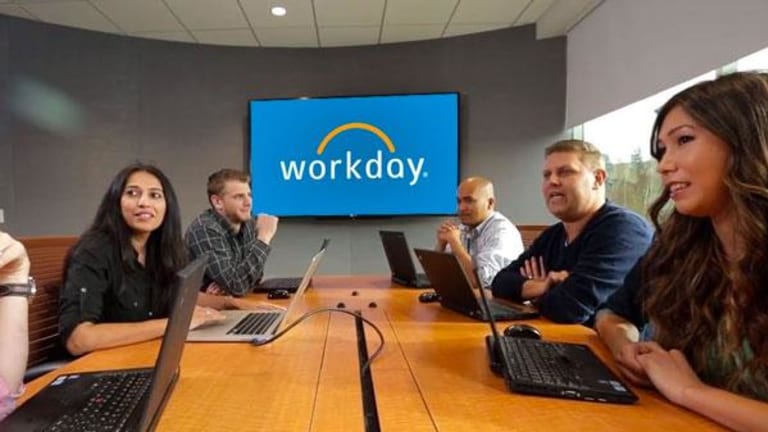 Workday's Latest Earnings Are More Proof Oracle and SAP Should Be Worried
Workday's strong results and guidance follow healthy numbers from other cloud software names, and make Oracle and SAP's harsh rhetoric towards the company look questionable.
Twelve years after cloud CRM software leader Salesforce.com (CRM) went public, the biggest enterprise cloud software pure-plays are still delivering strong growth.
Workday's (WDAY) latest results and guidance provide fresh evidence of this, and also show why enterprise software giants Oracle (ORCL) and SAP (SAP) have felt the need to trash talk the company and other upstarts so often.
Workday, the biggest provider of cloud HR and financials apps, posted fiscal second-quarter revenue of $377.7 million, up 34% annually and topping the consensus analyst estimate by $5 million. One-time expenses led adjusted EPS to come in at -$0.04, $0.02 below consensus. However, operating margin was 1.6%, above guidance of -1% to -3%.
Third quarter revenue guidance of $398 million to $400 million is slightly below a pre-earnings consensus of $401.1 million. But on its earnings call, Workday guided for fiscal 2017 (ends in January 2017) revenue of $1.548 billion to $1.558 billion, in-line with a $1.55 billion consensus.
In addition, the company slightly raised its full-year guidance for derived billings, which include software subscription billings for which Workday doesn't immediately record revenue, to a range of $1.88 billion to $1.89 billion (33% to 34% growth), from $1.87 billion to $1.885 billion. It's also worth pointing out Workday has a long history of guiding conservatively.
Workday was trading up 6% in early afternoon trading on Thursday, and has made new 52-week highs. Meanwhile, Salesforce is up 2.8% and ServiceNow (NOW) , the top provider of cloud software for IT service desks, is up 1.1%. The Nasdaq was nearly flat.
A closer look at Workday's Q2 numbers make it clear that the company is still firing on all cylinders, or close to it. Derived billings rose 38% to $431 million, a slight pickup in growth from Q1's 37%. And in spite of the quarter's heavy spending, free cash flow for the trailing 12 months totaled $178 million, up 130% from a year earlier. As is the case with other cloud firms whose billings exceed their revenue, Workday's free cash flow is much stronger than its reported earnings.
The company reported major customer wins for its core HR offerings with IBM -- Big Blue recently announced Workday would begin using its cloud infrastructure -- as well as French luxury goods giant Kering and Spanish energy giant Repsol. It also claims nearly a third of new customers are buying its financial management apps, over 50 customers have been signed up for its Workday Planning app and that a growing number of customers with less than 10,000 employees are opting for "platform" solutions covering both HR and financials apps.
All of this paints a very different picture for Workday than what Oracle, which is believed to be pricing aggressively to win deals against Workday, has provided on its earnings calls. During its March call, Oracle claimed it's "seeing a lot of Workday defections" to Oracle, and has more than ten times as many cloud enterprise resource planning (ERP) software customers (financials are a part of ERP) as Workday. Co-CEO Mark Hurd went as far as to describe the battle between Oracle and Workday for ERP clients as "a slaughter."
ERP software kingpin SAP has been relatively restrained in its attacks on Workday, but also hasn't been shy about taking shots. In February, CEO Bill McDermott suggested Workday's products are "alone on an island," lacking the database and sales support SAP can provide.
On Wednesday's call, Workday claimed its win rates for HR deals "largely remain unchanged," and that its financials wins rates "are now similar" to its traditional HR win rates. CEO Aneel Bhusri did a bit of trash talking of his own, claiming (though Oracle has reported some big enterprise wins) Oracle's cloud apps don't compete well in the large-enterprise segment and that the company's pending $9.3 billion purchase of NetSuite, a major provider of cloud apps for small and mid-sized businesses, will create confusion.
Given the tremendous growth delivered by Workday and other cloud upstarts, it's hard to blame old-guard enterprise software leaders for engaging in a war of words, or for making big acquisitions to boost their cloud exposure. Both Oracle and SAP have made a slew of expensive cloud purchases over the last five years. And Microsoft (MSFT) , of course, recently announced it's buying LinkedIn for $26.2 billion.
Workday's numbers come a month after ServiceNow, which has been expanding beyond its core IT service management (ITSM) market into the larger IT operations management (ITOM) market, reported its billings rose 33% in the second quarter to $374.9 million. And in May, Salesforce reported its fiscal Q1 revenue rose 27% to $1.92 billion, and its deferred revenue balance 31% to $4.01 billion. The company's Q2 numbers arrive on August 31.
Eventually, the growth rates posted by the upstarts will moderate. But for the time being, there's still a lot of share for these companies to take.