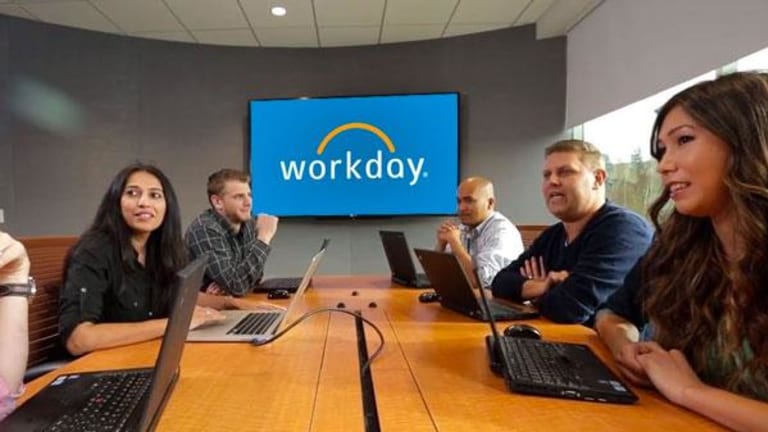 Workday's Disappointing Guidance Is a Major Sign the Cloud Software Industry Is Maturing
Like Salesforce, Workday is seeing slowing growth in its original market. To keep growing rapidly, the company needs to expand its presence in adjacent fields featuring tough competition.
Like Salesforce, Workday is seeing slowing growth in its original market. To keep growing rapidly, the company needs to expand its presence in adjacent fields featuring tough competition.
Workday's (WDAY) - Get Reportsoft revenue and billings guidance isn't exactly a harbinger of doom for the cloud HR and financials software leader, never mind enterprise cloud software firms in general. But when taken together with recent numbers from cloud CRM software leader Salesforce.com (CRM) - Get Report, the guidance does suggest the cloud software space is entering a new stage, one where growth rates are more subdued for more mature markets, and competition from enterprise giants desperate to protect their turf is a greater headwind.
Workday reported fiscal third quarter (October quarter) revenue of $409.6 million (up 34% annually) and adjusted EPS of $0.03, topping consensus analyst estimates of $400.5 million and negative $0.04. In addition, the company's billings (closely watched) rose 33% to $454.1 million, and its free cash flow nearly tripled to $43.9 million.
But the company guided for fourth quarter revenue of $427 million to $430 million (up 32% annually at the midpoint), below a $433.7 million consensus. And on its earnings call, the company forecast billings growth will slow to 25% to 26% in Q4 -- a seasonally big quarter for billings -- and that software subscription billings growth will drop to a low-teens rate in seasonally weak Q1.
Growth is expected to be in the mid-20s range for the whole of fiscal 2018 (ends in January 2018), but this will require a sharp pickup in growth from Q1 levels.
Shares tumbled 12.5% on Friday, and are now lower on the year. Cloud collaboration software firm Atlassian (TEAM) - Get Report, cloud HR software firm Ultimate Software (ULTI) cloud life sciences software firm Veeva Systems (VEEV) - Get Reportare among the peers trading lower on a flat day for equities.
The excuse given by Workday for its Q4 guidance has much in common with ones given by many other enterprise software firms providing disappointing top-line numbers: The company says some major deals slipped early in Q4, thanks to project delays by multinationals. It claims some of these delays are due to "global uncertainties such as Brexit, the U.S. Presidential Election and pending elections in other G8 countries."
The Q1 guidance is blamed on "the compounding effect of increasing seasonality and variability in the timing of recurring and renewal billings." And fiscal 2018 top-line growth will be hurt by the ongoing impact of more flexible subscription terms.
But as several analysts have pointed out in the wake of Workday's outlook, intensifying competition in Workday's core cloud human capital management (HCM) software market could be an issue. Jefferies' John DiFucci thinks "incremental competitive pressures" from Microsoft (MSFT) - Get Report, which overhauled its cloud business app lineup this summer by launching its Dynamics 365 suite, are a problem in the mid-market.
In the past, DiFucci has also observed that Oracle (ORCL) - Get Report, which is doing everything it can to boost its cloud sales and thus offset steep on-premise software declines, has been pricing very aggressively to win enterprise deals against Workday. SAP (SAP) - Get Report, which spent $3.4 billion in 2012 to buy cloud HR software firm SuccessFactors, is also believed to competing hard.
On the call, Workday CEO Aneel Bhusri insisted his company's win rates against mid-market rivals NetSuite (just acquired by Oracle) and Ultimate Software were north of 50% last quarter, and that win rates against Oracle and SAP were "quite a bit higher than that." But he also admitted "there's a lot happening in the middle market and it's just getting more competitive in that segment," and that Workday is trying to compete better by lowering its implementation costs.
Perhaps a larger concern than competition, however, is the fact that much of the low-hanging fruit appears to be picked off in the cloud HR space, at least when it comes to the large enterprises that form much of Workday's base. Thus the company has to turn to other growth venues -- specifically, mid-market HR deals and relatively newer products such as Workday's cloud financial management, financial planning, recruiting, employee learning and payroll apps.
But a lot of these markets feature entrenched incumbents, and for now, enterprise cloud HR subscriptions still account for a giant chunk of Workday's sales and billings.
There are some parallels here with how the decelerating growth of Salesforce's core Sales Cloud (salesforce automation software) business has affected the company's revenue growth. With Sales Cloud revenue growing just 13% annually in the October quarter, Salesforce's total revenue growth came in at 22% after backing out the impact of its $2.8 billion acquisition of cloud e-commerce software firm Demandware.
That's down from 27% in the first quarter, in spite of the strong growth posted by other Salesforce businesses such as its cloud customer support software (Service Cloud) and its cloud app platforms (Heroku and Force.com).
This slowdown may have had something to do with Salesforce's attempt to buy LinkedIn, and its momentary willingness to consider a Twitter  bid. Workday doesn't need to do anything that drastic, but it does need to pull out all the stops to get more growth from the mid-market and non-HR product lines. As its outlook shows, even flashy cloud software markets eventually grow old.