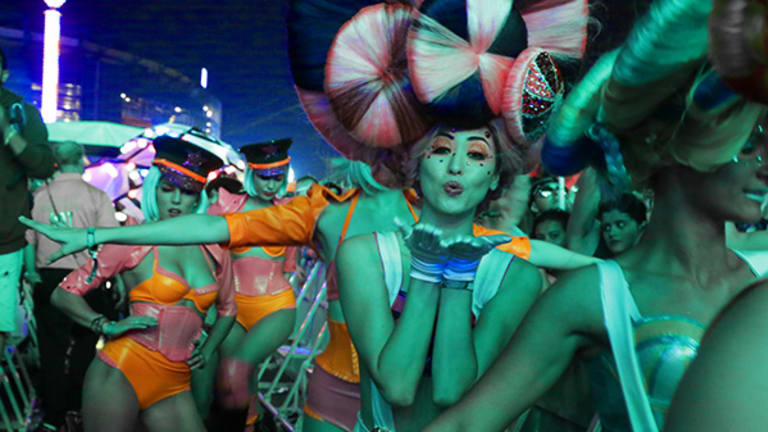 48 Photos From the Electric Daisy Carnival
The two-day Electric Daisy Carnival at New Jersey's Metlife Stadium brought together some of electronic dance music's most celebrated royalty and upcoming acts for a showcase worthy of something out of 'Alice in Wonderland.'
NEW YORK (TheStreet) -- Memorial Day Weekend was anything but quiet as the annual Electric Daisy Carnival (EDC) descended on MetLife Stadium in East Rutherford, New Jersey. The two-day festival brought together some of electronic dance music's most celebrated royalty and upcoming acts for a showcase worthy of something out of Alice in Wonderland. Fifty thousand-plus attendees danced to over 11 hours of heart-pounding music across four stages. With the festival spread out over nearly five acres, each stage had its own particular name: Kinetic Field, Circuit Grounds, Cosmic Meadow and Neon Garden.
Seventy of EDM's most celebrated artists began at noon and ended well into the evening, showcasing new material and old favorites for the sea of revelers. Aside from the bigger names, the rest of the EDC lineup offered the latest and greatest of what the musicians in EDM industry had to offer in 2014.
Despite a nearly two-hour rain delay on Day 1, the energy failed to dissipate with the evening wrapping up with Chicago sister-duo Krewella and powerhouse Hardwell performing amongst a crush of sexy military officers, bears and futuristic women wielding cosmic umbrellas. Day 2 brought even more energy with 18-year-old Martin Garrix performing his second set in two days while perennial EDM staple and world renowned DJ Tiesto headlined the evening with nearly two hours of continuous favorites, including his famed interpretation of Samuel Barber's Adagio for Strings, featured on the soundtrack to the 2000 Olympics in Greece.
For those who could not make it, check out my journey through 48 hours at the Electric Daisy Carnival...