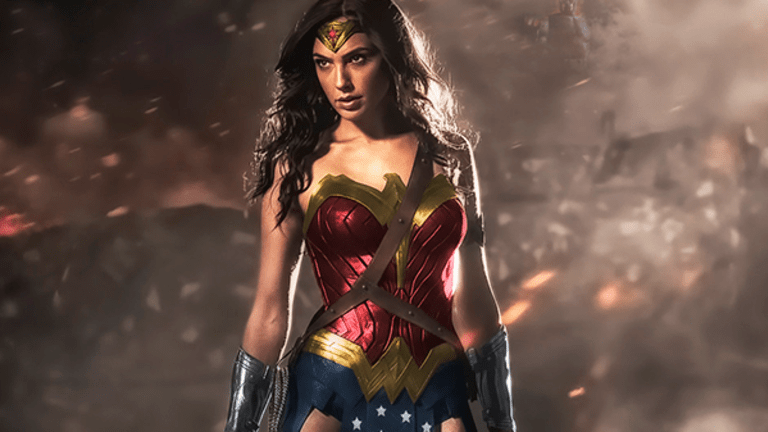 'Wonder Woman' to Lasso a Heroic Debut at the Box Office
While Warner Bros. will score its first blockbuster opening of the summer, Fox will see its partnership with DreamWorks end with the swan song that is 'Captain Underpants.'
This weekend, yet another superhero movie hits the big screen, but this one might be exactly the kind of savior the industry needs coming off a weak May. The expectations are sky high for "Wonder Woman," as it seems like Warner Bros. (TWX) finally has a DC movie capable of both critical and financial success. Meanwhile, Fox (FOX) - Get Fox Corporation Class B Report will release "Captain Underpants: The First Epic Adventure," the last movie in the studio's deal with Dreamworks Animation. In the face of this new competition, the leaks in Disney's (DIS) - Get Walt Disney Company Report "Pirates" franchise are likely to become even more apparent. Overall, the weekend box office should produce about $205 million in domestic earnings, up an encouraging 50% from last weekend and 62% from the same frame in 2016.
"Wonder Woman" the fourth movie in the Warner Bros. DC Cinematic Universe and the only one so far to achieve a "Fresh" rating on Rotten Tomatoes. Indeed, the reviews for "Wonder Woman" have been outstanding, as the film currently stands at a 94% approval rating on that website. Increasingly, audiences have been factoring in the critical response before buying a ticket--just look at "Baywatch," which was tracking to earn $40 million last weekend before it was drowned by critics. Instead, the reboot from Paramount (VIA) - Get Via Renewables, Inc. Class A Reportopened to a weak $23 million, a mere third of its $69 million budget.
The budget for "Wonder Woman" is bulkier--$149 million. However, that is a relatively lean number for a superhero movie, and "Wonder Woman" is likely to make back a sizable chunk of its budget on opening weekend. When the film popped up on tracking metrics in mid-May, an opening around $65 million was predicted, which would be on par with Marvel movies like "Thor" and "Captain America: The First Avenger." However, as the film's release date has neared, expectations for the film have ballooned. Part of the reason is the weak performance of May's slate -- "Alien: Covenant," "Pirates of the Caribbean: Dead Men Tell No Tales" and "Baywatch" have all, to varying degrees, underwhelmed at the box office. In stark contrast to those sequels and reboots, "Wonder Woman" comes across as fresh, even if it's based off a 75-year-old property.
A huge reason why "Wonder Woman" feels like such a necessary movie at the moment, even as superhero movies "Logan" and "Guardians of the Galaxy 2" hang around in theaters, is because it features a superheroine. Indeed, it's been over 12 years since the last movie that focused on a female superhero ("Elektra"), and audiences are excited to see an empowering female-led blockbuster at long last. 87% of respondents in a recent Fandango survey said that they wished Hollywood would make more movies featuring female superheroes, and 80% cited Gal Gadot's Wonder Woman as their favorite part of last year's "Batman vs. Superman."
The character familiarity helps to ensure the success of "Wonder Woman," but it is also likely that the film will see a fair amount of walk-up business from non-DC fans. The fact that this is a superhero movie about a woman and directed by a woman is bound to intrigue casual moviegoers, and the overwhelmingly positive response to the film will sway any people on the fence. Look for "Wonder Woman" to barrel past expectations this weekend and wrangle a $125 to $130 million debut.
Second place will likely belong to "Pirates of the Caribbean: Dead Men Tell No Tales," although the film is likely to walk the plank in its second weekend. Disney's "Pirates" movies have a spotty second weekend track record--all but the first film have fallen at least 54% after their opening. "Dead Men Tell No Tales" is not likely to buck the trend, especially given the poor reviews and the arrival of "Wonder Woman" in the marketplace. Look for the swashbuckling season to suffer a second-weekend decline above 60%, for a $24 to $25 million weekend to bring its gross-to-date up to $120 million.
The animated family comedy "Captain Underpants" will probably be in a close race for second and may just lose out to Disney's "Pirates." Dreamworks Animation has been on a bit of a roll as of late, with its last four movies all opening above $40 million at the domestic box office. "The Boss Baby," which opened in the spring, was an especially profitable venture--the film shocked many box office analysts when it opened to $50 million on its opening weekend, and it has since marched to a worldwide total of nearly half a billion dollars.
Fox and Dreamworks would surely like to see a similar result for "Captain Underpants," but it is unlikely that this film will reach the dazzling heights of "The Boss Baby." The marketing campaign for the film started late, with the first trailer arriving only a couple of months ago. "Captain Underpants" also looks a bit cheaper than other Dreamworks ventures--the film was produced outside of the studio's pipeline, for a very reasonable $38 million (Dreamworks movies tend to cost between $125 and $150 million). The low budget takes some of the pressure off for "Captain Underpants," but the children's book series upon which the film is based is better known domestically than abroad, meaning that the studio would like to see a solid domestic opening. A $23 to $24 million opening will be sufficient for this movie, and it should play well among family audiences until the new "Cars" film races into theaters on June 16.
The fourth spot will go to "Guardians of the Galaxy, vol. 2," which has held up well for a superhero movie thus far. The sequel has added roughly $200 million to its domestic gross since opening to $147 million in the beginning of May, as it has been able to capitalize on a weak summer slate up to this point. The debut of "Wonder Woman," however, is certain to cut into the audience for "Guardians," and so the film will likely experience a steep weekend-to-weekend decline. Look for the Marvel film to drop around 55% from last weekend, for a $9 to $10 million fifth weekend and a domestic total approaching $360 million.
Rounding out the Top 5 will likely be Paramount's (VIA) - Get Via Renewables, Inc. Class A Report ill-fated "Baywatch." It is hard to see the film holding up better than "Neighbors 2" or "Mike and Dave Need Wedding Dates," two R-rated summer comedies from 2016 that also featured Zac Efron and disappointed at the box office. Both of those movies fell roughly 55% in their second weekend, and a similar result is likely in store for "Baywatch." Look for the reboot to nab $8 million in its second weekend, bringing it to a less-than-beefy total just over $40 million.