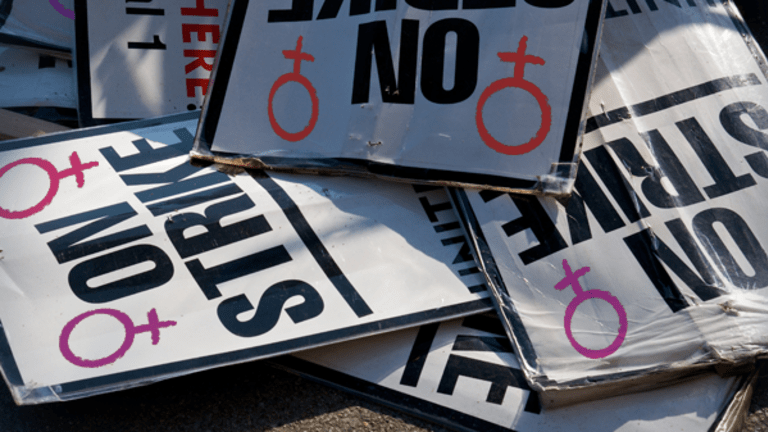 Publish date:
Women Will Tell Big Companies Like Walmart and Amazon to Take a Hike on March 8, When They Strike
On International Women's Day, March 8, strikers are asked to curb spending and sit out a day of work.
On International Women's Day, March 8, strikers are asked to curb spending and sit out a day of work.
Large retailers such as Walmart (WMT) - Get Report and Amazon (AMZN) - Get Report  may feel a female-driven sting on March 8.
The A Day Without A Woman strike, scheduled on International Women's Day, aims to capitalize on the enthusiasm of the Jan. 21 Women's March on Washington. If you recall, that event was initially planned only for the nation's capital in the wake of Donald Trump's presidential election, but quickly grew to be a fervent outpouring worldwide, replete with marchers wearing hand-knitted pink "pussyhats" directed at Trump's denigrating words about women. According to the strike's website, strikers are urged to take the day off on March 8 from both paid and unpaid labor, avoid shopping for the day (with the exceptions of small, women- and minority-owned businesses) and wear red in solidarity.
In concert with A Day Without A Woman is a strike organized on the same day by a separate coalition, called the International Women's Strike US. That group formed following the Feb. 6 publication of an op-ed in The Guardian calling for a women's strike. Its platform includes economic and social issues.
"Women represent 47% of all [U.S.] employees. Every business will feel the impact of a women's strike, particularly in fields like healthcare, where they represent a large share of the labor force," said Brian Schaitkin, senior economist at the Conference Board. Women employees are also disproportionately represented in education, among retailers like pharmacies and clothing stores and in food and textile production.
To be sure, American women hold the purse strings. They top the world in controlling household and consumer spending—by a whopping 73%—noted Catalyst. Globally in 2013, women oversaw 64% of household spending and $29 trillion of consumer spending, a number expected to increase to $40 trillion by next year, according to Catalyst.
Schaitkin added that March 8 could be a boon for women- and minority-owned businesses in the U.S. Twenty-nine percent of U.S. businesses are "majority-owned by minorities," said Schaitkin, quoting from a report released by the Small Business Administration in September, and minority-owned businesses represent more than 60% of all businesses in taxi and limousine services and home healthcare and childcare. The same survey reported that 36% of nonfarm and privately held businesses are owned by women, a jump from 29% in 2007.
While one day of not spending at McDonald's (MCD) - Get Report , TJX Companies (TJX) - Get Report or Walgreens Boots Alliance (WBA) - Get Report may be a mere blip on the bottom line for those large concerns, if the strike sparks a movement, the consequences could be costly. Indeed boycotts have proven successful lately.
Most recently, organized consumer actions such as those against Uber and the #grabyourwallet movement, which aims to discourage patronizing companies with potential conflicts of interest with the Trump family businesses that could impact the public good, have produced results that prompted companies to act quickly to keep their customer base happy—and keep them spending.
As retail sinks to new lows, this event is last thing big companies want to hear.
TJX Companies and Walgreens Boots Alliance are holdings in Jim Cramer's Action Alerts PLUS Charitable Trust Portfolio. Want to be alerted before Cramer buys or sells TJX and WBA? Learn more now.