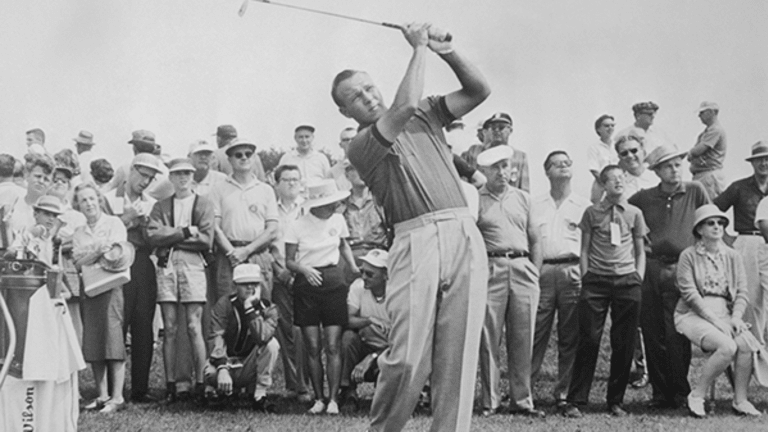 Without Arnold Palmer There Would Never Have Been Air Jordan
Arnold Palmer was a great golfer, but his greatest impact was helping to create the idea of the professional athlete as brand marketer.
Michael Jordan, LeBron James, Serena Williams and Peyton Manning. The list goes on.
Athletes who transcend their sports, personalities as brands who can market products and services and hire agents to represent them. That's commonplace these days. However, more than 50 years ago, professional athletes were little more than players on a field, employees for a single company, their business options and bargaining leverage severely restricted. 
And then came Arnold Palmer. Through a business friendship with a former college golf rival, Mark McCormack, Palmer helped form the agency IMG, giving birth to the multi-billion-dollar empire that became sports marketing.
"What he and Mark McCormack created 50-plus years ago, they were the pioneers of this," Mark Steinberg, a partner at Excel Sports Management and former IMG executive, said in a phone interview in New York. "They were the trailblazers. They allowed what I do with Tiger [Woods] and what they do with Jordan and Lebron to happen, for sports to become this giant platform for entertainment and marketing."
Palmer, who won 62 U.S. Professional Golf Association Tour events between 1955 and 1973, died Sunday at age 87. His success as a golfer is legendary, having won seven major championships including four Masters tournaments.  
But while successful athletes weren't rare in the late-1950s, Palmer's folksy demeanor and charismatic smile, amplified by the rise of television, gave McCormack an athlete who could become more just than a player on a field. The two signed their first marketing contract in 1959. 
"Palmer is the first athlete to turn his on-field personality into an off-the-field attraction," Brandon Brown, an assistant professor at New York University's Tisch Institute for Sports Management, Media and Business, said in a phone interview. "He's good-looking, affable, extraordinarily friendly, and takes this stuffy, white-collar sport and shows the world that everybody can play."
But being a talented golfer wasn't the sole reason Palmer transcended his sport. His ascent coincided with the widening presence of television. Palmer's win at the 1960 U.S. Open came just three months before the first televised presidential debate, a showdown that helped fuel John F. Kennedy's popularity and led to his election. Television made Palmer a household name.
His legion of fans, nicknamed "Arnie's Army," routinely followed him at tournaments, dwarfing those of his rivals.
Television cameras loved the tall, handsome golfer with the buzzcut, and so did companies eager to use TV to sell products. Of course, Palmer was also white at a time when blacks and other minorities were prevented from voting or even using public facilities in large sections of the country. 
Over a business career in which he earned far more than he ever made playing golf, Palmer represented Pennzoil and
Hertz
(HTZ) - Get Free Report
rental cars, Cadillac cars, Rolex watches and United Airlines. Palmer and McCormack worked together until the Cleveland lawyer turned sports agent died in 2003. IMG was sold to William Morris Endeavor Entertainment, or WME, in 2013 for $2.4 billion.  
"Until Palmer, athletes were not thought of as entities unto themselves as they are today," Colin Neville, a vice president at Raine Group, a merchant bank focused on sports, media and entertainment that is part-owned by IMG. "LeBron, Peyton Manning and some others are really like companies at the end of the day. That doesn't happen without him."
With McCormack, Palmer was among the first athletes to have an agent and negotiate marketing rights. He's also the first athlete to trademark his name and create his own logo. 
Palmer was also fortunate to play golf rather than a team sport such as baseball, which used the so-called reserve clause to prevent players from negotiating with other teams once their contract expired. Baseball didn't recognize the concept of a free agent until 1976, after players came together to form a union.
And in an era when the most valuable cable-TV channel is Disney's (DIS) - Get Free Report ESPN, Palmer had the foresight to co-found the Golf Channel in 1995, for which Comcast's (CMCSA) - Get Free Report NBCUniversal purchased a controlling stake in 201. The network is among the most profitable in all of television.
"He sets up the idea for personality, using your sport as a platform to boost your personal brand," Brown said. "He shows that it can be done. He's the first to brand himself. There is no Air Jordan without first having Arnold Palmer."