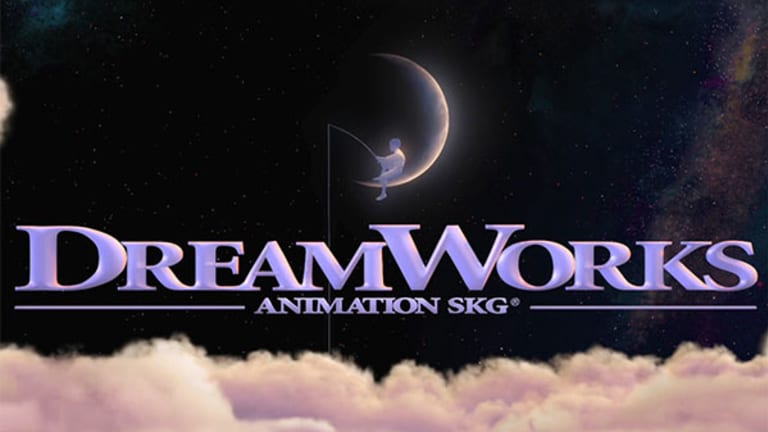 Without a Buyer, DreamWorks Animation Hopes 'Home' Is a Hit
DreamWorks has been on a rebound lately as the company restructures amid preparations for its lone 2015 release, 'Home,' due in theaters later this month.
LOS ANGELES (TheStreet) -- Without a White Knight to rescue it, DreamWorks Animation (DWA)  is charting a back-to-basics big-screen approach to resuscitate its lackluster box office results and return the struggling film studio to past glory, said chief financial officer Fazal Merchant this week.
Following a string of more than a dozen blockbusters, the studio of Shrek and Kung Fu Panda has suffered through recent filmsThe Penguins of Madagascar and Mr. Peabody and Sherman, forcing CEO Jeffrey Katzenberg to make more than $100 million in write-offs, and layoff nearly one-fifth of its workforce.
"There was something about the [previous] formula that clearly worked, and the tent pole of the restructuring was about getting that formula right again," Merchant said at the Morgan Stanley Technology, Media and Telecom Conference in San Francisco.
The Glendale, Calif.-based studio has said it will cut 500 jobs -- around 18% of employees -- and shutter its Northern California studio as part of a broader restructuring. DreamWorks Animation reported a net loss of $309.6 million for 2014.
But while other facets of the company, such as consumer products, may be an area of positive growth, it's fortunes will not change much unless it can uncork blockbuster hits that helped put the studio on the map, analyst Paul Dergarabedian said.
"The proof will be in the movies themselves," said Dergarabedian, senior media analyst at tracking firm Rentrak.
DreamWorks has been on a bit of a rebound lately, its share rising 18% since Jan. 29, when the company announced the restructuring. The rebound may also have been bolstered by talk of a possible buyout. 
With its enviable library of titles, DreamWorks has been the center of takeover speculation following reports of interest from Softbank, the Japanese tech-media holding company, and Hasbro (HAS) - Get Hasbro, Inc. Report, the toy manufacturer. The company has declined to comment on those reports. 
Although DreamWorks Animation has only one film set for release in 2015, the alien-takeover comedy Home that will debut on March 27, it could find it a fortuitous time to jumpstart its comeback, Dergarabedian said. "In the marketplace, at this moment, there's a real lack of films for the family audience," he said. 
Dergarabedian pointed to the strong performance of The Weinstein Company's January release Paddington and Paramount Pictures' SpongeBob SquarePants sequel that was released last month as evidence that Home could perform well.
While film selection remains the priority, consumer products represent another area that could help the company in its turnaround, according to Morgan Stanley. The investment firm projects consumer products to double revenue to $130 million in 2015 as a result of a recent emphasis on licensing, TV production and acquisitions like the children's Veggie Tales animated series.
Morgan Stanley, in a note led by analyst Ryan Fiftal, said consumer products revenue will be a key factor in the company's ability to curtail cash flow losses. Controlling costs remains essential if DreamWorks is to regain its form, Merchant acknowledged.
The studio, which had been making three animated films a year, said in January that it would begin releasing two films annually, one sequel and one original film. The company will also cut back films' budgets to $120 million from $145 million.
Although it has emphasized growth in other businesses, DreamWorks has been falling behind rivals making family-focused features on smaller budgets. In 2014, Warner Bros.' The Lego Movie grossed $468.8 million at the global box on a $60 million budget, according to trade website Deadline.com. Likewise, Universal's 2013 release Despicable Me 2 grossed $970.8 million worldwide with a $76 million budget, according to The Hollywood Reporter.
Merchant said the plan was to find a balance between quantity and quality of what the studio would release to theaters.
"One of the things we believe that contributed to the challenges we've faced recently was the fact that our creative resources were stretched too thin," Merchant said.
It might not be a couple years until DreamWorks Animation, which failed to find a buyer twice last year, sees the results it needs at the box office. In 2016, the company could possibly see strong ticket sales for popular franchise Kung Fu Panda 3 as well as the big screen take on the popular dolls in Trolls.
Additionally, Kung Fu Panda 3 will be a co-production with China, which gives the company a greater cut from ticket sales in the country -- the world's second-largest film market.
"It's like steering a giant oil tanker around," Dergarabedian said of the long and sometimes cumbersome production time animated films require. "You can't produce these overnight."
This article is commentary by an independent contributor. At the time of publication, the author held no positions in the stocks mentioned.