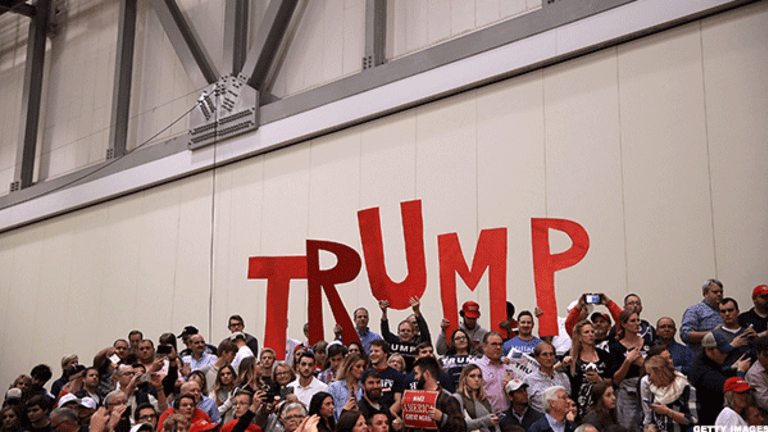 With Trump's Showing Strong, Hospitals Could Face 'Worst of All Possible Worlds"
A Republican sweep of the White House and both chambers of Congress could be bad news for hospital stocks.
What may be the "worst of all possible worlds" for hospital stocks could be in the making.
With Donald Trump performing surprisingly strong in swing states, a Republican sweep of the White House and both chambers of Congress is a distinct possibility.
That's bad news for hospital stocks, Mizuho analyst Sheryl Skolnick wrote in a note.
Why? Although Republicans promise to eliminate the Affordable Care Act, what they really are likely to do is remove the coverage that consumers receive, money that ends up flowing to health care providers. What will stay in place, however, are the fees and taxes hospitals and others are paying to helping cover the program's costs. She noted that $155 billion in pay-for cuts to hospital reimbursements and a host of regulations, taxes and fees on managed care have already been reflected in past years' earnings. Over the next 10 years those pay-fors are expected to raise $1 trillion.
So, the most likely scenario under a Republican sweep "is the worst of all possible worlds for hospitals," she wrote.
Stocks exposed by threats to the Affordable Care Act include HCA Holdings (HCA) - Get HCA Healthcare Inc Report  and Universal Health Services (UHS) - Get Universal Health Services, Inc. Class B Report , according to RBC Capital Markets analyst Jonathan Golub.
"If ACA remains in place, you will see some relief in the hospital names," Lovell said by phone. "They have been beaten down this year because of concerns of ACA going away."
The full calculus of how a Trump or Clinton win will affect healthcare stocks was laid out in Alicia McElhaney's story Tuesday.
Capitol Hill watchers called the House for the GOP early Tuesday night. Although tight races in key swings states make control of the Senate too close to call at the moment, Trump appears to have won Ohio and Florida and North Carolina are trending his way.