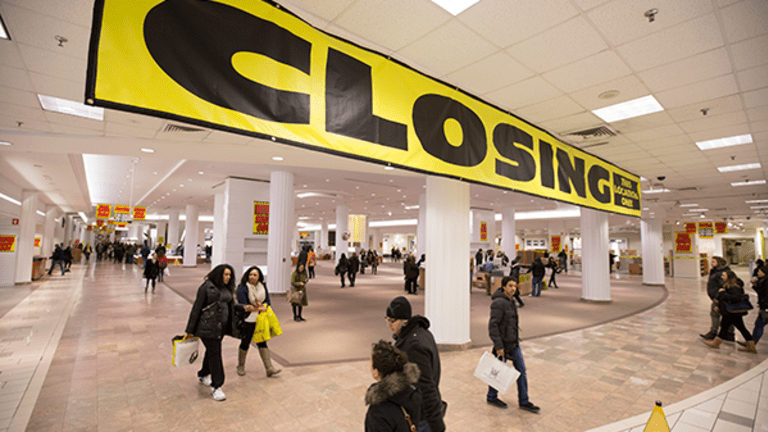 For Sears Sake It Must Deliver on These 3 Things to Prevent More People From Predicting Its Death
Sears' latest bad quarter is about to be in focus.
Make no mistake, when Sears Holdings Corp. (SHLD) reports first quarter results on Thursday they will be nothing short of horrific (again). 
The dying retailer said in late April that same-store sales since the start of the year crashed 11.9% between both its Sears and Kmart banners. Excluding one-time gains related to the sale of the Craftsman tool business and certain real estate, Sears lost between $190 million to $230 million. That is worse than a year ago when it lost $181 million.
At the time, Sears blamed "soft" traffic to its stores and "elevated" price competitiveness in the marketplace for the tough-to-stomach results. 
Since that dreary update, Sears has endured a steady stream of negative headlines. 
CEO Eddie Lampert is fresh off a series of bizarre rants against the media's coverage of Sears.
"It's irresponsible and it's been irresponsible for too damn long. We're just looking for a fair chance," Lampert reportedly said at Sears' annual shareholders meeting. "Excuse my rant but a lot of what we're doing deserves a chance to see the light of day." Then, the famously reclusive CEO went off the rails against a supplier in a blog post. Wall Street took the comments as Sears' is having trouble paying its bills due to its dwindling cash pile. 
Over the past month Sears shares have plunged some 33% as Wall Street questions whether the retailer will be able to survive the year. 
Not helping Sears is that the retail sector has appeared to take a turn for the worse.
Shares of the biggest names tethered to malls across the country have cratered of late due to strikingly weak first quarter results. In effect, already lagging stock prices for the likes of Macy's (M) , J.C. Penney (JCP) and Sears have made new moves lower on fears the retailers won't be able to successfully navigate the shift to online shopping.
As a result, investors may now be wagering that retailers will be forced to announce a fresh round of store closures and layoffs sometime in early 2018 to cut costs. For some highly indebted names such as Sears, and to a lesser extent J.C. Penney, the volatile operating backdrop could be stoking concerns on whether the businesses will be around in five years time.
Here's three things worth watching when Sears inevitable net loss hits the newswires. 
Have sales come back to life at all? 
Several of Sears competitors such as Walmart (WMT) and Target (TGT) have said on earnings calls this month that sales bounced back in April as consumers received their tax refund checks. If Sears doesn't voice something similar, it will be probably be viewed negatively by the market. 
Then again, why have any hope at all. Same-store sales at Kmart have declined for nine straight quarters. At Sears, same-store sales have dropped for 10 consecutive quarters.  
How bad is Sears' cash position?
Cash is king, and the fact that Sears' greenbacks are getting harder to come by is a major concern. Sears hasn't generated cash flow from its operations since 2010. If Sears' cash is much worse than the $286 million seen to start the first quarter, the market is likely to grow even more concerned on Sears' ability to get key inventory and keep the lights on.  
"[Sears] one- and two-year credit default swaps imply the market is pricing a high profitability of default over the next 12 to 24 months," Morgan Stanley said in a recent note.
"We remain highly skeptical whether the company's operations will ever be able to return to profitability," said Bill Dreher of Susquehanna Financial Group on Tuesday following news of Sears extending some debt maturities.
Any progress on cost cuts coming?
Sears has made one bold promise to investors: more than $1 billion in cost savings this year through layoffs, store closures and other restructuring efforts. Given Sears' net loss in the first quarter, it's unlikely much progress was made on the big goal. But, investors will be listening for when (and if) Sears could stabilize its bottom line this year from its cost slashing efforts.  
Click here for the latest business headlines.
Read More Trending Articles:
GE Will Have to Stretch to Earn $2 Per Share Next Year, CEO Immelt Says