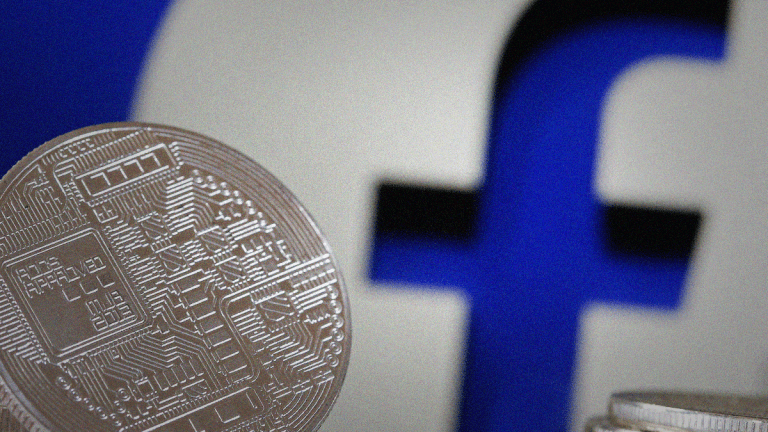 Facebook's Libra Walks a Fine Line Between Privacy and Compliance Burdens
Facebook's Libra announcement sparked questions around how it will fulfill privacy promises while complying with anti-money laundering or other law enforcement obligations.
The future is private, Facebook declared earlier this year. Now, it seems the future is crypto. 
As expected, Facebook (FB) - Get Meta Platforms Inc. Report announced its sweeping cryptocurrency plan on Tuesday, which involves a Facebook-created digital currency, called Libra, and a consortium of partners that will oversee the currency and comprise an initial ecosystem for its use. Facebook shares closed 0.3% lower on Tuesday amid broader stock market gains.
In a Facebook post, CEO Mark Zuckerberg outlined Libra's goal of creating a "simple global financial infrastructure" and pointed users to whitepapers with more detail on Libra, the Libra Association, and Calibra, a subsidiary that will build financial services and initially act as a digital wallet for Libra users.
True to the company's recent privacy posturing, Facebook wants you to know that Libra and Calibra, which are slated to launch in 2020, will be safe: "Privacy and safety will be built into every step. For example, Calibra will have a dedicated team of experts in risk management focused on preventing people from using Calibra for fraudulent purposes," Zuckerberg wrote.
But crypto experts say it's not so simple to establish both privacy for users and safety when it comes to fraud or other crimes. 
"Regulators are going to come down on these guys like a ton of bricks," said Hector Hoyos, CEO of Hoyos Integrity and an adviser on security issues in digital assets.
Hoyos asserted that the project whitepapers contain various promises he described as "contradictory." For instance, one section indicated that Libra user accounts are "dissociated from their real-world identity." But in a separate document on Calibra, the digital wallet associated with Libra, Facebook stated that "Calibra will use Facebook data to comply with the law, secure customers' accounts, mitigate risk and prevent criminal activity" -- but not for ad targeting purposes.
Sure enough, Facebook's Libra announcement sparked a swift backlash from lawmakers in the U.S. and abroad, with House Financial Services chairwoman Rep. Maxine Waters, D-Ca., calling for a moratorium on Facebook's crypto initiative on Tuesday. Earlier in the day, French Finance Minister Bruno Le Maire called on the European central bankers to convene a report for the Group of Seven July meeting, and told Europe 1 radio it is "out of the question" that Libra should be permitted to act as a sovereign currency.
There's no global consensus on how to regulate digital currencies, or how to mitigate the problems that can lurk in anonymized or peer-to-peer payment systems -- namely money laundering or other criminal activity. Notably, many analysts have speculated that Libra's primary target isn't necessarily the U.S. or Europe, but jurisdictions that have unstable fiat currencies or high rates of inflation.
Juan Hernandez, CEO of Openfinance, a regulated trading platform for security tokens, pointed out that Facebook may be structuring the Libra system so as to shift compliance burdens to third-party players when it comes to anti-money laundering requirements. The 28-member Libra Association, which is tasked with overseeing the currency in addition to a buy-in of $10 million each to support the Libra ecosystem, includes Visa (V) - Get Visa Inc. Report , Mastercard (MA) - Get Mastercard Incorporated Report , PayPal (PYPL) - Get PayPal Holdings Inc. Report eBay (EBAY) - Get eBay Inc. Report , Lyft (LYFT) - Get Lyft Inc. Report , Spotify (SPOT) - Get Spotify Technology S.A. Report , Uber (UBER) - Get Uber Technologies Inc. Report , Vodafone Group (VOD) - Get Vodafone Group Plc Report . The Association aims to recruit dozens more members in advance of the launch.
"One of the things they note in the whitepaper is that anyone who wants to join their network has to adhere to the guidelines, rules and regulations of their jurisdiction," he said. "To a certain extent, Facebook is almost assigning some of that responsibility to the network players."
Hernandez added that such a stance would be roughly consistent with how other 'stablecoins' -- digital currencies that are collateralized to reduce volatility -- view their compliance burdens. Other such coins generally acknowledge some responsibility for activity that occurs within their closed ecosystems, but once it exits the system, that ceases to be the case, he said.
Given its user base of 2.5 billion, however, it's not clear if Facebook distancing itself from oversight duties will fly with regulators -- or for a critical mass of users, for that matter. Given its long history of privacy scandals and gaffes, skepticism abounds as to what pitfalls -- privacy-related or otherwise -- may arise with a Facebook-backed currency.
"Are consumers really going to believe that a separately-held subsidiary isn't going to share data with Facebook? It's a joke," Hoyos added.
Facebook and MasterCard are holdings in Jim Cramer'sAction Alerts PLUS Charitable Trust Portfolio. Want to be alerted before Cramer buys or sells these stocks? Learn more now.