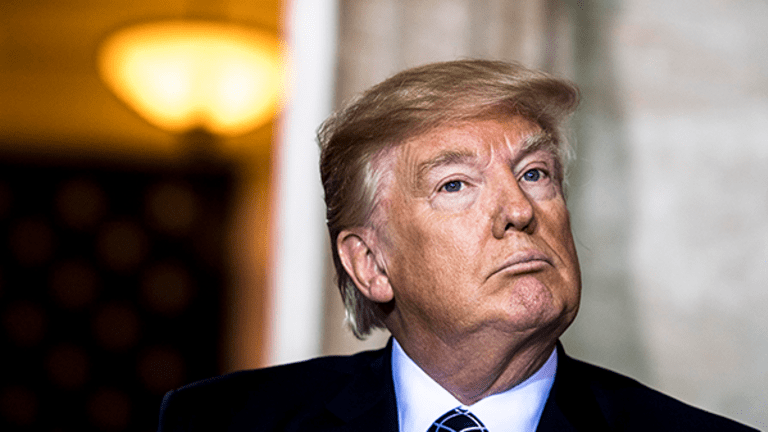 Updated from April 26.
The wireless market has been bruising and unforgiving to just about everyone but T-Mobile USA (TMUS) - Get T-Mobile US, Inc. Report lately, as unlimited plans have ratcheted up competition and eaten into profits. And the field of combatants is set to get even bigger this year, as Comcast (CMCSA) - Get Comcast Corporation Class A Reportlaunches its own mobile brand by resellingVerizon's (VZ) - Get Verizon Communications Inc. Report service.
The Trump administration provides AT&T (T) - Get AT&T Inc. Report , Verizon and Sprint (S) - Get SENTINELONE, INC. Report with a silver lining as the new president reaches his 100th day. Trump-nominated FCC Commissioner Ajit Pai has done telecoms several favors by ending an investigation into zero rating, or providing content that does not count against data caps, and by striking down privacy restrictions put in place by Obama's FCC, to the lament of public activists. Recent announcements about tax policy and net neutrality would benefit telecoms if they come to fruition. 
Sprint, which releases earnings on May 3, is the biggest winner following Trump's victory. The stock has gained more than 46% since the election, but is up just 0.7% since Trump took office, compared to gains of 12% and 5.5% over the same periods for the S&P 500. The Obama administration had pushed back against a merger of Sprint and T-Mobile, but Trump's deregulatory views seem more amenable to consolidation, which would greatly help the fourth-place Sprint.
T-Mobile comes in second, with a gain of nearly 34% since the election and a 12% bump following Trump's inauguration. T-Mobile is less dependent on a merger than Sprint, but its shares have still benefited from expectations of more telecom deals. 
AT&T is up 7.7% since the election but down 3.3% since the inauguration, while Verizon is down 1% since the election and has dropped 12.3% since the inauguration. Verizon, however, launched an unlimited plan and suffered customer losses in the first quarter. 
"It's obviously been an amazing few months in our industry," AT&T Chairman and CEO Randall Stephenson said during the telecom's first-quarter earnings call on Tuesday. "And there's clearly a return to a lighter touch pro-growth regulatory philosophy, and that's not only in our industry but it's across all industries right now, and we think this is incredibly positive for our country and that it could catalyze the economic growth all of us have been looking for."
Among the many Trump policies that could benefit telecoms, Stephenson said lowering corporate tax rates stands out.
"This is probably the biggest catalyst available for our public policymakers if they want to increase capital investment and job creation, so we think this is really important," he said.
Speaking before Treasury Secretary Steven Mnuchin's announcement of a 15% corporate tax rate on Wednesday, Stephenson told investors that a rate of 25% to 27% is "probably achievable in short order."
Hitting Trump's goal of a 15% corporate tax rate would be better for the telecoms, but could be complicated. "Now, we would obviously stand up and cheer; we'd be huge advocates of that," Stephenson said. "But I think the practical reality of getting to 15% is you have to get yourself reconciled to some level of deficits for a period of time as you get the economic stimulation."
Comcast is a holding in Jim Cramer'sAction Alerts PLUS Charitable Trust Portfolio. Want to be alerted before Cramer buys or sells CMCSA? Learn more now.
Separately, FCC Chairman Ajit Pai is working on new Internet rules that will rewrite the Obama rules on net neutrality and help the wireless carriers. Pai is unveiling a proposed rule making procedure on Thursday, and will take public comments on how the FCC should oversee the Internet.
A number of the telecoms and cable operators have voiced support for tenets of net neutrality, such as prohibitions on blocking content or throttling transmissions. However, the industry has opposed the Obama FCC's decision to reclassify broadband as a service under Title II of the Communications Act, which treats broadband like a utility and opens the door for regulation of price and other service terms. However the rules ultimately shape up, Pai has made clear that he aims to do away with Title II classification of broadband.
AT&T, Verizon and Comcast have also scored a victory on data privacy, thanks to Trump and the Republican Congress. Trump signed legislation in early April that strikes down rules put in place by the FCC last year that would require broadband providers to get active consent from subscribers to use data. Instead, ISPs will follow privacy rules set by the Federal Trade Commission, as do Internet companies like Alphabet (GOOGL) - Get Alphabet Inc. Class A Report , Facebook (FB) - Get Facebook, Inc. Class A Report and others.
Pai also helped AT&T and Verizon in February by ending an FCC investigation into zero rating, by which the telecoms can provide content that does not count against data caps. The Obama FCC had concerns that the carriers could prioritize their content over that of other providers.  
Sprint Chairman Masayoshi Son has long desired to merge his company with T-Mobile. The Trump administration's looser views on regulations makes that a possibility, whereas a deal would have been off limits under Clinton. A quiet period that restrict companies that participated in a recent auction from having strategic talks lifts Thursday. Companies such as AT&T, Comcast, T-Mobile and Verizon have been blocked from discussions, and wide-ranging M&A talks will likely ensue.
And even though Trump voiced opposition to AT&T's purchase of Time Warner as a candidate, Stephenson expects the deal to close.
"It's moving along as expected," he said. The European Commission approved the deal, which the Department of Justice is still reviewing. FCC Commissioner Pai has said the Commission does not have grounds to review, since licenses under its purview will not be transferred. "So bottom line, we continue to expect approval of the deal end of this year," Stephensen said.
Comcast, Alphabet and Facebook are holdings in Jim Cramer's Action Alerts PLUS Charitable Trust Portfolio. Want to be alerted before Cramer buys or sells CMCSA, GOOGL and FB? Learn more now.