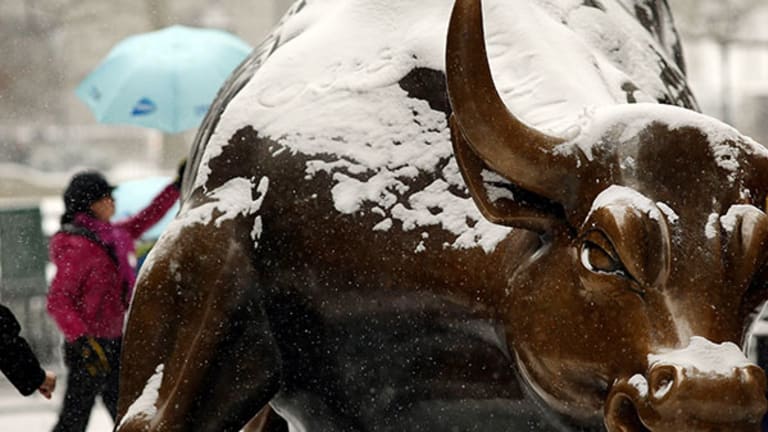 Winter Storm Juno to Cost $1.25 Billion in Economic Output
New England suffered the greatest from winter storm Juno -- in an economic sense. New York City got off easy.
WEST CHESTER, PA (TheStreet) -- The snowfall wasn't historic but it still disrupted the economy.
Estimates for just how bad winter storm Juno would be for New York City were way off. Estimates for how bad it could get in terms of lost economic output were off, too.
So, how much is it going to cost? About $1.25 billion.
Estimating the costs of winter storms require a large number of assumptions. One approach is to assume the worst. If this week's Northeast storm and blizzard had crippled the Philadelphia, Boston and New York metro area economies, leaving them essentially dormant for two days, the immediate economic cost would have been $16 billion. However, a good chunk of this lost output would have been made up in subsequent weeks.
Now that the severity of the storm is known, the cost will be significantly less. To determine the cost, we looked at daily output per working day by industry in the areas hardest hit by the storm. Each industry will fare differently and numerous assumptions were made. For example, while construction in New England likely lost almost a full day of output, workers should be able to put in overtime and this will be recouped in subsequent weeks.
Similarly, manufacturers can recoup lost output by having workers put in more hours and keeping the production lines running longer. Transportation will be among the big losers. Transit systems were shut down, including in New York, and these lost sales won't be recouped.
Based on disruptions and industry composition of the affected areas, our preliminary estimate is that the economic cost appears to be around $1.25 billion. Of this, $650 million is in New England, $300 million in Greater New York and a combined $300 million in New Jersey and Philadelphia.
Read Ryan on Moody's Analytics Dismal Scientist.
This article is commentary by an independent contributor. At the time of publication, the author held no positions in the stocks mentioned.