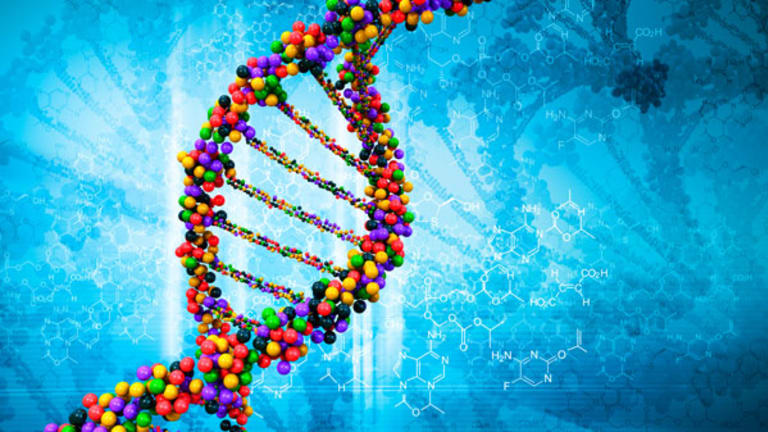 Publish date:
Winners And Losers in CLL at ASCO '13
Drugs from Gilead Sciences and Roche stood out at ASCO this year, while Infinity's drug lagged.
Drugs from Gilead Sciences and Roche stood out at ASCO this year, while Infinity's drug lagged.
NEW YORK (
) -- New products in development for chronic lymphocytic leukemia (CLL), an incurable B-cell cancer, will transform the treatment of this disease over the next few years.
CLL offers a big market opportunity as more than 150,000 people in the U.S. and Europe have the disease, and about a third of these require first or second-line therapy.
After PD-1/PD-L1 immunotherapy, CLL was one of the hottest topics at the annual meeting of the American Society of Clinical Oncology (ASCO) in Chicago last weekend.
Some of the companies with interesting new CLL data at the meeting included
Gilead Sciences
(GILD) - Get Gilead Sciences, Inc. (GILD) Report
,
Roche
(RHHBY)
,
Infinity Pharmaceuticals
(INFI) - Get Infinity Pharmaceuticals, Inc. Report
and
AbbVie
(ABBV) - Get AbbVie, Inc. Report
.
A key drug in development for CLL, albeit one with little new data at ASCO, was the Bruton kinase inhibitor ibrutinib from
Pharmacyclics
(PCYC)
and
Johnson & Johnson
(JNJ) - Get Johnson & Johnson (JNJ) Report
. Ibrutinib data had already been presented at prior conferences. Approval for ibrutinib in mantle cell lymphoma (MCL) is highly likely by the end of the year -- a point made by
TheStreet
contributor David Sobek in a
recent column
.
Celgene's
(CELG) - Get Celgene Corporation Report
development activities in CLL was also missing from ASCO this year. There was no mention of the phase III trial for Revlimid in CLL or any data on AV-292, a potential competitor to ibrutinib that Celgene obtained with the purchase of Avila Therapeutics last year.
Here are my winners and losers in CLL from this year's ASCO meeting:
Winner: Gilead's Idelalisib
Gilead had some of the most impressive CLL data at ASCO. Of particular note were the results from the phase II clinical trial of idelalisib, a targeted, highly selective, oral inhibitor of phosphoinositide-3-kinase (PI3K)-delta, in combination with rituximab in frontline CLL. The data are particularly meaningful because patients enrolled in this trial were not cherry-picked to be those who were the fittest and most likely to respond. Patients were elderly (median age 71) with existing medical conditions, more typical of the majority of CLL patients seen in community practice.
Dr. Susan O'Brien from the University of Texas M.D. Anderson Cancer Center in Houston presented data that showed significant efficacy -- highlighted by a rapid reduction in size of lymph nodes. Nineteen percent of the 74 patients in the trial achieved a complete response and 78 percent a partial response.
At 24 months, 93 percent of patients had not seen their disease progress. The addition of rituximab to idelalisib also removed the raised lymphocyte count (lymphocytosis) seen with idelalisib when used on its own, suggesting a combination strategy offers significant clinical benefit.
These data were a big win for Gilead at ASCO.
Winner: Roche's Obinutuzumab (GA101)
Roche is developing a novel, next-generation anti-CD20 monoclonal antibody -- obinutuzumab (GA101) -- with potentially greater efficacy than its predecessor Rituxan.
In the preliminary results of a phase III trial, Roche showed adding obinutuzumab to the chemotherapy chlorambucil offered significant benefit. This trial was also undertaken in an elderly patient population with co-morbidities who would not be eligible to receive standard chemoimmunotherapy with fludarabine and cyclophosphamide (FC) with or without Rituxan.
The second stage of the study will ultimately determine whether obinutuzumab is better than Rituxan when used with chlorambucil in elderly patients. Roche obtained Breakthrough Therapy designation from the FDA for obinutuzumab earlier this year. The company submitted a new drug application to FDA for approval in newly diagnosed CLL.
Loser: Infinity's IPI-145
IPI-145 is an oral inhibitor of PI3K-delta and gamma that was licensed from Intellikine (since acquired by Millennium/Takeda.) Both Infinity and Gilead have PI3K inhibitors in development for CLL, but Gilead's compound is ahead (already in a phase III clinical trial.) The key question is whether IPI-145 will prove to be more effective than idelalisib and whether hitting gamma adds efficacy or more side effects? Based on preclinical data, IPI-145 is a more potent PI3K-delta inhibitor than idelalisib.
However, IPI-145's promising CLL efficacy was overshadowed by a higher rate of serious adverse events and deaths due to respiratory infections (pneumonia/pneumonitis.) Whether this is attributable to targeting PI3K-gamma and suppression of T cells -- something idelaslib does not do -- is not known yet. The IPI-145 data presented at ASCO do raise safety concerns about the drug which did not exist before.
Loser: Abbvie/Roche's ABT-199
AbbVie and Roche are going after a different CLL target with ABT-199, a small molecule inhibitor of Bcl-2, a key protein that regulates cell death. ABT-199, also known as GDC-199, a re-engineered version of navitoclax that was discontinued because it caused a significant reduction in the number of platelets in the blood (thrombocytopenia.)
At ASCO, ABT-199 showed promising early data in lymphoma and efficacy in over 80% of relapsed/refractory CLL patients, including those with del(17p) who have poorer outcomes.
The promising CLL efficacy data has been overshadowed by a suspension of clinical trials earlier this year following two patient deaths due to tumor lysis syndrome (TLS.) This is a double-edged sword: Tumour lysis is usually a sign of a highly efficacious drug, but too rapid a response can cause serious adverse events. One trial participant unfortunately dropped dead unexpectedly in his bathroom!
Experts at ASCO said a less aggressive dosing schedule and closer monitoring of CLL patients, especially those with bulky disease at higher risk for TLS, could potentially address the TLS issue, but we don't yet have the data to confirm this.
One challenge for AbbVie and Roche is patients most at risk of TLS are those with bulky lymphadenopathy who constitute the majority of elderly CLL patients. At an ASCO investor event, Roche said targeting Bcl-2 in blood-based cancers is a key priority and future combination trials with ABT-199 are already planned.
We will have to wait for more data later this year at the American Society of Hematology (ASH) annual meeting to know whether the safety concerns have been addressed. I expect ABT-199 will advance faster in lymphoma where the early efficacy data is promising.
Droppert has no positions in any of the companies mentioned.
Pieter Droppert writes the
and is a marketing strategy consultant with a focus on oncology/hematology new product development. Pieter is a Sloan Fellow from London Business School and was formerly a project manager for a major phase III drug development program at a global CRO.