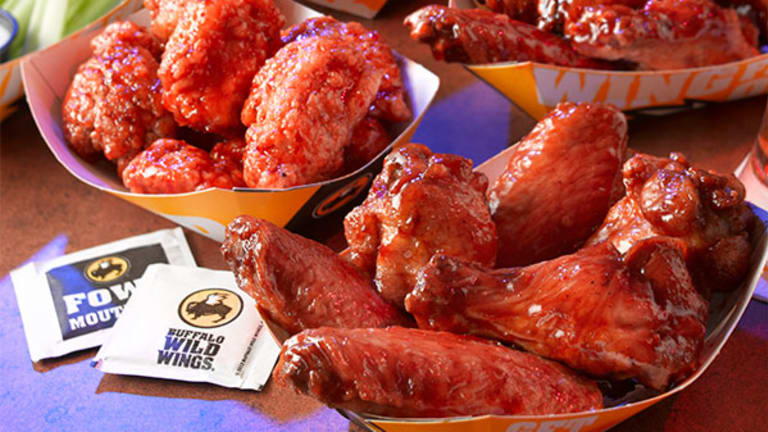 Buffalo Wild Wings Sees Exploding Chicken Wing Prices Just in Time for Football
Wing prices hit a seventh-consecutive week of gains.
As the football season starts—a time critical for companies like Buffalo Wilds Wings Inc. (BWLD) and pizza-delivery players—wholesale chicken-wing prices are spiking.
For the seventh-consecutive week, chicken wing prices rose by roughly 2 cents, to an average of $2.22, representing 30% inflation over this time last year, BMO Capital Markets said in a research note on Monday, Sept. 18.
"Seasonal sequential increases in wing prices continue to pose risk to consensus expectations for Buffalo Wild Wings' third-quarter earnings per share," BMO analysts wrote.
BMO projects a 5-cents to 10-cents downside to Buffalo Wild Wings' third-quarter profits. Wall Street predicts the restaurant chain, known for its wide array of chicken-wing sauces and craft beer, to report third-quarter earnings of 86 cents a share, compared to the year-ago period's earnings of $1.23 a share.
"Wing prices [are] likely to continue increasing into October as there is no sign of wavering," BMO added. "The consistent increase in wing prices over the past several weeks likely reflects supply/demand imbalance, driven by increasing wing demand into the beginning of [the] football season amid a tight jumbo wing supply environment."
The 98th National Football League (NFL) season began on Sept. 7, an important period for Buffalo Wild Wings, being a staple destination for football fans, with TVs tuned into any game the customer asks to watch. Pizza-delivery chains, such as Papa John's Int.'l Inc. (PZZA) and Domino's Pizza Inc. (DPZ) , also rely on this time to make up for the slow summer period, with chicken wings being top-selling sides.
After its second-quarter earning release, Buffalo Wild Wings guided for full year 8% to 10% wing price inflation. As wing prices are not expected to relinquish any strength soon, BMO projects price inflation of 11% for the full year.
In May, chicken wing prices in the U.S. reached a peak of $1.91 each.
Buffalo Wild Wings could not immediately be reached for comment.
Don't miss these top stories on TheStreet:
Editors' pick: Originally published Sept. 18.