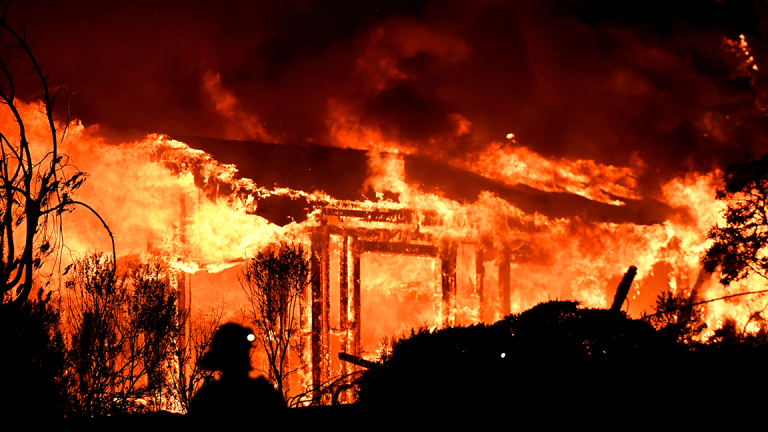 Winemaker Stocks Dip as Deadly Napa Wildfires Blaze On
The fires have claimed at least 11 lives.
With deadly fires in California's wine country roaring on Tuesday, Oct. 10, stocks of winemakers slipped as the industry prepares to assess damage to tasting rooms, vineyards and infrastructure.
Shares of Constellation Brands Inc. (STZ) , which is the largest winemaker in the U.S., fell nearly 1% on Monday, Oct. 9, to close at $208.19. The company said in a statement that it had to close tasting rooms in Napa Valley and Sonoma, California.
Constellation received 42% of its fiscal 2017 revenue from its wine and spirits unit, and recorded $705 million in wine and spirits sales in the three months ended Aug. 31, 2017, according to filings with the Securities and Exchange Commission.
Constellation operates 18 wineries, including popular and premium brands such as Robert Mondavi, Clos du Bois, Black Box and Ruffino. Most of its brands use grapes grown in the Napa, Sonoma, Monterey and San Joaquin regions of California.
Brown-Forman Corp. (BF.A) (BF.B) shares declined slightly on Monday. The brand operates Sonoma-Cutler California Wines, which has vineyards, operations and warehousing in Windsor, California, a town ravaged by the fires. According to recent filings, Brown-Forman gets about 6.7% of its revenue from wine sales.
Wine shipments to the U.S. from California reached a retail value of $34.1 billion in 2016, according to the Wine Institute. The 238 million cases California shipped last year represented 85% of U.S. production. California is home to 602,000 acres of winegrapes.
The fires have burned at least 1,500 homes and buildings, covering the entire San Francisco bay area in a smoky haze. At least 11 people have been killed.
Authorities estimated about 35,000 acres have been burned as at least 12 fires are fanned by strong winds.
More of What's Trending on TheStreet: